"I have got to find the river, bergamot and vetiver" – Rapid Eye Movement.
It's ridiculous that I never compiled such a list or article on here before. One day in 2013 I remember reading I had about 717 unwritten ideas for blog posts. They'll never see the light of day you know, but this "what to do in a country" type of thing, I should have covered before, and didn't. Correct me if I'm wrong of course. So you might wonder if I have a ticklist for each place I go. Yes i do and here it is. I only do it for countries, or at least those I class as a country. Cities or towns i don't have a specific ticklist though obviously main sights, football stadium, good food and a beer are normally things I want to check out. Incidentally, There are only FIVE things on this list that I have done in every country I have been to. Read on to find out what they are.
1.Go To It

This is the first and most obvious point. If it's a country or even a culture or a remote village or a place, I try my best to go to it. If I don't go to it, it feels like I haven't really been there. I love to backpack a country so normally I go to them. The best methods are things like cars, trains, ships, buses, planes etc. It's rare for me to helicopter it or truck it. Though I vanned a few and walked a few land borders through miles in nomads / nomans land.
"If it exists as a place, I'll go to it"- Jonny Blair.
Every country I have been to, I have went to it. i.e. I have been there.
"Altogether now, in no man's land" – The Farm.
2.Stay Overnight
I love to spend at least one night in a country, preferably a week like French Guyana or a month like Iran or 16 months like Poland but we can't spend months in them all for whatever reason – visas, boredom, short trips, work commitments, events etc. so I pick and choose how long I want to stay but try and stay at least a night. I failed sometimes though –  I realised I backpacked these countries on day trips only – Adammia, Austenasia, Uzupis, Vatican City State, Podjistan, Lagoan Isles, Liechtenstein, Lovely. I have no real need to go back to any of them, but the Vatican would be a nice one to return to.
With San Marino, Transnistria, Artsakh, Catalonia, Karakalpakstan, Gorno Badakhshan and a few other small countries I stayed at least a night, usually longer.
So i cannot say it is essential to stay overnight although if I really needed to prove that I stayed overnight to someone to prove a point, I would do this –  I would walk into the Vatican City at 23.59 and leave again at 00.01 the next day. That's 2 minutes and it probably counts more as overnight than someone who just slept for 8 hours solid in a business hotel in Istanbul yet saw nothing. The time is not as important as the moments for me.
"Take what you need and be on your way" – Noel Gallagher.
3.Speak to Local People

Most countries I visit these days I already had friends from so speaking to local people is easy to organise. It just gives me a feel for the culture. And yes I know that one person or even ten people cannot be representative of an entire country but I don't care, I still like to speak to them.
4.Get a Visa or Passport Stamp
I am a member of a cool Facebook group called "Every passport stamp" and I love the whole visa process, the getting the new passport stamp. For this reason, I detest the EU and the open borders with no stamps, it doesn't feel like I'm a real tourist any more when I forget which country I'm in. The Netherlands to Belgium border is particularly horrendous. Give me a visa and a stamp everytime please!
5.Post my Brother a Postcard
My youngest brother Danny has been getting postcards from me insanely for 12 years now. I try and post him one from every country. Even places like North Korea and Iraq. The only postcard to date that didn't arrive was from Sweden in 2007, and the South Africa one in 2011 took 6 months. Countries such as Adammia and Krolestwo Dreamlandu don't have postcards. His collection ammases over 200 all written, sent and received from over 150 countries.
6.Try the local beer
I'm a beer freak and I love trying the new beers and especially local brews. Even in Iran I tried the non alcoholic beer they had and I often search hard to make sure I am drinking the local stuff. I really hate it when I get to Ukraine (for example) and the barman hears I am foreign and suggests "Carlsberg" or "Budweiser" – no thanks – if you don't have any Ukraine beer, I'm going somewhere else! The more local and unusual the better. One day I should write a list of the beers I tried in each country
7.Try at least one local food dish
It's important for me to try local food, I get bored of the same food all the time, so if I can find something local I get on it. This can lead to addiction though – shashlik in the Stans, kebabs in the Middle East, ANY Mexican food and of course Polish pierogi – my ultimate addiction!
8.Keep a postage stamp
I try to collect at least one postage stamp (unsent) from each place. Normally I buy two when I am posting my brother a postcard and I keep one of them. I'll put them in an album someday.
9.Keep a banknote
I also collect banknotes and try to keep at least one. If I am rich, I love to collect one of each different note they have. This would be an expensive hobby in my own country Northern Ireland as we have 4 different banks issuing them plus the Bank of Scotland and Bank of England!
10.Keep a coin
Similarly, I like to collect and keep a coin, and preferably one coin of each type they have. Again, with notes, coins and stamps – all very light and easy to carry as a cool souvenir from my travels.
11.Buy my Mum a Fridge Magnet
My Mum's fridge isn't even big enough to have them all stuck to it. Not only do I buy my Mum a fridge magnet from every new country, I often also do it for cities and prominent sights! My siblings started doing doing it too so my Mum has over 200 fridge magnets. Secretly she loves it but she always tells me "don't buy me any more". Ooops Mum today I got you a new one from Malta! It is my way as a son of thinking about my Mum everywhere I go. And yes it does mean more to me than a phonecall at that time – people are different. My Mum gets a story with each magnet.
12. Visit a Football Stadium
I love football and it was probably my 1986 Panini Sticker Album that inspired me to visit all those countries. I still try and visit a football stadium everywhere I go, normally the national stadium, but if not, I'll settle for any stadium visit. As a bonus, I love to watch a match, any level goes, groundhopping is a passion. I
13.Write About It

As a travel writer I feel I must write at least one article on every country I backpacked and I stick to it. Even horrible countries like Venezuela and Algeria i wrote about them. I have a pen by my body 24 hours a day and even without paper, I'll write it on my skin, or on receipts. I love to write. I am a natural writer.
14.Keep Friendships
As well as talking to local people I love to make friends with them and maintain those friendships. I later try and meet up with the same friends on my future trips. I also normally add them on Facebook, and follow them on Twitter and Instagram. However Instagram is particularly annoying as they have banned me from following any more people as they must have a 7,500 limit and think I am a spam account. I am NOT A SPAM ACCOUNT. I follow 7,500 and want to follow at least double that!! So keep friendship and just…
Don't do it – your friends will commit suicide. I almost did.
"I'll send you travel tips on Friday, we are friends" – A liar (if we are friends as you claim, you will send me those travel tips, care about my tourism or meet for a coffee, right? Wrong, you lied). #nastylied
15.Make an overall judgement on departure

Maybe I'm racist but I judge countries. I love doing it and I don't care if people judge Northern Ireland either. Venezuela is a dangerous excrement exit. South Korea is commercial excrement influenced by the United States. North Korea is the real Korea, Thailand is full of rip off locals and ex-Patriots who think they are better than you, China is just chaos yet always beautiful, Afghanistan is not a war zone, Poland is paradise. I make judgements but they are calculated and I am pure and honest.
16. (Danny) Drink Water

This is the one thing that I have done for sure in EVERY COUNTRY I have been in. I always drink water. Normally I use my water filter bottle and drink the water produced in that country. But I remember backpacking the Vatican City in 2015 and had brought my water bottle from Italy. But I still count it as long as I had a sip of water in that country. My tip is never backpack a country without doing a "Danny". I.e. drink water.
17.Selfie It
There's no proof of me being there so I selfie it. Yes officially we could fake these on a computer so that's why I also do number 18. I also love to get that selfie near the border and immigration area or airport or with a sign for the country so it looks like real proof I backpacked it. Also when I'm older and look at the photos, seeing the name of the country behind me will be a reminder of where I was. It doesn't have to be a selfie – sometimes I get others to take them.
18.Make a Video
This point is probably the best proof that I really backpacked it. I make a video in an obvious location and I speak during it. That way I can watch it again and again later and if friends ask I can also show it to them. I also try and YouTube every video I take. My YouTube Channel.
19. Get a Photo with My Travelling Northern Ireland Flag
Those who know me will also know I am a strong Northern Irish nationalist and take great pride in carrying my FLEG with me to the point where I created a website and bakebook page on it. I try till get a photy everywhere I go with thatun.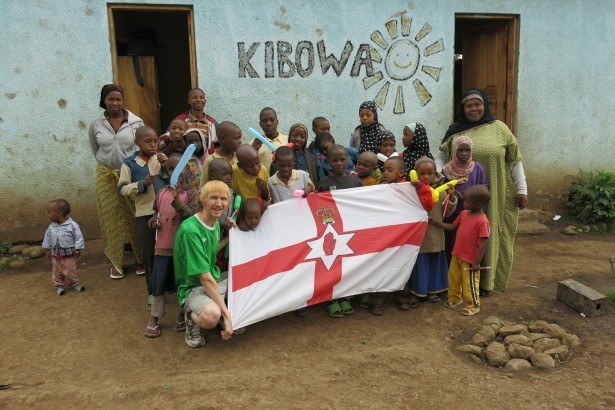 Join 15,017 Monthly Readers! If you enjoyed this article and LOVE travel and SAVING money, get e-mail updates from Don't Stop Living – a lifestyle of travel! (It's Free) 😉 Jonny