Moving abroad is exciting. Life as an expat is adventurous and liberating, exposing you to other cultures, customs, and food. But while excitement can get you through a move, if you are not ready for how to deal with culture shock once you get there, settling in could be a stressful transition.
The following helpful suggestions are tips and tricks for setting in.
Be Patient with Yourself
Settling in takes time. It's not something that happens over night, and how quickly you adapt and feel comfortable in a new environment will depend on your personality and personal circumstances.
It's going to take time for you to feel at home, and that's OK. It could take days, weeks, months, and you know what, for some people it may even take years. But don't book a return flight home the second things get a little rough.
Searching for a job may also take some time, so patience is required for this too. Consider all of your skills and how they could be put to best use – identify the industries which are seeing the most growth and will be looking to take on new employees. London for instance has become a major hub for tech companies recently, so perhaps if relocating to London this could be something for you.
Travel with Realistic Expectations
Culture shock is usually a result of our expectations being disproportionate to reality. Before moving abroad you need to thoroughly research your new home to make sure you're traveling with realistic expectations. But you need to go further than researching the big stuff like the language, currency, and customs of a country. You should also research the things which will affect you day-to-day.
For instance is there a supermarket close to your house? Do restaurants close early, meaning you should plan for early dinners so you don't miss out on food? Learning the local language is one of the biggest steps to overcoming culture shock, and you should not expect that everyone around the world understands English, though the little things matter too.
Build a Friendship Base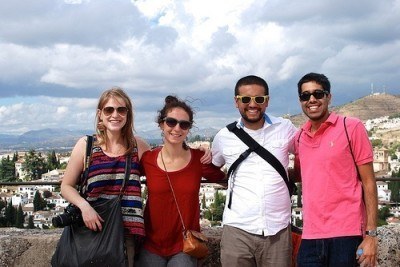 Image via Flickr by krnjn
The biggest obstacle to settling into a new country or town is not being able to make friends. You feel alienated and alone, and that's when homesickness can easily kick in. So go out of your way to meet people, to build a social network and set up a base of friends.
If you're moving abroad for work, get to know your colleagues. If you're studying abroad, make time outside of school to socialize with your classmates. If your family has relocated, strike up conversations with other parents at your kid's school. Organizations like Couchsurfing run regular meet-ups for travelers in cities throughout the world, and if all else fails, hitting up an expat bar is also a fairly easy way to meet others who understand you and have been in your shoes.
Tips for Settling in When Moving Abroad
Moving abroad is a big and exciting step to take, though settling in once you arrive can sometimes prove tough. Follow the above advice and you will settle in in no time.
Join 15,017 Monthly Readers! If you enjoyed this article and LOVE travel and SAVING money, get e-mail updates from Don't Stop Living – a lifestyle of travel! (It's Free) 😉 Jonny