Nottinghamshire is one of those pretty counties of England. Stuck in the Midlands with a load of famous cities around it and boasting Forest Parks and tranquil countryside, it's a joyous county and I ended up there in Autumn time. Autumn in England means the shedding of leaves from trees, the clocks going back and the summer sun cooling down for the next 6 months as England prepares for the colder times. As well as spending some time in the cities, a countryside visit was required and I found a great place in the deep countryside to chill out – The Clumber Park Hotel and Spa near Worksop. This was a pure place for me to relax for a night, recharge my travel batteries and enjoy the luxurious tranquility at the Clumber Park Hotel and Spa.
So while in Nottinghamshire, I was able to visit Nottingham, Derby, Mansfield and Worksop (the last two very briefly), but my main aim of staying here at the Clumber Park Hotel and Spa was to relax. Put my bags down, enjoy the spa, the countryside air, the autumnal gardens and chill out. That's exactly what I did here and here are 5 things I loved about my stay out in this gorgeous complex in Nottinghamshire's countryside.
1. The Spa
The clue is in the title of the complex – the Clumber Park Hotel and Spa. On the ground floor there is a full Spa centre including everything you need to relax and recharge your travel batteries ahead of your next jaunt! Whether you are a family, a business traveller, a backpacker, a young couple, a pensioner…there is one common denominator here – relaxation and rest.
I made full use of the Spa, which is included in your price as a guest. The sauna and steam rooms were also not full when I was there so I got complete relaxation.
The main swimming pool is warm and fresh.
Within the pool there is also a hot jacuzzi and outside the swimming pool area a full gym and massage centre. Massages can be requested and the book in your room contains a full overview and price list.
2. The Country Charm
Country walks, no big city buzz, lights go out early, wake up to birds singing. All that you wanted and expected when you decided to come to the Clumber Park Hotel and Spa to relax. Oh the beauty of deepest Nottinghamshire countryside. Clumber Park itself is a short walk opposite the hotel and is owned by the National Trust.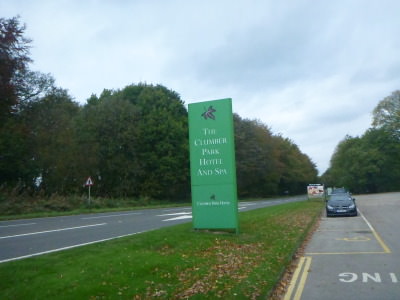 3. Spotless Rooms
After a day of travelling, I opened my room door and…bliss. Immediately I knew I was here for the rest of the day and night and wouldn't want to leave the complex. It's a luxury, cosy, spotless room. I was in Room 56. My room included a TV, hot bath, tea and coffee (and Shrewsbury biscuits!), cosy bed, desk, slippers…
4. WiFi in Every Room
I came here to do a bit of work too and without a single distraction and fully fast working Wi-Fi in the room, my desk was set up and off I typed!!
5. The Breakfast
As a rule, English hotels have always been consistent at breakfast. Tea, juice, cereal and fried breakfast being the normal expected four things from any hotel, hostel or B & B in the whole of England and I'm always suitably impressed. However, the Clumber Park goes one step further, introducing not just many extras but their own breakfast menu! How does smoked haddock or kippers sound? Hmm…amazingly different!
And after my refreshing night here in the Clumber Park Hotel and Spa, it was back to the city of Nottingham and my journey moved south again. I will never forget my stay in the warm, cosy country charm of the Clumber Park and hope you can head out there and enjoy it too! Here are the details for booking:
Clumber Park Hotel and Spa, Blyth Road, Worksop, S80 3PA
Tel: 01623 835 333  Email: [email protected]
Website: http://www.clumberparkhotel.com/
Book the Clumber Park Hotel and Spa on Agoda directly
Here are my videos from my time relaxing at Clumber Park Hotel and Spa in Nottinghamshire Countryside:

Join 15,017 Monthly Readers! If you enjoyed this article and LOVE travel and SAVING money, get e-mail updates from Don't Stop Living – a lifestyle of travel! (It's Free) 😉 Jonny