"Ridahah Ridahah " – Arabic Desert Song.
While based in Hail City in Saudi Arabia we did two day trips out into the remote desert. The first of these included an ancient dwelling place and a hike. This hike brought reminders instantly back from my 2013 adventure to Jordan. On that trip I celebrated 10 years to the day since I left Northern Ireland by touring Wadi Rum in the desert of Jordan. It was a trip to Mashar National Park and Tawarun before we would head to the petroglyphs at Jubbah the following day.
That memorable tour in 2013 was part of a 4month stint in the Middle East. I covered our trip to Saudi Musa, Aqaba and Wadi Rum before. That time I was with Ahmed and Rum Stars on a hot day hike through the desert and Rocky lands. On the route we passed by a house once used by Lawrence of Arabia and Ahmed told us we were just a few hundred kilometres from Saudi Arabia. At the time visaless. Here in April 2018 it was all for real. We toured quite a few parts of the northern region of Hail, including curiously Jubbah and Mashar (both are also names of places in South Sudan which is so far unbackpacked by me). This day trip went like this.
Hail City to Tawarun
We left Hail and headed to a small settlement called Tawarun. On the drive we stopped for a snack and a drink. We passed camels of course – otherwise it just wouldn't feel like Saudi Arabia.
Tawarun
After an hour or so, we arrived in Tawarun. It was an old ruined village. There was nobody else here. There were some old graves. We also had some apple pie and Arabic coffee here as we wandered through the remains of a mud village from a few thousand years ago. This is not well looked after though and had some graffiti on it and broken bottles. I hope it gets cleaned up.
Tawarun to Mashar National Park
Then we had another drive from Tawarun to Mashar National Park on the edge of Hail City. On route we stopped at a "fresh water" place. As a person who never buys water, this was another chance to top up my brace of water bottles for free. The rest of the drive was typical Arabian desert – we passed a few camels.
Hiking in Mashar National Park
On arrival at Mashar National Park we were heading on a short hike. Yes it was hot and we were in a group of seven (6 of us, plus our Saudi Arabian guide). Before the walk we saw a Bedouin tent. The hike took us through a small desert oasis and some rock climbing to a well. In was nearing sunset and our guide stopped to pray. As blogging has not been the same for me in my struggles with depression, I felt it was nice to get all these posts covered with photos for a change and here you go…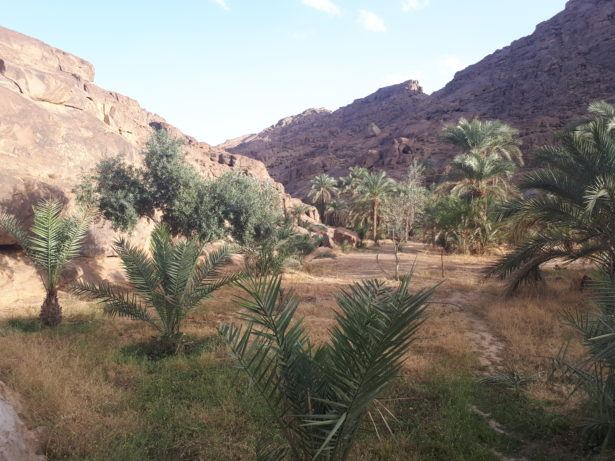 After the hike we returned to the car and made the trip back to Hail for dinner. We stayed in Hail city at the Aronani Hotel. I reviewed our main Hotel Mercure in Jeddah before, when time permits I'll be able to write about the other hotels too – but as you'll know I have 1,500 travel blog articles unwritten. I never get writers block as I have too many ideas. It's a case of not enough time in life.
How to Organise a trip to Mashar National Park and Tawarun
As Saudi Arabia continues to develop its tourist potential, there are still no tourist visas available. However, if like me you have a work event, a business opportunity or commerce, you can get a business visa. Once you have that, organise your trip with two of my partners, Young Pioneer Tours and Haya Tours:
Young Pioneer Tours
[email protected]
No. 2804 South Block Lijing Building, Caiwuwei, Jintang Road 48#, Guiyuan Street, Luohu District, Shenzhen City, 518000, CHINA
Haya Tour
First Floor, Alia Plaza, Exit 6,
Cnr: Thumamah Road and Abi Bakr As-Siddiq Street,
Ar Rabi, Riyadh 13316
Kingdom Of Saudi Arabia
Email: [email protected]
Here are some videos from my time exploring Hail and nearby desert areas while backpacking in Saudi Arabia:

Join 15,017 Monthly Readers! If you enjoyed this article and LOVE travel and SAVING money, get e-mail updates from Don't Stop Living – a lifestyle of travel! (It's Free) 😉 Jonny