"Back In The Saddle" – The Bluetones.
Old habits die hard. I simply loved the hostel lifestyle back in my glory days of whackpacking. Of course, the story goes that a brace of bad people I met in a hostel had affected me and threatened for 8 years to ruin my existence as a human. However, I can never lose my passion for sharing dorm rooms with randoms. I just became more aware of who to trust and I'm very very careful now.
By way of a textbook cheapnut Ryanair flight, I arrived in Ponta Delgada on São Miguel Island in The Azores. Though I quadrupled visits to Portugal in the past, they were all mainland visits. I hattricked Lisboa before.
Plus as a bonus ball, The Azores drew up a brace of reasons to visit. Firstly it's an autonomous region of Portugal, therefore instantly up the street of the Don't Stop Living ethos. Secondly it has direct flights to The Cape Verde Islands, a new country on my globe that of course I would visit next. It would be harsh to call The Azores merely a stopover. Here, I had three days which gave me time to backpack the sights of Ponta Delgada (the capital city), visit the beach on the Atlantic Ocean at São Roque, do a pub crawl of Ponta Delgada and an exciting quad tour (dune buggy) to the west of the island at a place called Sete Cidades.
I chose the Azor Azul hostel, located on the east of the capital city. A taxi from the airport to here is 8-10 Euros. Euros is the currency used as of April 2022.
I checked into room 5. It was a 6 bed dorm with an ensuite. Here are the things I liked about my stay here.
1.Dorm Lifestyle Returned!
I had new dorm-mates to meet again and this time, as an older man and seasoned backpacker I was more careful. Then I realised I had three great dorm mates – Gerard (from Galway), Maria (from Moldova) and Sara (from Slovenia). We all shared a dorm and had some drinks on my last night there.
2.Breakfast Included
Breakfast was included here. Tea or coffee plus bread with cheese and ham.
3.Excellent Value
Those who don't travel often get money calculations wrong. A dorm bed here comes in at less than 20 Euros a night. Cheap, cheerful and low budget loyal.
4.Swimming Pool
The rule is that hostels are so cheap they usually don't have swimming pools and when they shockingly do – you must take advantage of it!! I had flashbacks to my nights in the YHA Hostel Canberra, Australia (which had an indoor pool) and the Hostal Casa Verde in El Salvador, which had an outdoor pool.
5.WiFi
Being on the Atlantic Ocean waves again I thought that maybe the WiFi would be dogshit. But it wasn't! It was fast. I spent a morning working on my laptop here which was great!
6.Seaside Boy by the Sea
I grew up in the Northern Irish seaside town of Bangor. Out the front of the Azor Azul Hostel is the sea. The Atlantic Ocean! Plus ocean views from the upstairs balcony!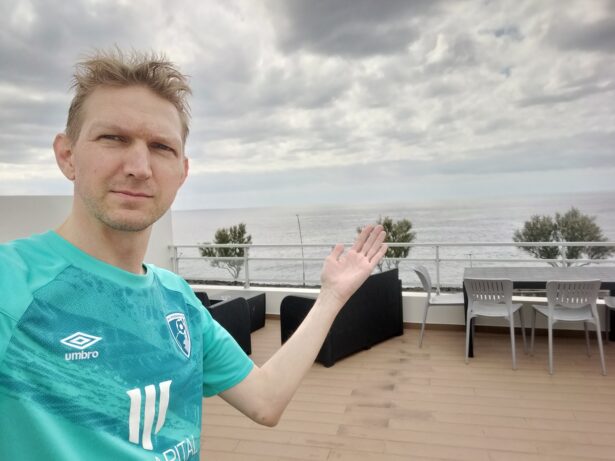 I went to the beach and had coffees and beers by the charming seafront. Bliss for a seaside child.
Here are the details for booking a bed at the Azor Azul Hostel in Ponta Delgada, Sao Miguel Island, The Azores:
Address: 
R. da Pranchinha 37, 9500-331 Ponta Delgada, Portugal
Here are some videos from my stay in the Azor Azul Hostel in Ponta Delgada, Sao Miguel Island, The Azores:

Join 15,017 Monthly Readers! If you enjoyed this article and LOVE travel and SAVING money, get e-mail updates from Don't Stop Living – a lifestyle of travel! (It's Free) 😉 Jonny