"Is this burning an eternal flame?" – The Bangles.
Another travel dream was made when I visited the Darvaza Gas Crater in central Turkmenistan in 2018. This country was also my final FIFA country in the former Soviet Union. I really recommend a trip here, this is my story of Darvaza, go and see it.
What is the Darvaza Gas Crater?
The Darvaza gas crater is a large burning hole in central Turkmenistan, just 8 kilometres from the main road between Ashgabat and Dashoguz. It is often dubbed the "Door to Hell" or "Gates of Hell". It is a natural gas field collapsed into an underground cavern located near a village called Derweze, Turkmenistan. We didn't visit Derweze, but this is where the crater takes its name from.
Geologists set this crater on fire during the Soviet Union times, in order to prevent the spread of methane gas. It continues to burn and has apparently been burning continuously since 1971. The Darvaza Crater is 30 metres deep and 69 metres wide at its widest point. It's probably the most touristic site in Turkmenistan and the one that most people put first on their list. For me, I'd probably rank the wacaday buildings of Ashgabat the capital slightly higher, but this was a must-see for me.
"Better the devil you know" – Kylie Minogue.
Driving from Ashgabat to Darvaza Gas Crater
We headed out of the capital Ashgabat by car to Darvaza Gas Crater. I was with my backpacking buddy Paweł from Wrocław in Poland. There were a few stops on the way. The gas crater is located near the village of Derweze, also known as Darvaza. We didn't even see that village, nor Bachardok or Jerbent, which we also bypassed. Darvaza Gas Crater is in the middle of the Karakum Desert, just inside the Dashoguz province, about 260 kilometres (160 miles) north of Ashgabat, the colossal capital of Turkmenistan.
"Got a devil's haircut in my mind" – Beck.
Our driver took us through the desert, and while we were initially meant to stop at a settlement on route, we ended up just going straight to the first sight of the day, a crater without an actual name, so I called it crater number 1.
Crater Number 1
"I don't mind not going to heaven; as long as they've got cigarettes in hell" – Noel Gallagher.
We arrive at our first sight on the way. It's a crater! This crater has some bubbling volcanic liquid at the bottom. There are no other tourists here and there is no tourist information. While it did remind me of volcanic sites like Rotorua (New Zealand), Azerbaijan and Iceland, there was a difference here. As Pawel pointed out – they dug this place up. It wasn't natural – even if the volcanic activity and gas reserves were. We pose for photos and admired before heading on.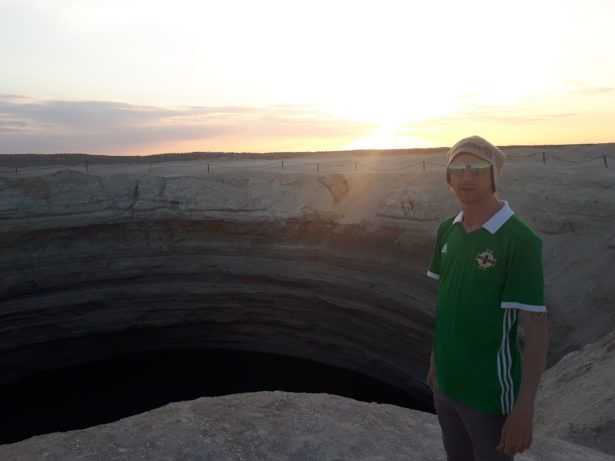 Crater Number 2
"See you in heaven if you make the list, yeah yeah yeah yeah" – Michael Stipe.
Sun began to set as we drove from the first crater to the second crater. The second crater again was also unsignposted but our driver knew about it. This time, the crater was slightly on fire with the gas at the bottom. It felt like each crater a preview to the big one, which was up next after a 10 minute drive.
Darvaza Gas Crater
"and it burns burns burns, that ring of fire" – Johnny Cash.
So we arrive before sunset and feast our eyes on the beast. This was the reason we were here and in many ways my main incentive to finally visit Turkmenistan. It was a calm, hot evening with a clear sun and sky. The roads were not too bad, it was a simple drive 8 kilometres inland on rocky custom made roads and we had arrived. After only seeing a few other tourists in the capital city, we were now two of around 30 – 40 tourists here. It was as touristic as Turkmenistan would get for us.
The gas reserve found here in Darvaza is one of the largest in the world. The name "Door to Hell" was given to the field by the locals, referring to the fire, boiling mud, and orange flames in the crater. Tourists naturally took on this nickname too and it is a big part in many backpackers tour along the Silk Road. This was to be one of my final trips to visit in Central Asia. After leaving Turkmenistan I felt no need to ever go back there. For now, we did the short walk to the top of the hill to admire the crater from afar, then back up close to it, then it was sunset.
As it became dark we moved our bags into our tents and headed for supper. But the magic of Darvaza was far from over.
Supper at the Darvaza Gas Crater
"One way ticket to hell and back, got a one way ticket to hell" – The Darkness.
Supper was served by the yurt side just a few metres from our tents, and with a view over the burning crater. A hearty soup for starters was followed by barbecued chicken and sliced carrot. We drank peach juice and chatted as the sun faded completely from view.
Once supper had been completed, it was sacrifice time…
Sacrifice at the Darvaza Gas Crater
"Slash n burn" – Manic Street Preachers.
As many tourists and even spiritual locals do, Pawel and I decided to do the pilgrimage sacrifice. An empty glass bottle dropped into the fires of hell in exchange for a deletion of memories or some dreams. Sounded fair enough. We bought a beer each in Ashgabat, opted for Zip5 and we were to sacrifice the empty bottle here, in the gas crater. Please note, that there are no official shops here in the wilderness. So if you do want to guarantee having a beer or even water here, buy it in advance. There might be some unofficial places to buy them, but we prepared in advance.
"It's no sacrifice" – Elton John.
There were just three of us – myself, Paweł and Artur, our guide. Artur wasn't doing the sacrifice – as a local he had probably had his fair share of opportunities. But for Paweł and I there seemed to be something spiritual on offer here. We both finished our beers rather quickly. In the heat they became warm and frothy. They both fizzed up as we opened them. As I sipped my final drop, I made my wish for good riddance and headed fire side.
It was a quick "drop and throw" move and my bottle was now condemned to the gates and fires of hell. I hope it helped me banish a memory and for Paweł too. There was no time to linger as we headed back to camp for a night time drink of coffee and tea.
Sleeping at the Darvaza Gas Crater
Once we had done our sacrifice and sank our beer, those stars shone down on us and it was time for a quick night time cup of tea before going to bed. It was a tiring trip so I fell asleep in my tent almost immediately. Initially I thought we would be sleeping in a yurt with a big group, but there was a communication breakdown and we ended up with tents. This tent was the same size as the tent I slept in in Poatina in Tasmania back in 2010 when I was trying to get my life back on track as a broccoli farmer and backpacker. You can clearly see the Darvaza in the distance behind my tent. The facilities here were excellent. There was a proper toilet tent and a shower tent.
Breakfast at the Darvaza Gas Crater
The next morning I am awake at 7 am. Sunrise has been and gone and I got a decent sleep. We have a quick breakfast – yoghurt, bread with cheese, jam, egg and peach juice and a coffee.
We get our final glimpse of the Darvaza Gas Crater around 8 am. Before leaving it behind, for this lifetime anyway. The sentimentalist in me knows that most of these places, we won't return to…
Goodbye Darvaza, we will never meet again…
"Like a bat out of hell I'll be gone in the morning sun" – Meatloaf.
Here are the details for booking a tour to the Darvaza Gas Crater in Turkmenistan:
International Agent – Silk Road Explore
28 Minbulakskiy Lane, 720042,
Bishkek, Kyrgyz Republic
+996 550 914 408
[email protected]
https://silkroadexplore.com/destinations/turkmenistan/
Local Agent – Owadan Tourism
207 Oguzkhan Street Office 335
744027 Ashgabat
TURKMENISTAN
Telephone – +993 12957673, +993 12957681
[email protected] (for agents and operators)
[email protected] (for backpackers and independent travellers)
http://www.owadan.net/
Here are some videos I made while visiting the Darvaza Gas Crater in Turkmenistan: