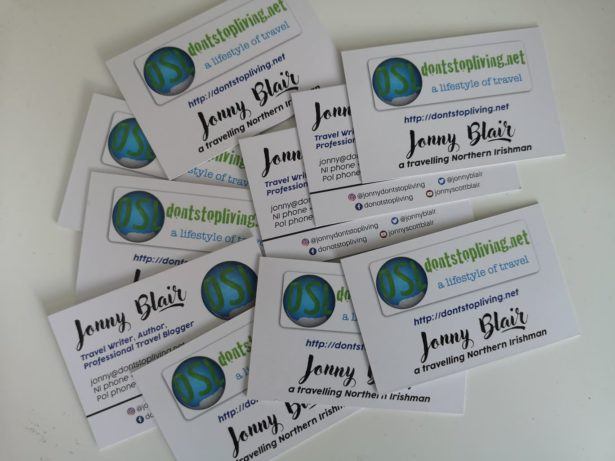 As the pandemic continues, I have been trying to promote my books as well as my website. In case you missed my triple book launches, here is a reminder of the three volumes of Backpacking Centurion –

Down the years I have a changing selection of business cards. It's the way it works. You buy 300 or 500, you hand them out and exchange them. Then you need to order more. A blogger without a business card isn't a business blogger. An author without a business card isn't a business author. Money isn't the be all and end all of life though, but I've always wanted to promote myself. In fact, my first "business" cards back in 1997 were just for a hobby. My first business cards were for the "Here We Go… Again" Northern Ireland football fanzine.
Later, I had business cards made when I was the chairman of the South of England Northern Ireland Supporters Club.
Finally, my travel Blog, Don't Stop Living launched in 2007 and I needed cards for it too. It was always all about promotion.
In 2013, I got new business cards for Don't Stop Living.
In 2016, I got another batch made, my favourite design up to that point.
In 2017, I had a new blog, Northern Irishman in Poland and I got cards for it too.
Then in 2020, I finally released my first printed book. It is called Don't Look Back In Bangor, and it's Volume 1 of my Backpacking Centurion series.
Then I realised that none of my business cards had the word "author" on them. So I decided to order some new ones. Online is the way to do it and so I asked Aura Print (UK based) to not only print me business cards, but to design them. As you can see, my new business cards are excellent, very professional and ready for my first major travel event of 2021 – the Festiwal Siedem Stron Świata – spotkania o podróżach at Siedem Ogrodów in the town of Łowicz Wałecki in Poland!
Here are the details for organising business cards through Aura Print –
Good luck in your upcoming business adventures!
Join 15,017 Monthly Readers! If you enjoyed this article and LOVE travel and SAVING money, get e-mail updates from Don't Stop Living – a lifestyle of travel! (It's Free) 😉 Jonny