As a kid, I'd heard of Barbados. It was actually in travel brochures back in the 1980s, however I had always avoided it and honestly I had also avoided most of the Caribbean down the years. It seems ridiculous to me now, given that I have been to every country in American mainland. Until 2021, my only jaunts to the Caribbean were to the islands of Belize (San Pedro and Caye Caulker), Honduras (Utila) and Trinidad and Tobago. It was time, during COVID era PCR test loyalty, to put it right with a hardcore Caribbean tour. My first stop was here, in Barbados.
Barbados is a tropical island in the Caribbean that has direct flights to airports near cities as obscure enough as Edinburgh, Dublin and Frankurt. So I was able to make Barbados my first stop on my Eastern Caribbean tour in 2021-2022. I flew into the main international airport and headed to stay nearby in the Christchurch district Providence and I checked into the excellent Best E Villas.
Here in Barbados I visited Hastings, Worthing, Bridgetown, Waterford, Oistins and of course Providence in Christchurch, where I was sleeping. Here is why you should book the Best E Villas Christchurch Barbados.
1.Local, Quiet
When you stay here at the Best E Villas, you are staying in a local, quiet area here. It's a quiet, calm street. I enjoyed backpacking the local neighborhood.
2.Avoid Ya Clichés
Possibly the best thing about staying at the Best E Villas was that I avoided the hoardes of middle class/posh tourists who love a good safety net. It also allowed me to experience the inland of Barbados, not just the beaches which are admittedly gorgeous.
3.WiFi
My WiFi worked very well here in my apartment, and it also did in many parts of the Caribbean, which surprised me.
4.Almost Secret Pool
The pool is slim and hidden. It's round the back and almost secret. It was always nice to have the option of a pool and a beach when backpacking the Caribbean.
5.Cosy Apartments
My apartment was top notch. It was actually a family pad I had which meant a brace of bedrooms, a working kitchen, a bathroom, a dining area, a lounge area and a balcony.
6.Television, fans, aircon
I had luxury here at the Best E Villas. I made use of my fridge, the television, the fans and the air conditioning.
7.Local Buses Downtown
I was impressed by the local bus system in Barbados. Each bus ride costs just 2.50 Barbados Dollars and they just drive past and randomly stop at the roadside.
I was actually in Barbados three times on the same trip – it's the way the flight connections work there. Barbados is a bit like a hub the way Nauru does that in the Pacific Islands. I toured Hastings, Worthing, Bridgetown, Waterford (for the football stadium) and Oistins.
8.Decent Prices
Remember that Barbados has far too much luxury in terms of resorts and coastal hotels. Screw all that and save money and pretentiousness by booking a better value room here. With local bus loyalty, you can still whackpack down to the coast to mingle with the beachfront millionaires…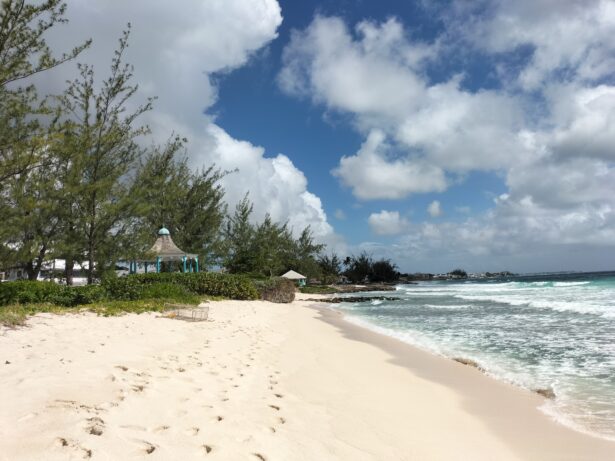 Here are the details for booking a room at the Best E Villas in Barbados. Please note that the company has more than one venue! I stayed at the Providence in Christchurch location and loved it – but you can book a different one too:
Best E Villas Barbados
Providence, Christchurch Address: #31 Limestone Dr, Oistins, Barbados
Phone: +1 246-233-2814
Email: [email protected]
Best E Villas Christchurch Barbados on Facebook
Here are some videos from my stay at the Best E Villas Christchurch Barbados:


Join 15,017 Monthly Readers! If you enjoyed this article and LOVE travel and SAVING money, get e-mail updates from Don't Stop Living – a lifestyle of travel! (It's Free) 😉 Jonny