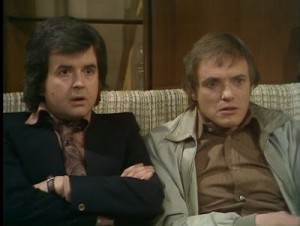 It's not often I actually watch Television let me be honest. I don't find a lot of time for it these days and having lived with so many different people over the years I am just happy for them to choose the channel and I'll watch it. I prefer repeats and old comedys, of which there are many favourites of mine, and nearly all of these are programmes that have been broadcasted on the BBC (Only Fools and Horses, Fawlty Towers, Game On, Match of The Day, Jonathan Creek), but one of the old comedys I love is The Likely Lads (or the 1970s version 'Whatever Happenned To The Likely Lads?'). Set in working class Newcastle, its the story of two good mates, local lads just enjoying their normal life. And that's what makes it so good – it's real, you can imagine it happenning, people really do live like that. Terry and Bob, played by James Bolam and Rodney Bewes are good mates, and enjoy nights down the pub, the chase for women, the love of football and many fun and frolics along the way as they work for a wage in Newcastle.
The BBC have actually LOST some of the original episodes over the years, which makes watching the entire back catalogue very hard to achieve, but I videoed some of them from the BBC years ago (and also on UK Gold) and some are now available on DVD. It is truly one of the great British Sitcoms and doesn't age with time, in my opnion, this is justified by the fact that current Newcastle/Geordie celebrities Ant and Dec recreated one of the classic episodes recently, ensuring that the legend lives on, and what a classic theme tune. It personifies being happy in despair "the only thing to look forward to is the past", classic British irony that. So sit back, get some toast and jam on the go, a good pint of bitter and watch some of those episodes. In the 1960s, the sitcom was called "The Likely Lads", and then the BBC quit the show, before deciding to bring it back in full colour in the 1970s, and re-name it "Whatever Happenned To The Likely Lads?". By this stage, Terry had returned from serving for Britain during the Cold War, and had even married as East German. You've got to love it!

THE LIKELY LADS:
http://en.wikipedia.org/wiki/The_Likely_Lads
Series 1
Entente Cordiale – The lads return home from a foreign holiday
Double Date – Lovelorn Bob is cheered up by a double date
Older Women Are More Experienced – Terry finds an older girlfriend (and Bob finds a younger one!)
The Other Side Of The Fence – The lads attend a posh party
Chance Of A Lifetime (lost episode)
The Suitor – Terry enlists Bob's help to try to get rid of his sister's boyfriend
Series 2
Baby, It's Cold Outside (lost episode)
A Star Is Born (lost episode)
Talk Of The Town (lost episode)
Last Of The Big Spenders – The boys take two London girls out on the town
Faraway Places (lost episode)
Where Have All The Flowers Gone? (lost episode)
Series 3
Outward Bound (lost episode)
Friends And Neighbours (lost episode)
Rocker – Bob buys a 'mod' moped, but it's Terry who ends up in hospital
Brief Encounter (lost episode)
The Razor's Edge (lost episode)
Anchors Aweigh (lost episode)
Love And Marriage (lost episode)
Goodbye To All That – Bob fatefully joins the Army
WHATEVER HAPPENED TO THE LIKELY LADS?:
http://en.wikipedia.org/wiki/Whatever_Happened_to_the_Likely_Lads%3F
Series 1
1. Strangers on a Train – The lads are reunited by chance, after five years, aboard a homeward-bound train.
2. Home Is The Hero – Terry, newly demobbed from the Army, finds it hard to adjust to all the changes which have occurred in his home town during the five years he's been away.
3. Cold Feet – Due to a misunderstanding, Terry causes havoc between Bob and Thelma, leading Bob to get cold feet about the wedding.
4. Moving On – A depressed Terry decides to go round the world with his old army friend, Hughie McClaren.
5. I'll Never Forget Whatshername – Terry, now back home again, looks up some of his old flames. His lack of success with them makes him self-pitying, and Bob smug, until suspicion arises that Terry may once have had a drunken fling with Thelma.
6. Birthday Boy – Terry becomes depressed when he thinks everyone has forgotten his birthday, but a surprise party organised by Bob goes wrong when someone else is accidentally invited to it instead of him.
7. No Hiding Place – The lads try to avoid learning the result of an England football match before the TV highlights are shown that evening. Flint (Brian Glover) tries to spoil it for them, having bet them £10 that they won't get through the day without learning the result. They get to the TV highlights none the wiser about the score, except for Terry seeing a newspaper headline that says "England F…". When Flint tracks them down to Bob's new house, an angry Terry pays him off with £10 (borrowed from Bob). But after all that, the match turns out to have been postponed because of a waterlogged pitch. "England – flooded out…"
This episode was remade by Ant & Dec for ITV in 2002, featuring a cameo appearance by Rodney Bewes as the old newspaper vendor.
8. Guess Who's Coming To Dinner? – Terry joins Bob and Thelma at a posh dinner party, and causes havoc.
9. Storm In A Tea Chest – Thelma hypocritically forces Bob to throw out all his childhood junk, while keeping all of hers.
10. The Old Magic – At a fancy restaurant, the lads test out whether they can still 'pull' the birds or not… And end up with a date with a girl who they certainly didn't expect.
11. Countdown – The lads get set for Bob's wedding, and we meet Thelma's dad George (played by Bill Owen, better known as "Compo" in Last of the Summer Wine), a staunchly working-class builder.
12. Boys Night In – The night before the wedding. Bob refuses to have an old-fashioned stag night, preferring a quiet night in with a cup of cocoa and a game of Ludo. Terry tries to get him in the party mood nonetheless: and they end up in a police cell.
13. End Of An Era – Bob and Thelma are finally married. Things will never be the same again: old ways, old days, gone for ever. Or are they?
Series 2
14. Absent Friends – Terry looks after Bob's new house while he's on honeymoon, and romances Thelma's younger sister, Susan. This picks up some of the threads from the episode "The Old Magic".
15. Heart to Heart – Bob and Thelma return home, and Susan decides to leave Terry and to return to Canada.
16. The Ant and the Grasshopper – A run-down Bob grows increasingly tired of funding Terry's lazy lifestyle. There's no dialogue in this episode for the first three minutes, which is unusual. A Slade song is heard over this montage, the only occasion an original song was used in the show.
17. One for the Road – Bob is caught drink-driving. Terry, in the same cell for football hooliganism, attempts to help him out.
18. The Great Race – The lads relive their active youth with a bicycle race to Berwick-on-Tweed, but cheat each other to a standstill.
19. Some Day We'll Laugh About This – Terry romances Bob's bored neighbour, when supposedly doing some building work at Bob's new house, while Bob and Thelma are away skiing. The episode features a cheeky milkman called Les (played by Tony Haygarth), and sight-gags of people falling through floors as a result of Terry's oversight, in laying the blonde instead of the floorboards.
20. In Harm's Way – Terry reluctantly takes a job as a hospital porter, and causes a series of disasters, the victim of every one of which is Bob. This picks up from the previous episode, with the injured leg that Bob sustained in falling through a floor putting him into hospital and into the path of nemesis…
21. Affairs And Relations – Our heroes, gone fishing, catch Thelma's dad 'playing away' with his blonde secretary in a country hotel. Then Thelma turns up unexpectedly and thinks the blonde is with Bob.
22. The Expert – The follow-up to "Affairs And Relations", which sees Thelma leave Bob as a result of his supposed infidelity. Terry offers himself as an expert on marriage guidance, despite the disaster that was his own marriage.
23. Between Ourselves – Terry moves in with a depressed Bob and amusingly plays housewife in Thelma's absence, while Bob tries unsuccessfully to conceal from their friends and neighbours that Thelma has left him.
24. The Go-Between – Terry tries to fix things up between Bob and Thelma, but Bob ends up with his head in a gas oven. This episode brings to a conclusion the 'on/off' storyline between Bob and Thelma which began in "Affairs and Relations".
25. Conduct Unbecoming – Both the lads end up in court on separate assault charges, involving the same local ruffian, Duggie Scafe (played by Alun Armstrong). Armstrong also played Terry's milkman in the 1976 feature film spin-off, "The Likely Lads", although it's unclear whether that character is supposed to be Scafe.
26. The Shape Of Things To Come – Bob, worried that Terry is ruining his life, just as Terry's recently-deceased Uncle Jacob did to his own best friend, decides to sever their ties. As ever though, he finds he can't escape, with Terry emerging triumphant as always; and we see in Uncle Jacob and his mate a picture of how Bob and Terry will be in forty years time, bringing the second series to a humorous conclusion.
In 1974, all 26 episodes from series 1 and 2 were repeated on BBC 1 in a continuous 26 week run leading up to Christmas, culminating in a new Christmas Special.
27. Christmas Special 1974 – Amongst other adventures (including Terry passing his driving test and Bob growing a scary beard), Terry drives Bob and Thelma to a Christmas party as their minicab driver, and waits for them outside; leading to further misunderstandings, and more accusations from Thelma. (First broadcast on Christmas Eve 1974).
Join 15,017 Monthly Readers! If you enjoyed this article and LOVE travel and SAVING money, get e-mail updates from Don't Stop Living – a lifestyle of travel! (It's Free) 😉 Jonny