"Slide away and give it all you got" – Noel Gallagher
While visa issues continue to dominate traveller's dilemmas, mine included, it is always nice to keep an eye on the passport and visa situation every January. This is because it normally changes every January. For example in 2017 Belarus changed their visa policy to allow a new "5 day visa on arrival in Minsk" and in 2018, Benin now offer an e-Visa for many nationalities. Currencies sometimes change too – I deliberately backpacked Lithuania in January 2015 to see how they coped and reacted with the sudden change to the dreaded Euro that week. India and Vietnam have also introduced e-Visas since I backpacked the brace. China has also introduced a 72 hour airport visa for some cities, and the Russian zone of Kaliningrad now also allows an e-Visa which is actually valid for 96 hours (I personally tested that one). Check this map out which shows what type of entry is required for any British passport holders:
Visa requirements for British citizens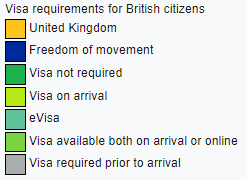 In short, if you are British, Singaporean, Hong Kongese, Finnish (and a few others), travelling is easier. As of today, holders of a British passport (United Kingdom of England, Scotland, Wales, Northern Ireland) can backpack a whoppaday 174 countries WITHOUT needing a visa in advance. Benin the latest easy one…
As I chase down a list of 200 countries I want to visit, using my Northern Irish nationality to nab a British passport and an Irish passport, this means that maximum only 26 of them will require visas in advance from embassies, or if you go by the United Nations list you will only need visas for 33 countries if you are British, not including the list of wacaday micronations or those with special permits:
(those in bold I have already been to)
Saudi Arabia
Afghanistan
Turkmenistan
Bhutan
Iran
Angola
Burundi
Cameroon
Eritrea
Yemen
Congo
Democratic Republic of Congo
Equatorial Guinea
Ghana
Guinea
Algeria
Central African Republic
Chad
North Korea
Liberia
Libya
Mali
Mongolia
Nauru
Niger
Nigeria
Pakistan
Sierra Leone
Syria
Sudan
South Sudan
Uzbekistan
Exceptions:
Iraq (visa needed for the non-Kurdish part but visa on arrival in Kurdistan)
China (144 or 72 hour visa at some airports now)
Kaliningrad, Russia (96 hour e-visa now available)
Benin (e-visa now available)
Cuba (tourist card needed)
Somalia (you can get a visa on arrival for Somaliland part only)
North Korea (you can enter inside the DMZ officially but without a visa, stamp and it's only for a few minutes)
My list of all 627 countries I recognise
My recent interview on Doing the 193 with Global Gaz
Visa requirements for British citizens are administrative entry restrictions by the authorities of other states placed on citizens of the United Kingdom. As of 1 January 2017, British citizens had visa-free or visa on arrival access to 173 countries and territories, ranking the British passport 4th in terms of travel freedom (tied with Austrian, Belgian, Dutch, French, Luxembourgish, Norwegian and Singaporean passports) according to the Henley visa restrictions index
"Baby I don't need dollar bills to have fun tonight" – Sia – Cheap Thrills.