"Water's running in the wrong direction; got a feeling it's a mixed up sign" – Girls Aloud.
When I finally made it to my last European UEFA country in 2021, it was Albania. Alphabetically this should have been the first. But alas, through all my troubles and strife and fuelled by depression, I eventually rocked up here in Albania's capital city Tirana. I did that during a pandemic. This completed 55 out of 55 UEFA countries and was also country 189 on my list. And for once in my topsy turvy life, I hadn't even made a reservation for anywhere to sleep. It was a spontaneous trip in the height of my deep ongoing depression and I was badly injured.
From the airport, I just got a taxi to the hostel. I've changed in life. I never used to do that. Now, it's the safety, the security. Budget is out the window now, given my circumstances. I'll pay a grand to backpack a country.
This was the city's first ever hostel, Tirana Backpacker's Hostel. Back in 2014, when I was initially meant to visit Albania, I slept in the first ever Backpacker's Hostels in two other country capitals – Dili in East Timor and Skopje in Northern Macedonia.
I was checked in by Alicja from Guatemala here in Tirana, all very friendly and happy and a surprise to meet a Guatemalan here – I haven't met a Guatemalan at all since I backpacked the country for a month in 2014. Here are a few of the cool things about staying here at the Tirana Backpacker Hostel.
1.Location
It's on a quiet street off Kavaja Street, a main thoroughfare that leads you right down to the central square and city buzz of central Tirana.
There are also loads of cool cafes, bars and restaurants nearby. Tirana is cheap and cheerful even during a pandemic.
2.Quirky Courtyard and Art
This is a totally quirky hostel. There is random art everywhere. The quirky courtyard is a chill out zone with all kinds of nik naks, bric a brac and suchlike.
This also includes a wooden,open outdoor bar perfect for a night in with hostel buddies chilling to good music.
3.Textbook Hostel Vibe.
"She's got it. Yeah baby she's got it" – Shocking Blue.
As a veteran of backpackers hostels the world over, this is up there with the vibe of most.
4.WiFi
While I don't blog anywhere near as much as I used to, the WiFi was good here. As a tip, book a bed in the dorm on the right hand side on the first room on the right inside the hostel doors. I was in bed one here and the WiFi was great.
5.Breakfast
In the basement kitchen, breakfast is included. A novelty these post COVID starting days where many such textbook norms are now often a luxury. Normal service is resumed here in a hostel that knows what a hostel is all about.
After touring Tirana, I headed north to meet my friend Shpetim in Shkoder, where I stayed at the Central Hostel. Thanks for a great time in Albania, Shpetim!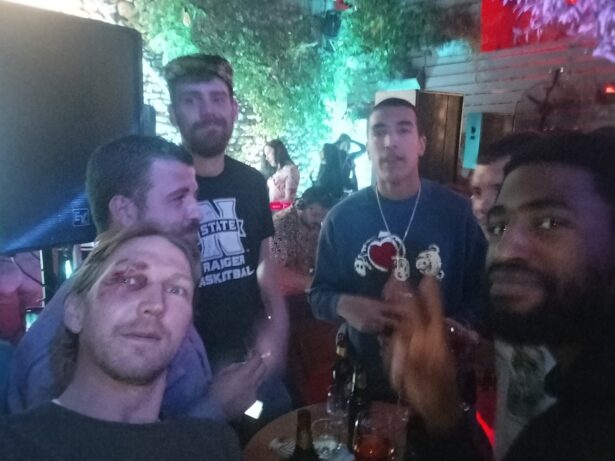 Here are the details for booking the Tirana Backpacker's Hostel in Tirana, Albania:
Rruga e Bogdaneve 3, Tirana, Albania
[email protected]
+355684682353
+355683133451
Here are some videos I made in Tirana Backpacker's Hostel: