I love a crazy animal adventure on my travels, and strangely most of them seem to have occurred in Africa! There was the time I fed hyenas mouth to mouth in Harar, Ethiopia. Then the time I went on safari with Shadows of Africa in Tanzania. Then the time I stroked crocodiles in the Gambia. On my April 2019 adventure, we aimed to see the gorillas in the Democratic Republic of Congo and do a safari in the Masaai Mara in Kenya. A welcome addition, suggested by Malina was to feed and kiss giraffes at the Giraffe Centre, south west of Nairobi. We also learnt there is a giraffe hotel in Nairobi where giraffes actually lick your face in the morning to waken you up. However, that hotel has a budget of $500 US per night. At $10 US, the Giraffe Centre is a lot cheaper and cooler, so off we went.
Getting to the Giraffe Centre Near Nairobi
It's not easy to find. There is certainly no metro, train or bus to take you there. The Giraffe Centre is in the south west part of Nairobi, but in truth, and to us – it wasn't really in Nairobi at all. It was so far away. We got a moto taxi to take us there but at the time, we had no idea how far away it was, how long it would take and that there would be absolutely no way to get back from there on public transport.
We got a moto taxi from near the clock tower in Nairobi's CBD. 40 minutes later, we were finally at the Giraffe Centre, it was a crazy ride. It was our final thing to do in Nairobi, so we were glad to just get there, see it and leave the city behind (we later got a mini-bus to Nakuru).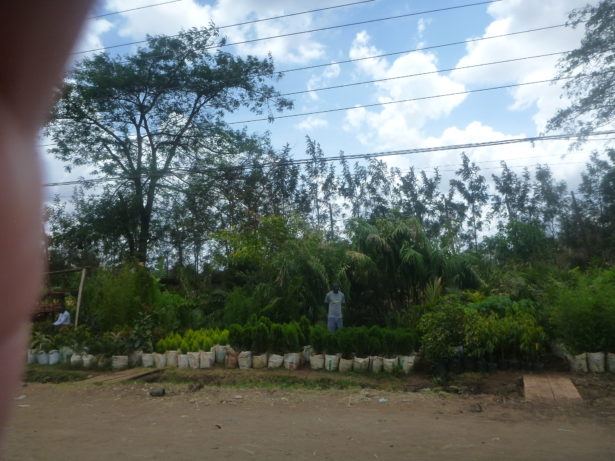 Our driver wanted $10 US each way. This meant $5 US each for Malina and I. Now, at the start we felt we were being ripped off and yes probably we were. But we were coming to the end of our trip and had been fed up arguing prices with every single moto taxi and taxi driver. Besides, our moto taxi driver waited for us at the Giraffe Centre and then took us back to the centre and straight to where the mini-bus to Nakuru was leaving from. In total we paid him $20 US, so $10 US each. Given that entrance to the Giraffe Centre was also $10 US each, all in for $20 US didn't really feel too bad for us!
Entry to the Giraffe Centre Near Nairobi
Entry for us in April was $10 US per person or 1000 Kenyan Shillings and must be paid on Credit or Debit card. Cash is NOT accepted here, please note that. Kenya has a lot of money troubles in general which we found out – some places are cash only, some places are US Dollars only and some places are card only.
The weird thing is it says "payment mode – cash" on the ticket but yet it is not possible to pay in cash! From 1st May 2019, the prices have now changed to:
We are revising our entry charges effective from 1st of May 2019 to the following Non – Resident Adult – Ksh1,500 Non – Resident Child – Ksh750 Resident/Citizen Adult – Ksh400 Resident/Citizen Child – Ksh200 (Age 3yrs – 12 yrs) Children Below 3yrs of Age is free
Feeding Giraffes at the Giraffe Centre Near Nairobi
Once inside, you collect a bag of snacks in order to feed the giraffes. It's as simple as that. Then you go over of your own free will and start feeding them. You must only feed them with these snack bag treats – nothing else.
Kissing Giraffes at the Giraffe Centre Near Nairobi
I wanted to kiss the giraffe and the best way to do that is of course to put the food in between your lips, then they come and kiss you. I did it a few times and Malina captured it on photo.
Other Things to do at the Giraffe Centre
We also bought some souvenirs in the shop and had a coffee in the small bar. All payments are also by credit card only.
As well as this, there are videos, presentations and a small museum with details on the history of the centre and of giraffes in Kenya.
You can also sleep in the Giraffe Manor Hotel
Also on site is the Giraffe Manor Hotel. Here you can pay something outrageous like $500 US for a night in a hotel with giraffes. You get woken up in the morning by a giraffe licking you! Too expensive for me I'm afraid but those with lots of cash might be up for a night there.
Here are the details of the Giraffe Centre Near Nairobi:
+254-20-8070804
+254-734-890952
+254-723-786165
[email protected]
Giraffe Centre YouTube
Giraffe Centre Instagram
P.O. Box 15124-00509 Nairobi, Kenya
AFEW (K) Ltd. – Giraffe Centre.
Here are some videos I made at the Giraffe Centre Near Nairobi:

All photos copyright of Jonny Scott Blair and Fifi Rushfield.
Join 15,017 Monthly Readers! If you enjoyed this article and LOVE travel and SAVING money, get e-mail updates from Don't Stop Living – a lifestyle of travel! (It's Free) 😉 Jonny