While touring the Marshall Islands on the Pacific Islands tour, we decided also to visit another one of the Majuro Atoll Islands, a short boat trip from the Majuro capital city district of Djarrit. We were staying at the Marshall Islands Resort in nearby Delap. The capital of Marshall Islands gets confusing, some class it as Majuro, some as the entire Majuro Atoll, some as Majuro city, others call it DUD (Delap, Uliga, Djarrit)!
We chose Eneko Island for a day trip. Eneko Island is possibly the most famous of the other islands in the Marshall Islands group and is easily reached from Majuro city (DUD). Here's the rundown on this oddball place, which also had some connection to a fake micronation, almost up Don't Stop Living's street.
Is Eneko Island a Country?
As much as I wanted to add Eneko Island to my country list, it is simply not a country for me. Before the trip, I thought it might stake a claim to be separate, but now – no way. Despite reading up the disputed micronation history, I came to the conclusion that this has as much claim to a country as the Untied Queendom (which I don't recognise as a country as it has many countries within it) or the Untied States of America (a corrupt and racist wannabe 'nation' north of Mexico), so for me, despite being a nationalist and separatist, Eneko Island is simply a part of the Marshall Islands. It doesn't have any visas, flags, border control, currency, national football team, stadium or even permanent residents. There is an entrance fee of $10 US Dollars for visitors and it was once associated with Wake Island and EnenKio Island as part of a dispute. But that's about it. So Eneko Island is not a separate country. Besides, the sign on the entrance says Marshall Islands on it!
The confusion perhaps comes when you check on Wikipedia for the unfamous EnenKio Island, a disputed territory between Marshall Islands and The Federated States of Micronesia. That place, no longer existing as EnenKio even had its own flag, the below, which is similar to the flag of the Marshall Islands. But I couldn't find out any information if there was a link between EnenKio and Eneko.
Getting to Eneko Island
There is no airport or heliport on Eneko Island. There are no trains in the Marshall Islands, nor is there a public bus service. There are also no cars, motorbikes, bicycles etc. allowed on Eneko Island, though other parts of the Marshall Islands have them. So realistically, this leaves you with two main options for getting here – swimming or getting a boat.
Sensibly, getting a boat becomes the standard option and boats leave daily and regularly from Majuro's main port at Uliga to Eneko Island. Head to the main port in Uliga (in the DUD contiguous settlement) near the Robert Reimers Hotel and wait for the next boat. We left at 12 noon, and returned at 5 p.m., which in hindsight was too long.
The boat costs $10 US Dollars one way, and therefore $20 US Dollars return, as of August 2019. Here are some photos from the short boat trip across, which took around 22 minutes.
Entrance Fee for Eneko Island
Officially there is a $10 US Dollar entrance fee for Eneko Island. It was included in our boat return fee ($30 US Dollars), but is an obligatory payment if you arrive on the island by your own boat, or hell by swimming. Actually, nobody really checked but the boat drivers are aware about who has paid and who hasn't.
Sleeping on Eneko Island
There are no hotels, guesthouses or hostels here on Eneko Island. But we met a hat-trick of girls who were camping overnight, they brought their own equipment. There are actually a few small buildings though, and these apparently can be booked for a night. But you should bring your own food, as mentioned – no food is sold here.
However, the island beside Eneko – which is swimmable and walkable (at low tide) has a Boutique Resort hotel on it – this is called Bikendrik Island.
Dangers on Eneko Island
Well mosquitos are probably the worst danger here. The Pacific Waves didn't seem too dangerous as I had a swim and many others were swimming. On the Majuro side, I swam and there were many others swimming. Take sun cream and anti-mosquito repellent. I didn't see any wild animals.
Sightseeing on Eneko Island
Now for the reality – the main sights here are trees, pebbles, beaches and ocean. It's not going to make a backpacker's dream ticking off churches, museums etc. My recommendation is that you circumnavigate the entire island, whether it be clockwise or anti-clockwise. We chose to do it clockwise. It was me with Per, Guy, Yngva and Douglas.
I brought some beers with me and we stopped for a beer on the other side, at the half way point.
We also could see Bikendrik Island, and could have gone across to it. I didn't bother.
We were supposed to have a barbecue here on Eneko Island as well but the bread we had was out of date (food in the Marshall Islands is pretty bad) and we had just come from the Majuro Hot Dog Festival so sausages weren't appealing. We had some snacks such as bananas and crisps.
Other Things We Did on Eneko Island
There isn't a great deal of things to do here. I went in for a swim. I posed by the "Welcome to Eneko Island" sign with my Northern Ireland flag.
We listened to local music which was under a cover.
We watched local ladies playing volleyball.
I had a few beers (which I brought with me).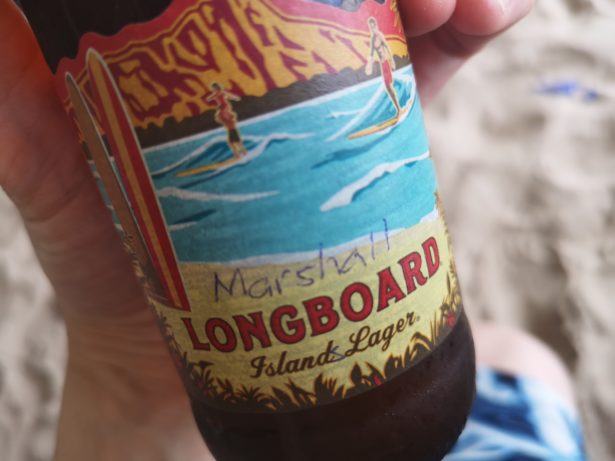 Marshall Islands doesn't have its own beer but the supermarket sold Longboard Island Lager, so I doctored the label to read !Marshall Longboard Islands Lager. It was the nearest I would get to a "locally named beer".
Longboard Island Lager on Eneko Island
Those were the highlights from our day on Eneko Island and we probably spent too long here (almost 5 hours) – 2 hours is enough to travel the entire island and grab a snack and drink. Overall though, Eneko Island was definitely worth a trip but for a maximum of 2 hours.
Here are some videos I made while touring Eneko Island:

Join 15,017 Monthly Readers! If you enjoyed this article and LOVE travel and SAVING money, get e-mail updates from Don't Stop Living – a lifestyle of travel! (It's Free) 😉 Jonny