After my time backpacking in Saudi Arabia, I hung around on the peninsula for a while longer, by taking a flight from Jeddah to Muscat in Oman. Oman has changed its visa laws as of March 2018. This meant I needed to fork out $53 US for an online Oman visa in advance. Oman was also a new country for me to visit, which kind of leaves Syria, Lebanon and Yemen the only hat-trick of unbackpacked Middle East countries for me. Selfish milestones aside, I totally recommend Oman and I found a real backpacking gem in a country which is often considered dear.
Head to Mutrah and stay at the Naseem Hotel. This is the nearest and coolest thing Oman has to a backpacker's hostel. I could be wrong of course, but during my time in Iraq, Iran, Palestine, Bahrain, Kuwait, Qatar, Jordan, UAE and Saudi Arabia, I didn't really encounter any "backpackers hostels" as such, though the Hotel Parlaman in Duhok was the nearest thing I found. Here are five reasons I loved my stay at the Naseem Hotel.
1.Spotless Rooms
After a busy two weeks in Saudi Arabia where I worked and backpacked hardcore as if I was 17 again, I needed some time on my own. I craved a bit of relaxation and comfort.
Here at the Naseem Hotel in Mutrah in Oman I closed the door of my room. I lay down on my bed, watched TV and just relaxed.
2.Welcoming Staff
I arrived hot and sweaty to the Hotel on a day where the heat struck almost 40 degrees. Staff welcomed me immediately and were friendly. None more so than Justin, the manager himself.
3.Corniche Location
Sometimes when you travel a lot, you have don't have much time to check the location of your accommodation. I have booked many hostels or hotels down the years without having a cluedo where they are. I book, I print a map and I arrive.
I was pleasantly surprised to learn that the Naseem Hotel is situated right by the seafront of the Gulf of Oman! I could walk along the Corniche and tock off 5 of the area's top sights within a few minutes ( The Fish Market, The Corniche, The Souq, The Mosque, Bait Al Baranda).
The Naseem Hotel is also walking distance (Or a short bus ride) from Old Muscat, the country's real capital city.
4.Coffee and Dates in Reception
All day there is fresh Omani coffee and dates provided in the lounge in the reception area. I sat here watching the AFC Bournemouth v Manchester Untied match on my computer while blogging and eating dates and sipping Omani coffee.
5.Smashing Views from My Room
On arrival through the door of my fourth floor room (42) I was amazed by the unexpectedly good view. I was convinced I had the best view in the house.
I overlooked the bay of Mutrah. This was brilliant for sunrise and sunset.
I also had a great breakfast at the Hotel and made use of their WiFi (which worked well on reception but not on my fourth floor room).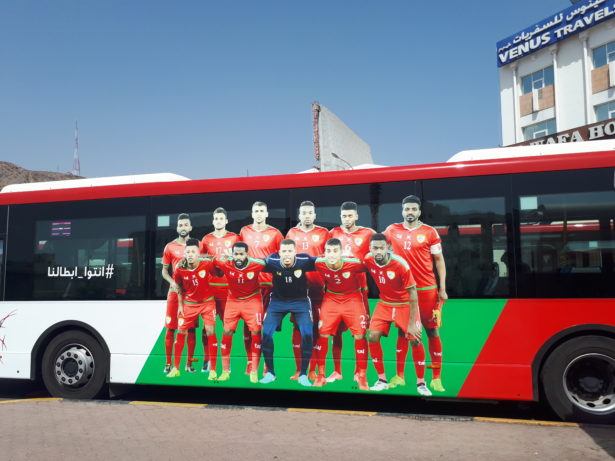 Here are the details for booking a room at the Naseem Hotel in Mutrah, Oman:
Naseem Hotel,
Mutrah Corniche,
Mutrah,
Muscat,
Oman
[email protected]
+968 24 712418
Naseem Hotel Facebook
Naseem Hotel Google Maps
Here are some videos from my time backpacking in Mutrah in Oman and staying at the Naseem Hotel:

Join 15,017 Monthly Readers! If you enjoyed this article and LOVE travel and SAVING money, get e-mail updates from Don't Stop Living – a lifestyle of travel! (It's Free) 😉 Jonny