I didn't really expect Namibia to delight me in gastronomic terms but it did in many ways. I was pleasantly surprised, from a delicious seafood platter in Walvis Bay, to a champagne breakfast at Sandwich Harbour to the zebra steak at Joe's Beerhouse in Windhoek, the capital city and even a surprising craft beer and cheeseburger afternoon in rural countryside. Anyway, towards the end of our first day in Walvis Bay we decided to eat by the Atlantic Ocean. There are quite a few coastal seaside bars and restaurants in Walvis Bay and we chose the Walvis Bay Yacht Club. This was quite cool as it has a traditional pub, a marine theme and a restaurant overlooking the Atlantic Ocean. Bliss.
We arrived into Walvis Bay by flight from Windhoek and we stayed at the Stay Cleverley Apartments. On this trip I ended up passing through Walvis Bay airport three times! As well as that, I'd feed cheetahs at Duesternbrook on another crazy adventure.
Once inside, I ordered a local beer, but instead of the Windhoek Lager this time I opted for Tafel Beer to start with, just because they had it here and I'd never seen it before! I drank  it quite quickly but it wasn't as good as the more common Windhoek Beer, which I had next.
Foodwise, we decided to get the Seafood Platter and share it. It was 480 Namibian Dollars, which is actually about £18 but we were sharing between 3 and this is a touristy spot, plus we all felt we wanted some special food that night. Also, although it was advertised as "Seafood Platter for Two", there were 3 of us but I'm not a big eater and nor is Malina and we knew if we struggled that Russell could finish it or we could keep some for the next day. It was actually decent value as they brought a lot!
The seafood platter pictured below consisted of grilled hake, 6 prawns, 4 Namibian oysters, tomato cheese mussels, breaded calamari, crab claws, rice, chips, salad and a hat-trick of sauces! It was a feast! I ordered up a Windhoek beer too and Malina had a coffee.
Malina was pretty impressed when it arrived!
Without further ado we finished it all and it was definitely worth the money – plus I loved the diversity of it as I tried a bit of everything. It meant by ordering just one meal, we could try the best seafood that Walvis Bay has to offer. Here are a few more photos from that evening.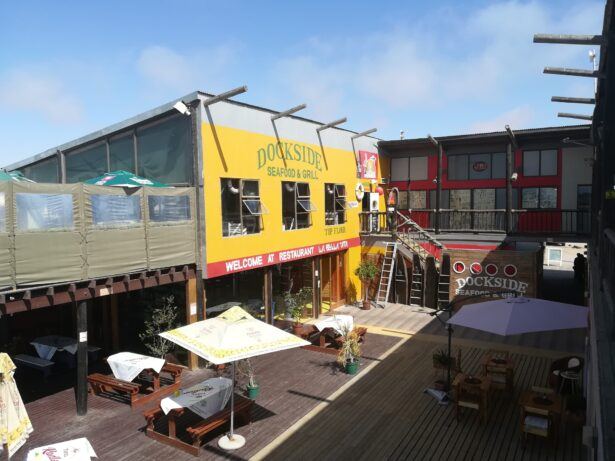 There is not much online about Walvis Bay Yacht Club, but it is on Facebook –
https://www.facebook.com/pages/Walvis%20Bay%20Yacht%20Club/102721779816050
Here are some videos from Walvis Bay: