"Where's my peeler car?" – Northern Irish guy lost his police car.
Have you ever flown to a country 37 years later to find a police car you lost 37 years ago? No, well, oddly I have. In my entire life, Portugal may well end up being the country that had the biggest timeframe between my first and second visit. I was here in 1981, aged one…this may be the only photo that I have from that trip…
"While we're living, the dreams we had as children, fade away" – Noel Gallagher.
Yes, I am 100% sure I hadn't been back to Portugal since 1981, not even to change planes. That was until my 2017 adventure to go backpacking in Western Sahara and Morocco. On the way back to Poland, the cheapest flight option kept coming up as via Lisbon in Portugal. It was a case of booking it. This wasn't the famous Lisburn in Northern Ireland – once the only "city" in the world without a hotel. This was Lisbon. Portugalia's capitalia.
Casablanca was my last stop in Morocco so it was Casablanca – Lisbon – Warsaw. But as a clever travel trick and something I have known for years and used it, it's ALWAYS the same price to do the exact same connection (as long as the airline stays the same) with a stop-over. I have used this in the past to see Hong Kong, Singapore, UAE, Qatar (twice), Turkey and a few others. More tourists should do it – more tourists should know it. You get extra bonus days or hours in new cities for no extra cost. We're a long time dead.
It always works, check it. For example:
You get a flight that goes: London – Istanbul – Hong Kong and gives you 4 hours in Istanbul. 4 hours in Istanbul doesn't give you much time to leave the airport and see or do anything, so you would normally end up just staying in the airport. But if you then call the airline directly and ask for the same connection but with a 1, 2 or 3 day gap / layover – it usually works for exactly the same price. You are staying loyal to their brand and the price has always stayed the same for me. The only negative point about this is that some airlines (like Turkish Airlines, Singapore Airlines, Bolivia Airlines) give you a FREE night in a hotel and breakfast or dinner and some don't. Sadly I travelled with TAP for the first time. They're not good. They deliberately have their flight times scattered with crazy intervals and don't give you a hotel or a meal for an overnighter, which is a shame, as I won't use them again. But I did have a glass of Portuguese red wine on the house on the flight in. #tourist 😉
So with this trip, I had two options when I checked:
1. Casablanca – Lisbon – Warsaw (with 4 hours in Lisbon) or
2. Casablanca – Lisbon – Warsaw (with 17 hours in Lisbon, including an overnight).
Easy answer…
So for me – it was a no brainer and an added bonus – I could see Lisbon for the first time (albeit short) and I could return to the first mainland European country I was ever in!! In fact – Portugal was my first ever trip away from the island of Ireland in 1981, and in being so was also my third ever country to visit. Yet over 150 countries had been backpacked in between times, including 5 or 6 trips to Spain, Gibraltar, Andorra etc. but I never ever returned to Portugal! It was time and there I was – heading to Portugal.
"All of the stars have faded away, just try not to worry, you'll see them someday. Take what you need and be on your way and stop" – Noel Gallagher.
But in one day you don't have much time to sample the culture, see many sights, try the food, drink the drink. So I decided on just these things:
See a bit of Lisbon by day and night.
Have a good meal in Lisbon (didn't care if it was Portuguese or not).
Have a few Portuguese beers or wines and tour some bars of Lisbon.
Find my POLICE CAR from 1981. (THIS WAS THE PRIORITY)
"You're on the run but you got no destination" – U2.
What do you mean by "find your Police car?"
Well my Mum and Dad took me to the Algarve in Portugal in 1981 on a short trip. It was my first ever holiday. I have a few photos from that trip but I remember nothing of course. On that trip, I had in my buggy a little toy Police Car.
I used to hold on to it and go "vroom vroom" with it and I used to love it. That and my "blankie" (a blue blanket) were my true loves in 1981. I still have the "blankie" and I sleep with it almost every night, it has also backpacked every country with me, and it was the only other item other than my body that made this return to Portugal in 2017, after 36 years.
How Do You Find A Police Car 36 Years Later?
You don't – you buy a new one in that country and pretend it's the same one (which for me, was perfectly fine). So that was my mission on a wet, dreary, uninspiring evening in Lisbon. Neither my parents, my siblings, nor I had been in Portugal since 1981, so we didn't have a chance until 2017 came round. So after 36 years, I was now back in Portugal and I had to find that Police Car. I knew it was lost somewhere near the Algarve on a beach, or on a footpath in the touristic towns there. But I wasn't in the Algarve, so there was no way I was going to find it. I was in Lisbon. So because I was in Lisbon, I had to find some toy shops and souvenir shops selling Police Cars and look for one similar. I had to buy one. I was a hopeless tourist in 1981 – I lost a Police Car on my first trip abroad. So with one mission off I went to buy a Police Car. No backpacking it hardcore, no "top 5 bars on the rip", no "best micronations in Lisbon you never heard of". In fact, I didn't even research Micronations or Bars on this trip to Lisbon. (OK I did and there weren't any).
15 Hours in Lisbon to Find A Police Car
Once I was in the downtown area near the seafront, Baixa – Chiado, I found a few souvenir shops. The first few had some mini trams, the iconic yellow tram is famous in Lisbon, but then I saw some toy cars, in Portuguese style. They weren't quite what I craved, I was looking for a white one with Police on it. None of them were police cars. I searched about 20 shops in the pouring rain.
It was proving elusive as it got dark and shops began to close. It was Christmas Day. I finally found an amazing toy shop called Thadeus, and there it was – my Police Car!!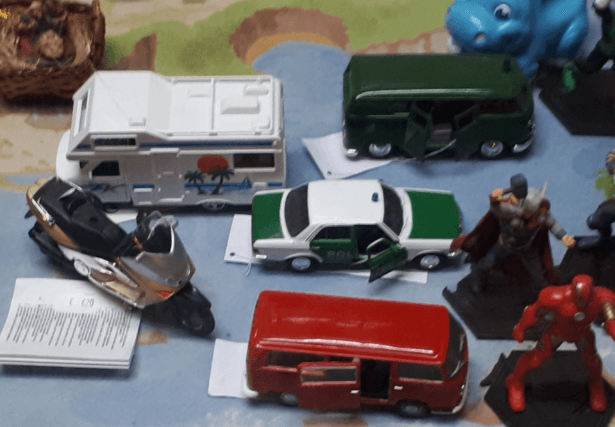 It was green and white and sitting beautifully in the window. BUT it wasn't to be. Alas – the shop was closed and with a 9 am morning flight the next day, my chance had gone.
I decided to I Skype my parents and my brother and his girlfriend with their new baby. Which itself meant finding Wi-Fi – also very difficult in Lisbon on Christmas Day. More fate from God, and ominous reminder of serial liars came with an Ola sign, next to a George Pub. It might seem like just two names of cafes or bars, but they were beside each other and I was in the middle, I was very depressed.
The sign of the past that ruined me and the beautiful future. It had to be from God. But I didn't find the Police Car, yet wasn't upset. That would normally depress me. There was another twist. Fate played a test and I somehow by chance ended up back in Portugal in January 2018 – twice, this was my time to find my police car and be done with the past.
"This is the past that's mine" – Nicky Wire.
Finding my Police Car in Lisbon Finally in January 2018
It was third time lucky. On my third trip to Lisbon in two months, I must have visited 100 shops now cumulatively  in the city (and indeed the airport) looking for my Police Car. Well any police car. I couldn't find one. Even the police car in Thadeus had now been bought and was gone. It was all in vain. And then God shone down on a Sunday evening in late January 2018.
I had almost given up on finding one as I was walking to the Metro station at Baixa – Chiado, then, there was a small shop on the hill. It looked the same as all the other shops. There was no way this would have a police car – none of the others did but it seemed like the last roll of the dice. Besides, this was the FIRST shop I should have checked in December 2017, as on that day, I also left the Metro at the same station and this little shop was on the right. But I never went in. The only close time I came to a police car was having had a chance to pay a whopping 20 Euros in a specialist shop for what slightly resembled a police car, I had turned it down. Then at 19.24 pm on Sunday 28th January 2018, I found my Police Car, in this shop…
And the cost – 1.5 Euros!! It was a small white police car in a box and I was content.
It was a sentimental journey perhaps one my friends and readers (if there are any left) will never understand. But depression has been deep and tough. Each day I battle suicide and I do things to try and keep myself alive. Liars lied and refused to apologise. That's the soul reason my depression began. Then stalkers stalked me and my family pretending to be my friend and acting like Gurus to boost their selfish egos. Nasty nasty people. I blocked about 10 fake friends from social media and email in 2016 – 2018 period. I was so angry with the fakeness and lies. But I needed to find that police car, I had a feeling my depression could end, knowing that the liar must feel guilt daily. So I made a trip to find my peeler car that was all. I went to Lisbon and I found it and added some spice to the trip too. It was now 37 years actually, 1981 – 2018 to find the peeler car, and here it is – it's just a toy car.
There were some more eerie reminders though – there was a single glove on the corner just after I bought the police car. In 1986 I also lost a glove while walking with my Mum to Ballyholme. Plus the Ola cafe had now shut in January 2018. The George was still here and so I broke my 2018 alcohol free month with a beer. I still stayed dry in Poland for the month though, which I felt good about. I don't know if finding this police car will help me, but it's done. I have it now in my pocket and will sleep with it tonight.
On this adventure, I stayed in the Central Lisboa Hostel and loved it – back to reviewing hostels and being a backpacker for a few days. It's one of the best hostels in the world according to Hostel World, so thanks to Odete and Katalina for their hospitality. I didn't tell them the police car story. It's so sad and sentimental.
"Jesus sister's eyes are blistered, the high street never looked so low" – Paul Hewson.
Here are some videos from my time in Lisbon, Portugal:
(I will add these soon)
Join 15,017 Monthly Readers! If you enjoyed this article and LOVE travel and SAVING money, get e-mail updates from Don't Stop Living – a lifestyle of travel! (It's Free) 😉 Jonny