"DOG SOMETHING" – Our name for Dogubayazit in Turkey.
Back in 2013 was my first ever trip to Turkey, yes I took my while to visit this beast that somehow straddles itself into the hat-trick of Europe, Middle East and Asia all in one. Of course in those days, I also needed a Turkey visa, just like I do today. But back then it somehow seemed easier to backpack through Turkey. We flew into Istanbul and backpacked overland through Cappadoccia, Adana, Ankara (where we spent a full week), Trabzon (again a full week here due to accruement of the Iran visa) and then we backpacked through non-descript, and very cold wintery cities and towns in the far east of the country. We wound up in "dog something" (Dogubayzit) before a morning border crossing from Gurbulak into Bazargan in Iran. Dog something was Wacaday!! Here are some of the more unusual memories from Turkey, that we didn't cover at the time.
1.Backpacking to Sumela
Sumela is an age old Christian Monastery and that's why it felt unusual. This is an Islamic country where we awoke to the merry sound of the Call to Prayer every morning. Yet here, we visited Sumela. I actually wrote a blog post for Sumela on one of my old laptops, which broke before I had the chance to upload that post (I write posts offline often and later copy and paste). But I still have my photos from a pleasant time at Sumela, which is accessible south of Trabzon.
2.Egre to Dogubayzit "ICE" Bus
Yes, this was a crazy one. I still cannot really believe this sort of sh*t happened. Right, so I got my Iran visa at 9.17 am and I had no idea I would definitely get it, so we left almost immediately from that hotel in Trabzon on the next bus to Agre or Egre. But that would be the late afternoon or night bus (also, don't remember). Forget night bus or day bus, it was an ICE bus.
It was freezing. Everything was cold. The roads were icy as hell and we were on a road to nowhere, not knowing how and when we could get to Iran or not. We were hundreds and hundreds of kilometres from the border. Whether Egre had anywhere where we could stay, we also didn't know – it was in the hands of the Gods. But we got some food and drink and boarded the bus from Trabzon to Egre. Then we waited for a few hours in a ballbeg freezing bus station for the next bus to Iran, which didn't exist as no buses crossed the border back then. Instead we got a bus to DOG SOMETHING, Dogubayazit…
Eventually though, we wound up in Dogubayazit. Well, a non descript bus station in the middle of nowhere, but only a few kilometres from Dogubayazit…
3.Luxury in Ankara
I loved Ankara. Turkey's capital city pumped out a very positive untouristic beat. After the rip-off kebabs and the breast staring guys in the Bul (Istanbul), Ankara was more raw Turkey, more down to earth. And we were rewarded by some irony. I went into a posh hotel to use their free Wi-Fi. In fact, we didn't even ask, we just walked in and then asked another guest for the password and I sat there blogging. I emailed them asking if they could host me for a while and they said YES. So we had pure luxury in this great hotel in Ankara – Ankara Hotel Capital.
4.Meeting Michael O'Neill in Adana
There was a crazy day when I arrived at the Northern Ireland football team hotel. Basically by some coincidence, Northern Ireland arranged to play a friendly with Turkey at the same time that I was backpacking in Turkey! Yes, really. I had been at the match in October 2013 in Azerbaijan, where we lost 2-0 in Baku and had only about 44 fans. It was my return to Northern Ireland away matches after a huge absence. On arrival into Adana, the first person I met was…Michael O'Neill! The Northern Ireland manager.
On the night, there were only about 14 of us supporting Northern Ireland but we got to meet the players and have a chat with them and a few drinks in Adana. It was a cool and added bonus to my adventure. Jonny Steele and Josh Magennis both made their debuts that night I think.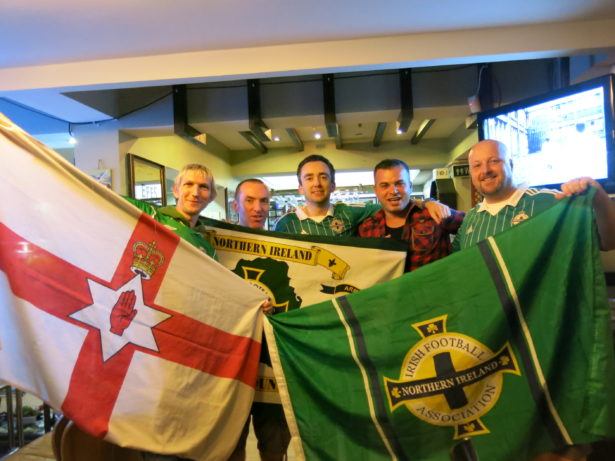 Those were the craziest and most unusual times on that trip, but of course, I have since visited Turkey again a few times and since then they are always changing the Turkey visa requirements. I have no idea what it will be post-Brexit but it's a cool country to tour, with many surprises.
Join 15,017 Monthly Readers! If you enjoyed this article and LOVE travel and SAVING money, get e-mail updates from Don't Stop Living – a lifestyle of travel! (It's Free) 😉 Jonny