"We sat and watched the sun go down. We picked a star before we lost the moon. Youth is wasted on the young; before you know it's been and gone too soon " – Robbie Williams.
Togo is for sure one of the world's hidden gems. It's a country which inexplicably loses visiting numbers to fellow African lands such as Kenya, Tanzania, Madagascar, The Gambia and Morocco. I still can't fathom why. But it's most probably because a lot of tourists follow the popular crowd, somehow believing that quantity means quality. In other words thousands of people see that other thousands of people go somewhere so those thousands of people also go there. The rich get richer as the poor get poorer. Sod' s law and Northern Irish buck eejitry at its pinnacled zenith. It was time to finally visit Togo.
On my seventh trip to Africa, my Polish friend Malina and I toured Togo and Benin. It was a last minute trip and a welcome escape from Poland for a while. On arrival in Togo, we decided to stay in the Coco Beach Hotel. With waves crashing on the shores, epic sunsets and a bar stocked with ice cold beers, this was a perfect base away from the pure madness that comes with everyday Beninese and Togolese life – I mean in the big cities of Lomé and Cotonou – where there are Fetish markets, scammers, colonial history and crazy sights. Here are five great reasons to stay at the Coco Beach Hotel east of Lomé in Togo…which reminded me of the nights I spent on Madonna's Island (La Isla Bonita, Belize) and by the shores of the Gambia (also ironically called Coco Ocean Beach).
"Last night I dreamt of San Pedro" – Madonna Ciccone.
1.Pure, clean, beach and ocean
Forget those days visiting dirty and littered beaches in places like Chennai, India. Here – the crashing waves of the Atlantic Ocean, the Gulf of Guinea hit a pure beach of untouched sand. It is wholesome nature at work. Tiny crabs pop up from the golden sands, locals walk by in peace and fellow tourists don their swimsuits for a dip in the clear, fresh waters. It's all so beautiful and pure, and clean and peaceful.
"Your dream can never earn enough" – Manic Street Preachers.
2.Total relaxation
I have travelled in Africa enough times to know the mayhem of it all. The nearby capital city Lomé, is a smoky maze of madness. Beat up taxis vroom vroom through October puddles, market vendors grab your white skin expecting you to buy bananas, ornaments or curtains while zemi-johns (Togo's answer to a motorbike taxi) beg for you to give them 500 CFA for the shortest ride this side of Lagos. But here, at Coco Beach Hotel, it seems a world away from the lunacy of Lomé. It is quiet, calm, peaceful and safe. You can totally relax here and this is why we loved it.
3. Happy and chilled out bar
The bar here had a very happy and chilled out vibe, and of course lots of ice cold beers, starting at 1,300 CFA (around $2 US). We had 3 nights here and 3 days here and enjoyed every moment, spending a lot of time on the beach and in the bar.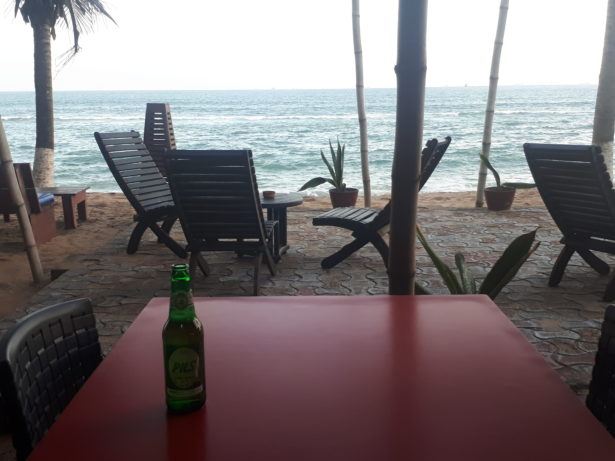 4. Great Fish in the Restaurant
I was recommended to try the fish in Togo and here at the Coco Beach Hotel the fish was superb. Priced at 6,200 CFA ($9US), I went for the Sole fillet and it was as delicious as they said. I washed it down with a cold beer. The restaurant also serves up lots of local and foreign dishes.
5. Fast Wi-Fi came as a surprise
Now I know some who are reading will slate me for this by saying "why not be offline, and relax by the beach, pool, bar or ocean?" But yes I did! I was on holiday but I also needed to work for around 10 – 12 hours of my 3 days here, so the fact I had fast Wi-Fi to upload files and photos and email clients, was perfect for me. In Togo and Benin, Wi-Fi in general is slow or non-existent (as of October 2018) but here by the bar at Coco Beach, fast Wi-Fi. Hats off to Edouard and the crew for supplying this. I still found time to relax of course!
As well as this, the rooms were excellent (we stayed in two rooms – Oapaong and Echo) and so was the swimming pool. Here are some more photos of our splendid time in this resort.
** IMPORTANT!! Two last points to be aware of though – local people in Togo including the border guards are NOT all honest, and often racist. It's sad that I have to be so blunt about this but I felt the racism was worse here in Togo and Benin than in Cote D'Ivoire, Senegal, Morocco, The Gambia or Western Sahara. There are many scams and liars including taxi drivers, zemi-johns and the border control story scam which is still to come – I'll write it up when I can. So enjoy Coco Beach Hotel but please stay safe and be aware of the scams!!
And finally, don't make the mistake that we did and get a taxi to the WRONG Coco Beach Hotel!!! Yes, there is another Coco Beach Hotel some 5 kilometres further east and we ended up walking three hours along the beach as we were at the wrong one!! When I told the manager Edouard about this, he laughed but also admitted that another customer once made the same mistake, so book the Coco Beach Hotel but note the address and location!!
Here are the details for booking a room at the Coco Beach Hotel in Lomé, Togo:
Hotel restaurant Coco Beach Togo,
Quartier Katanga zone portuaire,
12502 Lomé, Togo
+228.70.28.69.11
+228.90.11.57.90
Website: Coco Beach Hotel Togo
Facebook Page: Coco Beach Hotel Togo on Facebook
Here are some videos from my time staying at the Coco Beach Hotel in Lomé, Togo:
Join 15,017 Monthly Readers! If you enjoyed this article and LOVE travel and SAVING money, get e-mail updates from Don't Stop Living – a lifestyle of travel! (It's Free) 😉 Jonny