I've been to Greece in my early days and travel never fails to inspire me. I loved it when I was a kid. These are a few little things I've learned about the place during
my travels that I'd like to share with you.
Image by Mustang Joe, used under Creative Commons licence 1.0
Driving around Greece
You can drive around Greece with an EU or USA driving licence. Hooray! However, you should have an international driving permit as well to accompany this before you get behind the wheel in Greece.
Learning the language
Greek is a difficult language to learn (I've tried!). No one is expecting you to know Greek, and people generally speak English throughout the country. That's why they'll warm to you if you have a bash at the language. 'Please' and 'thank you' in Greek are 'parakoloume' and 'efkharisto', respectively.
Making the most of the location to go island hopping
Today, the preference is to stay on one island and explore. Without doubt, the golden ages of island hopping were the 1970s and 1980s, but that doesn't mean it still can't be done. There are plenty of ferries operating in the warmer seasons, so make the most of them to spend some time in the different islands. Just remember to fly back to your
departure airport a couple of days before your flight, though.
Staying out of the heat
Peak seasons are, of course, July and August, so if you're not a fan of the heat (can't say that I'm not!) then you'll want to stay out of Greece at these times, or at least keep more in the shade. Visit in May and June or September or October and you'll find the temperatures warm but much more pleasant, rather than the overbearing heat of July and August. There'll also be few crowds, as the Greeks themselves will have gone back to work.
Visiting the Acropolis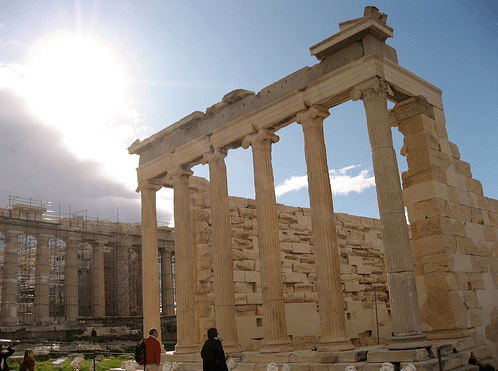 Image by keithusc, used under Creative Commons licence 2.0
Decide to visit the Acropolis in the summer and you'll find that it's hot and crowded, as the tour buses are already pulling up at 8.00 am, especially as Athens is a major port of call on Mediterranean cruise itineraries. So, you should either get there nice and early before 8.00 am, when you can have the Acropolis all to yourself (more or less), or visit after 5.00 pm ­–it's open till 8.00 pm– when there are fewer people about. If you opt
for the latter, you also get the bonus of catching the sunset.
Using taxis
Taxis should always have their meter on. On the islands, they sometimes have a set fee for getting to and from certain places on the island. Ask before you get in, if you're not sure of the fare and wish to avoid surprises. Note that there may also be a small charge for luggage.
Hopefully, these tips, plucked from my own travel experiences, will help you enjoy your stay in Greece all the more. Let me know how you get on, especially if you get to Crete!
Join 15,017 Monthly Readers! If you enjoyed this article and LOVE travel and SAVING money, get e-mail updates from Don't Stop Living – a lifestyle of travel! (It's Free) 😉 Jonny