Krasnodar is a Russian city of a million people, or more. That doesn't even guarantee heard-of ness from common tourists and whackpackers. Indeed I hadn't even heard of this joint before my trip! It was a pure fire wacaday spot of madness to bung into the final days of my visa free entrance into Russia, which came to a halt in December 2018!!
I arrived here by flight from Saint Petersburg (well a connection in Moscow's Domodedovo) and was happy just to add another random city in Russia to my list of places visited. I firstly stayed in the Home in KRD hostel which was luxurious and cosy.
But on my final night in Krasnodar I slept at the Loft Hostel in the city's trendy bar district. Thanks to my host Oksana I was able to get some money changed in a city with no currency exchange places open on a Sunday! Yes seriously!! Then I needed to swiftly find a bar that would show the Manchester United v AFC Bournemouth match for me. In wacaday Krasnodar I was shocked by the cool range of bars cafes and restaurants here. Two days was not enough. I should have stayed for 4 or 5. It's a great city. I only really visited 3 bars (ignoring the airport bar, the hostels and a bar I went into which didn't have the football). So here is how my final evening in Krasnodar unfolded.
1.Mr. Drunke Bar
This is a brilliant sports bar which was located just a short walk from my hostel. I went in here to watch the football.
The staff were friendly and welcoming. I ordered up the local draft beer, called Kazak, yet it wasn't from Kazakhstan! They even had the Irish Harp beer on tap too. The bar showed the match for me in the big screen. I was wearing my AFC Bournemouth shirt to support the Cherries. However within minutes we were losing 1-0 to Manchester United and we eventually lost 4-1.
I chatted to the waitress Anastasia and also had a few well prepared gin-based cocktails in here. Mr. Drunke Bar also has flags on the walls, nude girls in the bogside and free WiFi.
Mr. Drunke Bar, Krasnoarmeyskaya Ulitsa, 58, Krasnodar, Krasnodarskiy kray, Russia, 350000
http://www.drunkebar.ru/
https://www.facebook.com/mr.drunke.bar/
https://vk.com/drunkebar
2.Uni Pitstsa (УНИ)
For cheap food and my last dinner in Krasnodar I went to the cool Uni Pitstsa (УНИ) bar where I had a local beer and a pasta dish. It has friendly staff, free Wi-Fi, a warm atmosphere and cheap food and beer!
The pasta dish was 180 Rubles (Under £2), the beer was 70 Rubles (82 pence).
This chain is all over Russia and so cheap, but I felt this was my first ever time to try it!
3.Kulibin 
No doubt but this place is the best bar in Krasnodar for Craft Beer. Kulibin – the best bar in Krasnodar for Craft Beer.
There are over 12 local craft beers on tap, to suit all tastes.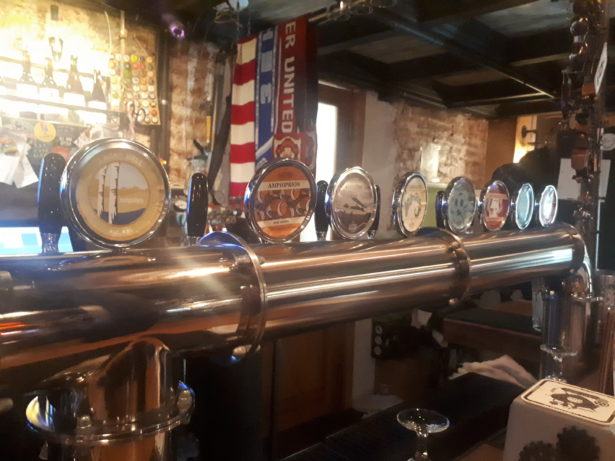 I also had my supper in here – a filling brace of bar snacks which were chips and spicy cheese balls.
Kulibin, Krasnoarmeyskaya Ulitsa, 64, Krasnodar, Krasnodarskiy kray, Russia, 350000
Краснодар, Россия
350000, ул. Красноармейская,64
Бронь столов: +7(962)852-99-22
Тел.: +7 (861) 251-02-03
http://www.kulibin.pub/
https://www.facebook.com/kulibinpub/
https://vk.com/kulibinpub
I was also recommended the Sherlock Holmes Pub, Sergeant Peppers and Big Dog, but I simply didn't have enough time to check them out, nor even the Lenin statue! It was a short trip to Krasnodar and it really inspires me to see more of Russia. Up next on the cannon would be Irkutsk, Ulan Ude (Republic of Biryati), Yekateringburg, Vladivostock and the Trans Siberian railway.
Overall it was sad to have to leave Russia but due to my visa ending, it was time to leave. On New Years Eve, December 31st I headed to Beirut in Lebanon (with a stopover in Istanbul, Turkey).
Here are some videos from my time backpacking in Krasnodar in Russia:

Join 15,017 Monthly Readers! If you enjoyed this article and LOVE travel and SAVING money, get e-mail updates from Don't Stop Living – a lifestyle of travel! (It's Free) 😉 Jonny