Malta's capital is a charmer. Walk through the gates past the bus station and prepare for an uplifting experience here in Valletta – I checked into the famous British Hotel and set about backpacking the sights of Valletta. On top of this I toured Gozo and Comino (two smaller islands) and visited the only United Nations recognised country in the world with no land – The Sovereign Military Order of Malta. Thirsty Thursdays have been absent on here so much since the fake friend and liar influenced depression kicked in during 2016. Since then, I had about 400 ideas for Thirsty Thursday posts yet only wrote 4 in 16 months (on Bishkek, Starogard Gdanski, Ulan Baatar and Gdansk). I'm back today with one from Malta's capital city. You can use GPS MyCity tour guides to help out when you travel the world, they have Malta covered in their Valletta guide.
A Bit About Valletta, Malta's Charmigative Capital City
The historical city of Valletta (which is situated high on the end of a peninsula), has a population of 6,444 (as of March 2014). Valletta is the southernmost capital of Europe and the second southernmost capital of the European Union after Nicosia, in Cyprus. Valletta has been designated European Capital of Culture for 2018. The country The Republic of Malta covers just over 316 km 2 (122 sq mi), with a population of just under 450,000, making it one of the world's smallest and most densely populated countries (Singapore, Macau and Hong Kong are also up there).
The capital of Malta Valletta, at 0.8 km2, is the smallest national capital in the European Union by area. Malta has one national language, which is Maltese, and English as an official language. Lots of people also speak Italian but English is the most common language here for tourists.
1.Panorama Bar
The excellent Panorama Bar is part of the Hotel British where I stayed. Beers from €2.50 with scintillating views out to Birgu and Fort St. Angelo.
2. 67 Kapitali
This joint, with super staff seemed to be Valletta's only craft beer pub. 67 Kapitali is on a corner and the beer on tap is situated openly in the bar itself. Great decor and fast Wi-Fi – this is a special pub.
3.Breakwater Bar
A favourite haunt for fans of Valletta FC with flags flying proudly – at the Breakwater Bar. The team is nicknamed "City" and I also found time to watch them in a top of the table derby clash with Birkirhara FC!
4.The Pub
Oliver Reed famously died here in this ghostly place. But what better name for a bar than simply "The Pub"? I loved it. I signed my name in the upstairs part – the famous shrine. Liam Gallagher also drank in here in May 2016. Shame I missed him.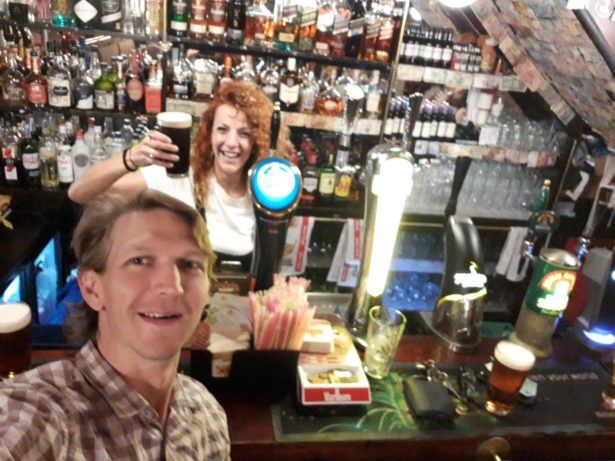 5.Caffe Cordina
Put simply Caffe Cordina is the luxury charm of the capital. I decided to blow my budget here. I went for the sensational local dish Fenek bit-tewn which is a Maltese speciality. It is braised rabbit served with a garlic, onion and white wine sauce, finished off with a game jus served with lightly seasoned chips and a side salad. At €14.50 it didn't come cheap but I recommend it. Drinks wise there are quite a few local beers here too. I chose a bottle of Hopleaf, a Maltese Pale Ale because I already had the 3 varieties of Cisk and the Blue Label Pale Ale.
The Caffe dates back to 1837 and has a stunnigating interior. This is well worth a trip – even just for a quick coffee or beer. It gets busy too so sometimes you'll have to queue. Also the menu basically has stories about the caffe's history – great reading material while you wait for your food to arrive.
6.The Cage
The final bar on the list is tucked away on a corner of It Teatru Il-Qadim street and I was served by a knowledgeable and experienced Serbian barman who talked away about football, politics, Kosovo and served up some good drinks including a tailor made cocktail.
All in all Valletta is a GREAT city for bars, cafes and restaurants and despite spending three nights here, I only touched the surface. Sightseeing wise it is also excellent and acts as a perfect base as well as housing the palace, government, embassies and many museums, shops, cafes and restaurants. Overall it is a wonderful capital so please give it a visit. Here are some videos from these bars:
Join 15,017 Monthly Readers! If you enjoyed this article and LOVE travel and SAVING money, get e-mail updates from Don't Stop Living – a lifestyle of travel! (It's Free) 😉 Jonny