El Salvador is a backpacker's dream. Friendly locals, pumping bars, beaches, volcanoes, mountains and just an all round unventured gem. Once you've got your bearings and got to grips with the bus systems, you're good to go anywhere in the country. I set my mind on visiting El Salvador's only UNESCO World Heritage Site, which is Joya de Ceren.
How to get to Joya de Ceren
For ease, I'd recommend basing yourself in San Salvador, at Ximena's Guesthouse and doing Joya de Ceren on a day trip, combining it with a trip to the Ruinas de San Andres, both sites are pretty close to each other and all easily doable on a day trip from the capital.
First up, get yourself to the bus terminal, Terminal de Occidente in San Salvador. From Boulevard de Los Heroes, I used a number 44 bus (20 cents). Once you're at Terminal de Occidente, take a right inside the bus station and look for a sign for the bus number 108. They are chicken buses and you'll see them clearly marked. The 108 passes by Joya de Ceren on route to San Juan Opico.
When you board the bus in San Salvador tell the driver you are going to Joya de Ceren UNESCO World Heritage Site (Sitio Arquelogico in Spanish) and he should remember to remind you when to get off. I boarded the bus 108, paid my 50 cents (yes, pretty good value!) and off we went. The bus is not direct and makes as many stops as it needs to on route. I'd estimate the entire journey to Joya de Ceren to take 1 hour 40 minutes. I also recommend sitting on the right hand side as the bus drives, as this way you can look out for the 4kilometre sign that alerted me I was close.
Once I saw the 4kilometre sign, I waited a few minutes then got up ready to get off. The bus was packed so yours might be too. I went mid morning. The key marker for you to get off is when the bus crosses an obvious bridge over the Rio Sucio. 100 metres or so on the right, the bus will drop you off. Joya de Ceren is clearly marked and is on the left hand side of the road. You can see the bridge from the entrance.
How Much Does it Cost to Visit Joya de Ceren?
Foreigners pay $3 US and unless you're pretty Central American looking and your Salvadorian accent is ace, you'll have to pay it. Locals can get in for $1 US. You pay at the kiosk on the way in and you get issued with a receipt which in essence is your ticket. You might have to waken the guard up – it's not a busy place!!
What is Joya de Ceren?
Often dubbed "the Pompeii of America" due to the fact the site was destroyed by volcanic eruptions, this is an old Mayan site which dates back to pre- Hispanic times, as early as 1200 BC. I'm not the best historian so check out more on the Joya de Ceren Wikipedia Entry.
Joya de Ceren is a very closely protected site, so much so that the entire site has been enclosed to prevent further decay, destruction and erosion. Once inside the gate, there are three parts to it.
Touring Joya de Ceren
Once inside you tour the three parts and here's my overview of each. Unless you're a complete archaeological buff, an hour and a half should be enough time here to see everything you want, including the museum. Split clearly into Three Areas, here's a brief sentence on each area (I'd rather you actually go there yourself to see it rather than spill all the beans on it!). Hint: I'm trying to encourage you to travel to El Salvador.
Areas 1, 2 and 3 are actually visited in reverse, you go through the gate and first into Area 3, then Area 2, then Area 1. But for this post, I've put them in numerical order as it just makes sense that way.
Area 1
Each area is listed with a sign. In area 1, members of the shaman/ medicine person practiced divination…fences protect these ancient buildings from you – they have decayed a lot over the years, which to me made this a really special UNESCO site to visit. If it wasn't for the rooves and the work of the locals to protect it, it would be in the process of eroding away forever. I hope the photos and videos do it justice!
Area 2
Walking round at your leisure there are three areas, all enclosed, all close to each other and all separated. This was once a village. It's really old, odd and peculiar and I felt a certain sense of excitement here! Area 2 houses a sweat bath and some housing structures.
Area 3
Apparently the building in area 3 was for all the important people in the village…
Once you have seen area 1, 2 and 3 you come out into a garden and there are two more important parts to see at Joya De Ceren – the modern day replica of Temazcal a building used for ceremonies and the museum part. So in essence – you have 5 parts to check out, plus a shop and cafe – pretty thorough and worthwhile to visit!
Replica of Temazcal
This is basically a modern day replica of Temazcal, one of the buildings at Joya de Ceren, which was used for ceremonies and acts of purification by sweat bath. It gives you an idea of what this place was once like.
Souvenirs and Cafe
There is a small cafe and a souvenir shop for the few tourists that make it here.
Museum
On the way out, I toured the small museum. To read up on the digging up and discovering of the site…can you believe it was only discovered in 1976???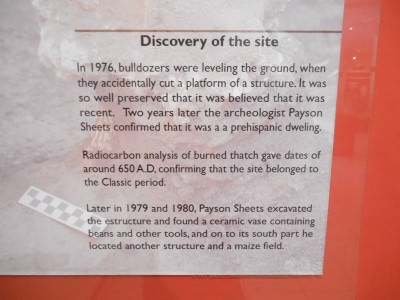 Here are a few more photos from the museum:
It was a lonely but interesting trip to Joya de Ceren as the only tourist but I really loved it and hope you can get out there too. I also visited Ruinas de San Andres nearby directly after Joya de Ceren.
Here are my videos from my trip to Joya de Ceren: