Phi Phi Island, Thailand by Mariamichelle
When you are visiting the 'Land of Smiles', there are a few things you can't miss. The people in this land are friendly and authentic, and that is why everyone gets blown away by their hospitality. What's even better is that tourism holds rank 1 in this country, and millions of tourists touch the shores of this place to enjoy its food, drink, and vibe. Here is a list of my ten favourites which make Thailand a parcel of paradise:
Thai Food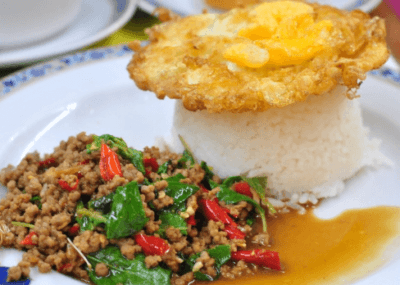 The Pork Fried Rice, Thailand by Dow
If you think the Thai food you eat in your country is the best, you need to visit Thailand. Be it street food or a delicacy at a fancy restaurant, it sure to be colourful, tastes great, and calls you back to this city again and again. There is a host of flavours and varieties that you can experiment with. What you need to take care of is the spices, especially if you are intolerant to those. The street food of Thailand is cheap, delicious, looks pretty and a must-try. It's a foodie's paradise!
The People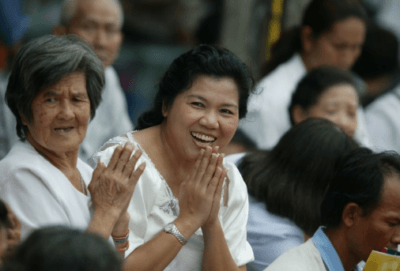 Asian People, Thailand by suc
People in Thailand are always smiling and very helpful. They are easy-going and always make sure that you are happy. If you get your Thai trip planned by the Inspirock Thailand travel planner, you can meet some of the best hosts and people in Thailand.
The multiple islands  
Koh Phi Phi Island, Thailand by Mariamichelle
Thailand has a long coastline which is sitting there waiting to be explored even more than it already is. Long-tail boats are quite an experience to explore the coastline. We have all seen the limestone rocks in pictures and movies, and they cannot be missed when visiting Thailand. This is the place to get into some underwater adventure sports and relax on the white-sand beaches. Add to your Thailand itinerary planner kayaking! It's a great sport that should not be missed while exploring the coastline
Floating Markets  
Floating Market Bangkok, Thailand by terimakasih0
Visiting the floating market solves two purposes: You get to buy the freshest local ingredients of Thailand, and it's an experience of a lifetime. While you carry your wallet to buy stuff, do not forget your camera to capture this beautiful place for a lifetime of memories. These markets are local and authentic and make you feel at home in Thailand.
The Culture  
Buddha, Thailand by qimono
While the culture of Thailand has much influence from Cambodia, China, India, and other South-east Asian nations, Buddhism has a significant bearing on the people. Their symbols and buildings are associated with Buddhism, spreading a calm atmosphere through the country.
The Golden Triangle  
Mekong River, Golden Triangle by Josch13
Locally known as Sop Ruak, it is the point where the Mekong River meets Ruak River. At the golden triangle, Thailand meets Laos and Burma. What makes this spot truly unique is that you can be standing in Thailand and can still take a good look at Burma and Laos; a boat can also be hired for a closer look. Opium is grown in this area, and you can venture into the Hall of Opium to get a better understanding of its history.
White sand beaches  
White sand beach, Thailand by Schmid-Reportagen
The beaches in Thailand are even better in real than the pictures you might have seen occasionally. While some islands have natives living, others are completely deserted; they are all made of clear water and coral shells. I love the beaches in the Andaman sea, especially Ta Chai Island. The best thing about these beaches is that you can rent a bungalow around some of them and enjoy a great vacation. Beautiful and comfortable bungalows can be rented in Ko Kho Khao Island.
Elephant Camps  
Elephant Reserve, Thailand by Jersap
Elephants are an important part of the Thailand flora and fauna, and if you are visiting Thailand, you should not miss on the giant Asian beauty. The north of Thailand has various elephant camps, some of them taking care of rescued elephants – and these are the ones that should definitely be visited.
The Grand Palace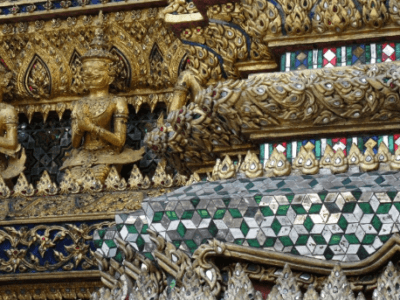 The Grand Palace, Thailand by pvdberg
This palace and museum is the spectacular must-see and one of the most famous landmarks of Thailand. The architecture and intricate details keep inspiring and bringing back tourists.
Ayutthaya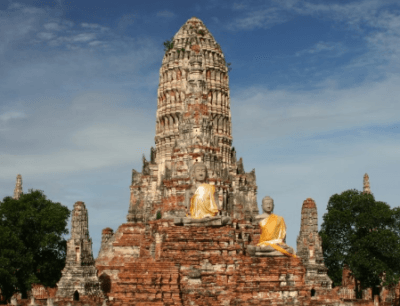 Wat Chai Watthanaram Temple, Thailand by WikiImages
Finally, this historical park – a UNESCO World Heritage Site – completes my Thailand trip planner every time. This kingdom of the past centuries is an hour from Bangkok and houses various ruins and heritage sites.
Exploring the beautiful country is never the same for me twice – each trip has something new to teach me, a new experience to take back, and new memories made.
Join 15,017 Monthly Readers! If you enjoyed this article and LOVE travel and SAVING money, get e-mail updates from Don't Stop Living – a lifestyle of travel! (It's Free) 😉 Jonny