"I'll see you in Mostar" – Ian Brown.
Arrival into Herzegovina was nothing short of sensational in what was a tattered and torn year in this travel life, this travel blog, the story of which never really should have seen the light of day. The views were breathtaking as my Serbia to Bosnia to Herzegovina to Croatia adventure took some twists. But I was in no fun mood and I was lost in many ways. The truth is I don't really remember backpacking it. If it wasn't for the photos, this would be a lost encounter destined for a scrap heap, less of a one hit wonder than Coca Cola's infamous "Tab Clear". As R.E.M. once said, "I'll take the rain".
"Bullet the blue sky" – Paul Hewson.
My first port of call in Herzegovina was the popular town of Mostar. I decided to stay in Hostel Dada, simply because Dada herself met me on arrival at the bus station and invited me to her home, it was in a housing block just a few minutes walk from Mostar bus station. I had no plans. I got off a bus, Dada came and asked if I needed a bed. I was weary and depressed. I rested my head.
I liked it and I stayed for almost a week here. These are the things I liked about Dada Hostel.
1.Good Location
Dada's is right by the bus station which I actually used for three border buses in the end and also swung my way in here from Serbia (Belgrade) and Bosnia (Sarajevo).
Once to Dubrovnik in Croatia, once to Split in Croatia and a third time to Poddy, an old port of call of mine from the good times – Podgorica. As well as sounding like a sexy city, it also capitals Montenegro. Dad is in a good place. Walkable to all sights of Mostar too.
2.Excellent Host – Dada
Dada makes you feel at home, makes everything happy in the best way.
3.So cheap
With beds for about 10-12 Bosnian Marks (5-6 Euros) this place is so cheap. A bargain and a great place to stay long term too.
4.Breakfast Included
Each morning Dada cooks the breakfast for you and washes up afterwards. True feeling of a real hostel spirit with this.
5.So Peaceful
Dada's Hostel is part of a housing block, almost old school Soviet Style. It is so peaceful. There is no sign on the door, no advertising. Dad's Hostel is basically just a flat in a housing block converted into a hostel. That's the beauty of it.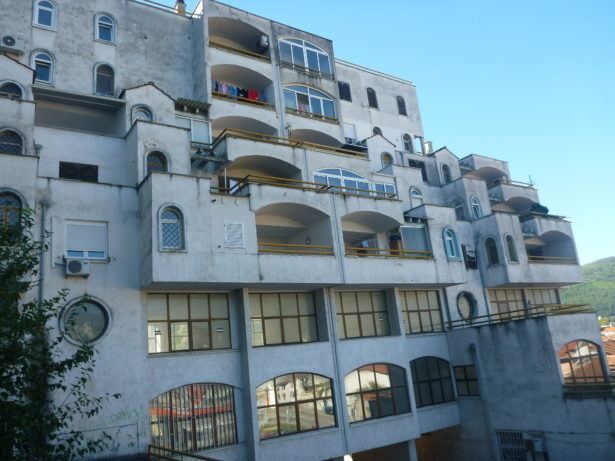 Here are the details for booking it:
Trg Ivana Krndelja 11 c, Mostar, Bosnia and Herzegovina, 88 000 B&H

+387 (0)62 426 29

http://www.hosteldada.com/index.php/en/contacten
I couldn't find them on Facebook.
Here is a video from Hostel Dada in Mostar, Herzegovina:

And my first meal in Herzegovina: