"Did you decide that all by yourself? There's no time for moderation" – Louise Wener.
Two cancelled flights in, a delay on the third one, a night in a cosy dorm, a football groundhopping adventure, sunset beers, spicy spaghetti from the street food vendors, a central square, a night on the rip, a swanky spontaneous concert (two actually!), a hostel with a swimming pool and some truly wacaday cool people to meet…Port Au Prince was meant to be for me on this short and sharp trip. I had to byball Cap Haitien, Les Cayes and Ile A Veche, but it was all madness and all worth it. I have hundreds more adventures to write about in January and February 2023, but for the meantime I was here in Haiti! I got my Haiti visa on arrival in Port-Au-Prince Airport and here I was in the best backpackers hostel in the capital of Haiti. Port-Au-Prince!
In late 2022, I decided to backpack both countries I recognised on the island of Hispaniola. This meant Dominican Republic 🇩🇴 and Haiti 🇭🇹. Haiti was much more famous for me, given their appearance at the 1974 World Cup as well as Haitien Larry Gaetjens 1-0 winner for USA versus England at the 1950 World Cup. There was also the cool link to Wilde Donald Guerrier, a Haitien footballer who once plied his trade in Poland! As a bonus, I got to go groundhopping in Haiti (2 football stadiums) and watched a match in one of them – FC Toro on the hill! Now that's entertainment!
However this Caribbean trip of 2022 to 2023 proved to be tricky. I had one visa rejection (Cuba first time) and 4 cancelled flights to deal with. Ultimately this cut my time in Hispaniola short but I was still able to finally arrive in Haiti despite TWO of my flights into Haiti being cancelled completely – one from Santo Domingo and one from Providenciales. A $10 US visa on arrival on my Northern Irish passport and here I was…
A quick look online revealed only a few hotels and hostels that were open and operating at the time. Originally I had planned to visit the coast by Ila A Vache (a cool little island), plus Port Au Prince and Cap Haitien in Haiti. I wanted to see those three parts of the country. But in the end I only visited Port Au Prince. Ah well, that's life and the journey rolled on.
This shortened stay was okay for me in the end as the TWO cancelled flights into Haiti were beyond my control and the country has been experiencing civil unrest recently so it might not have been the best time to visit. Even though that is nothing new to a boy who grew up on the streets of Northern Ireland but enough to pump my beat to ensure I'd maximise my short time in Haiti.
After my first two flights to Haiti were BOTH cancelled my time in the country was finally cut to just two days and one night. This was short but I was able to maximise my time there, magically still finding time for a groundhopping football match, beers in three bars, two concerts, street food downtown, a tour of swanky Petionville, a traipse around main square Champ De Mars, a night in a super hostel and making new friends from Haiti, France and Togo.
I got through immigration at the main Port Au Prince airport and was greeted by my driver Gustana. Gustana took me to the Park Hostel to check in.
On arrival I was checked in by Winston and given a quick tour of the hostel and hotel by Phillip. I loved the decor and elegance of this hostel. I had been expecting something dingy and out of a 1970s Belfast textbook but this was a pleasant surprise! I totally recommend staying here. Sadly my camera and decent phone were stolen in October 2022 so these photos and videos are all with my phone from 2017, very old but at least I have some record of my time in Haiti! Here are 5 cool things about the Park Hostel in Port Au Prince in Haiti.
1.Cosy Dorm Rooms
The hostel has 5 cosy dorms. I was in dorm room 2 sharing with Paul from Togo. I had a bottom bunk. The showers and toilets are separate out in the corridor. There is also a kitchen and a balcony. This place is very spacious!
2.Working Wi-Fi
Wi-Fi in The Caribbean is shocking in general which is why I cannot linger long here.  I need to get in and out quickly. I was blogging on the balcony listening to a concert, having a snack and a beer! Thanks to the owner Philip, Wi-Fi works here. Although please be aware it may be slow or cut out at any time and blackouts occur in which case, emergency generators are used by this hostel and many other Haitien businesses. I felt like it was a dream writing up my blogs on the balcony though!
3.Central location – Champ De Mars
You are sleeping right on Champ De Mars which is the main square. Parts of it were destroyed in the earthquake and it hasn't quite been restored to its former glory but is still worth a look. It's right outside the hotel. Kerbstones are red and blue to represent the Haiti flag – Haiti ripped out the white from the France flag to show their rebellion and formed their own red and blue flag. Haiti is also the ONLY country in the world to have a successful slave rebellion!
4.Local beers and street food vendors
My dorm buddy Paul and I popped out for some local beers and a spaghetti feed. Just ask the reception staff if you are unsure – these food stalls are cheap and easy to find. The spaghetti was spicy and using the black market for money, means meals can be as little as 50 cents to $1 US with beers roughly the same. The local beer is Prestige and it's damn good!
"I sold my soul with my cigarettes to the black market men" – Cold Chisel.
5.It's a Hostel and a Hotel
While I slept in the budget backpacking option of a dorm bed in the Park Hostel, the Hostel is at the front of a huge complex which also houses a hotel, called…The Park Hotel of course. A stay in the Park Hotel is in a private room and dearer – maybe one for couples or lovebirds but I go dorm room loyal usually.
6.Swimming Pool
Both sad and glad news is the sight of the swimming pool here. The hostel and the hotel between them have TWO swimming pools.
Due to the situation in Haiti and the world, both pools were bereft of water and looked sad. COVID, earthquakes, war and inflation all raised their ugly heads here.
I had a short sharp time in Haiti and here are s few more photos of the brilliant Park Hostel and Hotel – I totally recommend it!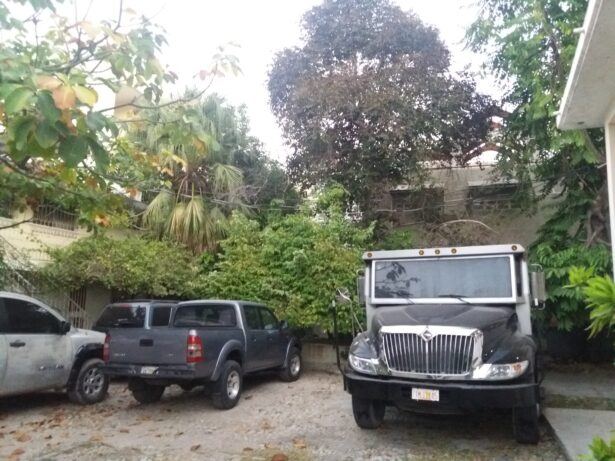 Here are the details for booking a room or dorm at the Park Hostel in Port Au Prince in Haiti:
https://www.hostelhaiti.com/
https://www.facebook.com/parkhotel.haiti
23 Rue Capois, Port-au-Prince, Haiti
+509 32 64 6351
[email protected]
tinyurl.com/j8j5gyp
[email protected]
**Thanks so much to the Haitien officials for allowing me to visit Haiti in 2022. Thanks so much to Philip, the hostel owner, all the staff there, my driver Gustana and my dorm buddy Paul for making it a great time. I hope to be back one day to also tour Cap Haitien, Les Cayes and Ile-A-Vache! Stay safe, love and peace out, HAITI!
Here are some videos from my stay At The Park Hostel in Port Au Prince in Haiti:

Join 15,017 Monthly Readers! If you enjoyed this article and LOVE travel and SAVING money, get e-mail updates from Don't Stop Living – a lifestyle of travel! (It's Free) 😉 Jonny