After leaving Bangkok in Thailand behind on another short jaunt to the city, I headed on a night train north to Nong Khai and then crossed the border into Laos at Thanaleng. I was meeting up with my travel buddy Chaz from Belfast. At the same time, Chaz was bussing it up to Vientiane from Cambodia. So we began our stay in Laos in the capital city, Vientiane.
We were dirt cheap backpackers in these days and bagged two dorm beds in a 12 bed dorm with no air conditioning. It was cheap as chips at but nothing fancy and a good start to our backpacking in Vientiane adventure. I also stayed in a slightly superior hostel in Vientiane called Youth Inn Hostel. But here are five reasons I'd recommend Sabaidy Guesthouse for a budget backpacker starting off.
1. Location
We were on a main road through Vientiane and could also easily walk through the main sights of the city (except a few that we had to tuk tuk it out to).
2. Internet
They didn't have WiFi but they had computers downstairs with internet access so all was good. In the morning you could get cheap drinks and snacks, though admittedly the iced coffee gave me the sh*ts!
3. Cheap Cheap Cheap
At the time we paid 25,000 Kipp for a bed in the 12 bed dorm and it was peak season. That's a whopping $3 US Dollars. So $21 US for a week? Not bad, I'll take it!
4. Balcony Beers
Laos' national beer, Beerlao is surprisingly tasty! And we hung out on the balcony by our dorm watching the sun sink with a couple of Laos beers against the Northern Ireland flag. Chaz and I are proud Ulstermen!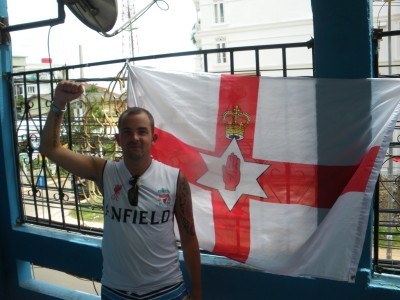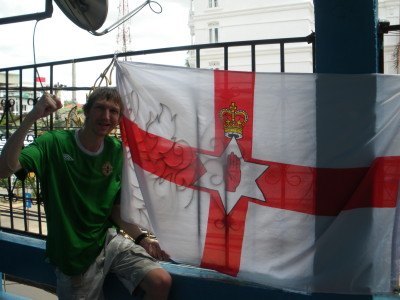 5. Dorm Lifestyle
It was the backpacker lifestyle – 12 in a hot stuffy dorm. Geckos on the wall, lockers for storage, new mates to meet. Top bunk, partying and not much sleep.
I'm not sure you can book this place in advance or not, we just turned up and got the beds on the day, here's the address though if you're going to hit it up:
Sabaidy Guesthouse Address: Rue Setthathilath, Vientiane, Laos
I aim to back date more of the awesome hotels, hostels, guesthouses etc. that I've stayed in down the years. I was in Laos in July 2012. You read my losing $1000 in Laos and trying to poke an infection out of Chaz's foot stories from those crazy days. Safe travels!
Here are some videos from the Sabaidy Guest House in Vientiane Laos:

Join 15,017 Monthly Readers! If you enjoyed this article and LOVE travel and SAVING money, get e-mail updates from Don't Stop Living – a lifestyle of travel! (It's Free) 😉 Jonny