Do you believe the hype about San Pedro Sula in Honduras? You'd be a fool not to, the statistics speak for themselves. As far as backpacking in Honduras is concerned, San Pedro Sula is usually the city to avoid. Gang warfare rules supreme here. Year after year the murder statistics are huge, and except for massacres and wars, it stands out as the most violent city in the world. It doesn't mean that tourists are a target though. The violence is mostly gang on gang and drugs related.
Check these few news articles out:
http://edition.cnn.com/2013/03/27/world/americas/honduras-murder-capital/
http://www.businessinsider.com/san-pedro-sula-is-the-most-violent-city-on-earth-photos-2013-12?op=1
http://travel.amerikanki.com/most-dangerous-cities-in-the-world/
But then again, my love for travel took me here and after visiting Copan Ruinas, and re-entering Honduras at Puerto Cortes, the murder capital of the world somehow seemed like the best place to relax for 2 days and decide what to do next. As bizarre as that sounds, we actually had a great time here, found a cosy hotel, loved the local food and enjoying the sights the city has to offer.
If you do end up in San Pedro Sula, however I urge you to take good care. Crime rates don't lie and even the locals feel the threat. Don't wear watches or flash any kinds of wealth around. Take only the money you need out with you, keep your head down and use taxis more than you normally would. Especially at night.
Where to Stay in San Pedro Sula
We chose the hostel called La Hamaca. This place surprised me and was NOT how I imagined a hostel in this city would be. The staff here, Tesla (a local) and a namesake of mine, Jonny (an Englishman) greeted us, showed us round and we were pleasantly surprised.
The room prices for a dorm bed start at $15 US plus tax. The thing about Honduras is that there is a 19% tax often added to things, so be aware of that – it really grills me and we ended up paying a fortune for a few hostels and meals as we didn't factor in the tax. We got a double room for $35 (so $17.5 US each). Payable in US Dollars or of course the local Lempiras (roughly 20 of these is 1 USD). Book La Hamaca on Agoda but please be aware that they charge you more if you pay in Lempiras than in US Dollars as well as the tax.
Transport Advice for San Pedro Sula
Use taxis here. This simple advice comes from the fact that the only bus we got was packed full, a tad dodgy and stuck in traffic. Plus they are often targets for hijackings and robberies, never mind the threat of pick pocketing and losing the only $20 US note you have in your pocket plus your camera. I normally advise against taxis as taxi drivers are usually a rip off, but here in San Pedro Sula, they are great, and we loved them for these reasons:
– Safe and reliable (make sure you take a white taxi with black writing on it – they are legit)
– Cheap (Honestly $4 US is the normal rate from one part of the city to another – as I was travelling with Panny this meant $2 US each only per ride!)
– Honest Drivers (when you ask the price of a taxi make sure you speak Spanish simply saying "Hola, cuanto questa <insert destination>?" will ensure you get the right price). I've travelled a fair bit and I can usually tell if drivers are honest or not – here in San Pedro Sula, they mostly are.
– BEST way to meet locals and learn about the city – I found that by taking taxis in San Pedro Sula you get to meet real life locals and can chat away to them. We took a few taxis and all our drivers spoke away to us, were helpful, friendly and didn't try to rip us off. Seriously!)
– You are unlikely to get killed (it's always important to be aware of the dangers of a city this big, especially at night)
– Fast (taxi drivers don't bullshit with routes here – they take you direct as they want to save petrol, they also try to avoid traffic jams)
Walking around the neighbourhood near the hostel is also perfectly fine by day, as is the city centre. But at night, it's a different matter. Use taxis.
Sightseeing in San Pedro Sula
Yes – there is some seriously good sightseeing to check out here, fire your way through this top 7 and you'll enjoy yourself – I skipped the Museum (Museo de Anthropologia e Historia de San Pedro Sula) by the way, so if you add in it, you'll get 7 cool sights here!
Also, 5 of these 7 places are all within walking distance of each other by Parque Central so it's easy to find your way around.
1. Parque Central
Parque Central is where it's at as far as San Pedro Sula's city centre is. This square is nice. Leafy, safe by day and with impressive architecture all around, I'd recommend heading straight to Parque Central in the downtown area.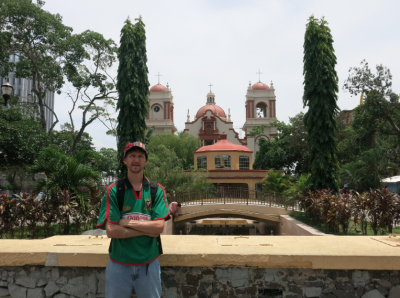 2. Palacio Municipal
In the Parque Central is the main Palace, more like an elaborate City Hall – yellow, white and well maintained and called Palacio Municipal.
3. Cathedral
San Pedro Sula has quite a few scattered churches but the prettiest by far is the main Cathedral, which is also in Parque Central.
4. Plaza Tipica
I loved Plaza Tipica as it is cheap, safe and the food is great. Basically it's a covered outdoor food market with the best local cuisine that San Pedro Sula has to offer. It's literally just a 2-3 minute walk from Parque Central too!
The seafood soups (from 60 Lempira) and barbecued meat meals (from 50 Lempira) come recommended, as do the excellent fruit juices (15 Lempira). There is a HUGE range of food to choose from here!
5. Mercado de Artesanias
This is a cool arts market again it is 2-3 minute walk from Parque Central, and is on the left hand side of 3rd Avenue, to the left when you face the main Cathedral.
I loved the way you can buy postcards and souvenirs here as really San Pedro Sula is not a touristy destination at all.
I often thought a t-shirt saying "I survived the world's most dangerous city" would have made a nice gift, but they didn't have any – perhaps not something you'd want to boasts about…
6. Estadio Olimpico Metropolitano
I'm a football freak and geek and I love the sport. It was one of the catalysts to my travels in the first place. All those Panini Sticker Albums, all those Northern Ireland matches I watched and the fact that in the last 10 countries I had been to, I had visited a national football stadium of some sort.
Honduras have been in three World Cups – 1982, 2010 and 2014. In 1982 they played against my country in the group stages – Northern Ireland. We were 1-0 up against them thanks to Gerry Armstrong and then they equalised to make it 1-1. That was the final score and Northern Ireland went on to win the group unbeaten, while Honduras lost their other two matches and went out. Same story in 2010 and 2014 – they exited at the group stages.
However here in San Pedro Sula the Estadio Olimpico Metropolitano is a bit of a cauldron! They caned Canada 8-1 here. Getting to the stadium on a non match day is not that easy, in a dangerous city like this, you'd have to get a bus to the highway then walk in your self. So instead we paid a taxi driver to take us out there.
This worked a treat as the taxi driver spoke to the police on the gate and we were able to get inside the stadium and take photos! Amazing.
7. City Mall
Last on this list and perhaps odd for me to include what is essentially just a "shopping centre" but the swanky City Mall was only a 5-10 minute walk from our hostel and a really safe place to chill. Not only do they have a great food court (much cheaper than the overpriced hostel food), but a load of shops, ATMs (safe to use here) and even a Cinema where you can feel safe at night.
It's also nice to see how the richer people in San Pedro Sula actually live. Most shops have security and guys holding guns on the entrances – all part of the San Pedro Sula experience as far as I'm concerned.
So with those 7 things to see and do and a decent hostel, it's definitely worth two nights while you make your next move. San Pedro Sula bus station is an extremely useful hub. From here you can get buses to Puerto Cortes (for Belize), Copan, La Ceiba, Tegucigalpa and Lago de Yojoa as well as to the Guatemalan border.