Be Here Now: The Time Of My life At Casa De Snagg, Chester Cottage Saint Vincent
"You gotta be bad enough to beat the brave"- Noel Gallagher.
A 23 year delay was eventually put right on the 23rd December 2021. I was finally doing that Noel Gallagher pilgrimage that I craved back when "Be Here Now" was the lyrical masterpiece that I feasted my youthful ears upon.
"Ever heard of Mustique?"- Noel Gallagher.
On the 21st August 1997, Noel Gallagher and Oasis released the mammoth Be Here Now album. This was the one. This will always be the one for me. It took the basic pop anthems from Oasis's first two albums, Definitely Maybe and (What's the Story) Morning Glory? and spiced them up into quirky wacaday masterpieces.
"I need more time just to make things right" – Noel Gallagher.
As a dreamy eyed Ulsteric teenager, I had read how Noel Gallagher had dreamt up many of these tunes in a little known country called Saint Vincent and the Grenadines ??. Specifically, Noel was based on the tropical island of Mustique. It stuck in my mind forever. And then I did it. I flew into Argyle International Airport from Grenada.
"While we're living, the dreams we have as children fade away" – Noel Gallagher.
"As the day was dawning my plane flew away with all the things caught in my mind" – Noel Gallagher.
My two previous life jaunts that incorporated The Caribbean had neglected such a country, and most of the Caribbean. In 2011, I backpacked Trinidad and Tobago. In 2014, I backpacked Caye Caulker, San Pedro (Belize) and Utila (Honduras). Aside from a bit of flirting offshore in Brazil, Guyana, USA and Suriname, the Caribbean was basically a blank dot on my globe. Though I did spend a hat-trick of nights in "Madonna's Town", well last night "I dreamt of San Pedro…"
"Fly me down to capital city in the sun" – Noel Gallagher.
On that morning, I sank a Guinness and a bag of Tayto at the airport in Grenada, where I had stayed in the super Sea Breeze Hotel. From Grenada, ??, my Intercaribbean Airlines flight would sky over the Grenadines ??, including Mustique and land me into Argyle International Airport near Kingstown, on the island of Saint Vincent. Saint Vincent is the main island of the country known Gallagherically as Saint Vincent and the Grenadines ??.
I needed a hotel to secure my visa and entrance into the country and so I opted for a wild and obscure one, by the sea, on the east coast. I chose Casa De Snagg in the village of Chester Cottage. And I'm very glad I did. This place was absolutely superb. I cannot even recommend it enough.
Not only was it Noel Gallagher esque but this is exactly the sort of place where Jonny Blair stays. I buzz off places like this.
"This is my world and I am world leader pretend" – Michael Stipe.
As soon as I arrived, after an a$$hole thief / robber taxi driver, I loved this place. Looking back the taxi rear end exit was the only negative thing about Saint Vincent. JUst check out some of the cool thinks about my place at Casa De Snagg!! This is the place for you to stay when you visit Saint Vincent – please stay here and also please ask the owner / manager Noddie to collect you from the seaport / airport rather than risk a dear taxi rip-off driver!
1.Caribbean Sea Views
Let's just say I feasted my eyes on the view over the Caribbean – over 3 days I had a nice range of weather too from tropical storms to classic sunshine! As you might know, I'm not a weather freak usually but it was nice to get such a mix of weather here – I actually start to believe weather is good for the soul – the thunderstorm especially inspired me…
2.Good food
You can have your breakfast, lunch and dinner here if you want. Noddie can help prepare or even order food for you.
3.Bar
Of course the downstairs bar had to feature and I loved the two local beers here – Hairouan (actually from Sainty V) and Carib (brewed in Grenada). I also included it in my bar tour of Saint Vincent!
4.Cosy Room
Unbeknown to Noddie, I was actually in the green room – which is my favourite colour. My room had a bedroom, a desk, fast Wi-Fi, a settee, a good bathroom, an equipped kitchen (fridge, kettle, tea, coffee etc.) as well as the balcony. Perfect!
5.Warm, Welcoming Host
Noddie was my host as well as my tour guide – I toured Black Point, Byera, Chester Cottage, George Town, Orange Hill and New Sandy Bay. Noddie was my guide and an excellent guide and host – she actually tailored my trip to include two football stadiums and two bars. There was also a chance to do the volcano hike but I was knackered and here to relax so I skipped the hike.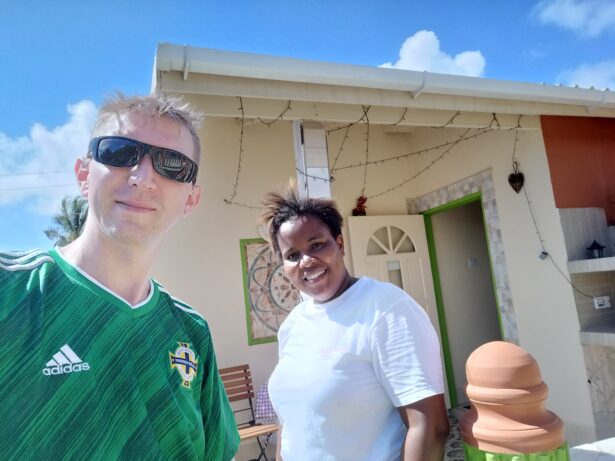 6.Safety!
This was a safe place to stay. There are only a few rooms and all are locked and secure and this was a nice private loaction.
7.Rooftop Pool!
As well as swimming in the Caribbean Sea nearby, you also have a pool here. Sunset loyal for a carryout!
8.Balcony and Decor
The balcony and general decor of Casa De Snagg is magnificent…
9.Noel Gallagher Magic
Noel Gallagher from Oasis wrote some of Be Here Now here in this country, and even recorded the below demos in Saint Vincent and the Grenadines, on the island of Mustique. That magic inspired me as a poet, writer and blogger…
However, sadly on this trip – Mustique itself, was a step too far for me – strict regulations at the time (which included booking a minimum 5 night stay at a very expensive resort), PCR test before arrival, on arrival and before depature, no direct ferries (at the time) and only a few flights per week meant I had to cancel my idea of making Mustique my only ever part of Saint Vincent and the Grenadines to visit. That's why I chose to fly into Argyle Airport instead of Mustique. I more than made up for that here – I had a writer's room, a poet's desk, a dreamer's balcony's, a beer lover's fridge and enough inspiration to write a book, poetry or just random words…and that was enough for a non-billionaire backpacker like me…
Here are the details for booking a room at the Casa De Snagg Chester Cottage Saint Vincent and the Grenadines ??:
Noddie, Casa De Snagg, Chester Cottage, Georgetown, East Coast, Saint Vincent and the Grenadines, VC0100.
https://www.facebook.com/casadesnagg.snagg
https://www.instagram.com/casa.de.snagg/
Here are some videos from my stay at the Casa de Snagg Chester Cottage Saint Vincent and the Grenadines ??: