My journeys backpacking through Romania continued as I hit up Brasov. Homestays in Tiraspol, Hostels in Bucharest, swanky hotels in Windsor and an old English Inn in London had been my recent beds for the night on my travels and then I decided to head to Dracula country – Transylvania. I wanted to stay in somewhere quiet, relaxing and tranquil and I came across an excellent family run place called Casa Terezia in the picturesque city of Brasov so I was sorted. It's the best place to stay in Brasov (a gem of a city) so get it on your list.
I spent two lovely nights here, had my own room for a change (after endless dorms) and was able to relax and get some decent work done and good night's sleeps.
Casa Terezia is run by local lady Terezia and it's perfect for couples and solo travellers. It's especially perfect if you are here to relax and get a decent night's sleep. Especially being in Dracula territory, you don't want to have nightmares aided by poor accommodation choice. So I booked myself into Casa Terezia and after and train and bus from Bucharest I arrived to check in.
Casa Terezia is situated in a courtyard off Strada Nicolae Balcescu in the heart of Brasov's World Heritage listed Old City. Here are 5 reasons why I loved it and why you should stay there.
1. Family Owned
Casa Terezia is Terezia's House and this family run place is welcoming, friendly and relaxed. Terezia has a heart for her guests and will be able to help out with everything you need – maps, tips, bus routes, ideas and anything you need to know really.
2. Quiet Courtyard
Casa Terezia is in a quiet courtyard off the main street. There is zero noise at night, no distractions and even better – there are just 3 rooms here. This makes it cosy, safe and compact. At night you can get a good night's sleep without worrying about late night party mode backpackers or posh hotel travellers on their smartphones. This place suits my current travel style down to the ground.
3. Perfect Location
Brasov has so many sights to see that the best place to stay is in the Old Town. Casa Terezia is great because it's in the Old Town, and is a few minutes walk from the Black Church, Piata Sfatului, the Cable Car to Mount Tampa and the city walls. Everything you need is close by – supermarket, bars, restaurants, bus stops and souvenir shops.
4. Fast Wi-Fi
Sometimes family run Guesthouses have sceptical or non-existent Wi-Fi. Casa Terezia has fast in-room wi-fi, mainly because it's so compact and small and with just 3 rooms here, the possibility of lots of users at the same time just won't happen. There I was blogging away at speed from my room.
5. Comfortable Rooms
My room was comfortable and cosy. Ahead of the tour to Bran Castle in the Dracula inspired region of Transylvania, I was pretty glad of the incredibly comfortable room. Soft, decent beds. Towels and soap provided and hot showers in a pristine and spotless bedroom and ensuite. I loved my two nights here in comfort, had decent nights sleep for a change.
Also as a bonus, free tea and coffee and Terezia was so kind as to provide me with fresh local pastries in the morning too!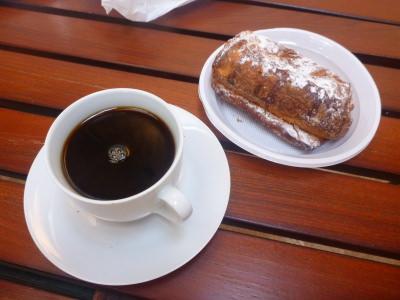 So when you go backpacking in Brasov, which you should as it's a great city, head to Casa Terezia and you'll love it. You can also thank me for introducing it to you, you can escape the posh hotel crowds and the party mode backpackers for a few nights and truly relax here.
Casa Terezia
Strada Nicolae Balcescu 25,
Old Town, Brasov
Book Casa Terezia on Agoda.
Here is a video I made from my time staying in Casa Terezia in Brasov: