The BVI. Beefy. Tortola. The British Virgin Islands. This was actually a very last minute spontaneous adventure, as I just needed to escape Europe to backpack the Caribbean in December 2021. I'm sure more of that will come in the forthcoming book series – I had no idea where life was heading and I left Poland at the start of December that year, thinking I'd never go back there. Things changed and perhaps, "This Is The Next Century", will portray some of that, as it will actually end its hat-trick in Beef Island. The British Virgin Islands was my 199th official country when I touched down on New Year's Eve 2021, on a short flight from Saint John's in Antigua. It's British yet on a Northern Irish, Irish and British Passport, I still needed a visa, two PCR tests (one in advance with proof from the previous 72 hours, one on the spot on arrival), a hotel, a taxi and a flight out! Wild! Like many countries, it's disguised as "visa free" but remember – if you have to pay to enter the country, you have to fill in a form, you get a passport stamp etc. – then that's a visa! This is not visa free!
The weirdest thing is my flight ticket stated that I was flying from Saint John's in Antigua to Tortola in British Virgin Islands. I wasn't. I would land on Beef Island – Beef Island is where the international airport for the British Virgin Islands is. The British Virgin Islands consist of the main islands of Tortola, Virgin Gorda, Anegada and Jost Van Dyke (an island, not a footballer!), along with more than 50 other smaller islands and cays. Anyway, I was ready to board and got my exit stamp from Antigua and Barbuda.
Leaving Saint John's, Antigua
I left Saint John's behind having met a friend of Richard Branson's! This would be the first of two crazy New Year's Eve and Day's in The Caribbean (2021-2022-2023). In fact, it was really crazy because this was a lovely lady, Olivia from England who was also on my flight, she sat in front of me and joined me for a drink in the bar in Antigua. The flight was at 17.45 p.m. so even with the delay, I would arrive in the BVI before midnight to celebrate the new year here! It was an amazing adventure. But hold on – I had no accommodation booked, no visa organised and no flight out! I had only booked a flight in to British Virgin Islands!
Arrival on Beef Island, British Virgin Islands
The flight landed a bit late on Beef Island – there were only about 20 of us on that flight and it was now dark. Olivia was heading directly through security and onto a ferry to Virgin Gorda, as she was working for Richard there. We said our goodbyes.
On arrival, I knew I'd need to do an extra PCR test on the spot (this also happened in Dominica). I passed the PCR test with my 16th negative out of 17 (the other was void). Then I waited in the lobby, I headed to the short queue for immigration and entrance into the BVI. Here is what I handed to the immigration officer –
my British passport (I'm only ever Northern Irish as I'm a nationalist but I expected the "British" passport to make it easier to get into the "British" Virgin Islands.
my negative PCR test (from 10 minutes ago).
my negative PCR test (from the previous 72 hours – I got that in Sint Maarten 2 days earlier).
my filled in immigration form (below).
But those 4 things would not be enough. This trip to Beef Island was booked the day before, so I hadn't even expected to be here. Then I realised that it was possible they will ask for a hotel booking, a visa fee and a flight out. I found that hat-trick strange since, I was officially back "home" here – at least accoring to them and British law. Officially for me, my home country is Northern Ireland but for immigration and political purposes, I am at home in BVI. The immigration officer then asked where I was staying. I said I booked it late for New Year's Eve and hadn't booked anywhere. He said I needed a hotel reservation for at least the first night.
A quick check online revealed the cheapest hotel was $400 US for tonight so there was no way I was booking that – especially since all my accommodation since 2013 has been free, complimentary, paid or discounted due to my professional travel blogging. Suddenly backpacking didn't seem so good. I wasn't being allowed into British Virgin Islands on a British Passport! They also asked for a flight out and I hadn't booked one. My plan was to go straight from the airport to a bar to celebrate New Year's Eve, then the next morning head to a cafe and book a hostel for 1-2 nights and then decide where to go next. Now I was faced with a fast ultimatum – if I wanted to get into the British Virgin Islands, I needed to book a flight out now, and a hotel.
I asked if they have WiFi…
Yes they had. Luckily I had my Clever phone charged over 60% so I turned on the WiFi and it worked.
The only problem now was that I had to do a few things I'd never done before:
1.I had to book a hotel on my phone. That just doesn't happen. I didn't even think it was possible.
2.I had to book a flight on my phone. That just doesn't happen. I didn't even think it was possible.
3.As I had WiFi, I decided that I'd have to book two flights now, as I was told (by Olivia) that there are not many decent direct flights out of Beef Island, except for private jets…I wasn't about to ask for Richard Branson's phone number. (Richard owns some islands here – Moskeeto and Necker).
4.I had to book a flight out of a country the day I landed in it. For the life in me, I was sure I hadn't done that before!
I worked fast. I had no time to email hotels and all the ones that came up were over $200 US a night, so I wouldn't be paying that. I'd be blagging it. I was now the last person in the airport, and my flight had been the last to land that night. I knew they all wanted to lock up and go home but they also knew I needed to match all the requirements to be allowed into the BVI. The only flight out I could find was luckily a decent one for the very next evening – New Year's Day night for about $250 US so I booked it. Ouch! I was normally much cheaper than this, but hey ho. I now only needed a hotel booking, and to later pay the visa fee (in cash). The immigration officer called a few hotels for me and they were all $400 US so I just said "book it" and I'll get a taxi there and pay in cash. Then she stamped me in to the British Virgin Islands and I paid my $10 US visa fee, disguised as not a visa fee but as an "environmental and tourist levy"!. Also, you pay here in US Dollars, despite it being British Virgin Islands! They wouldn't accept my British pounds! But I now had my stamp below and my visa!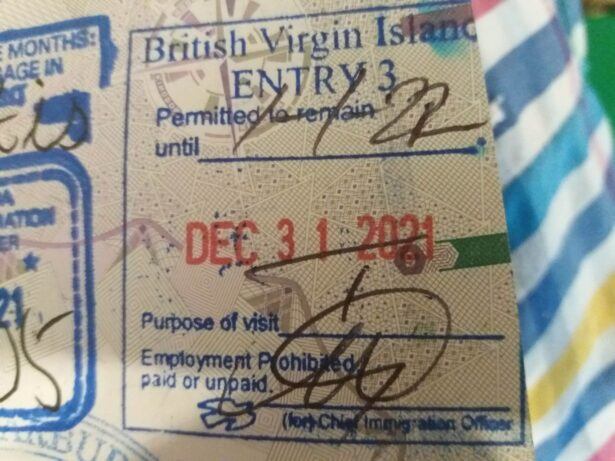 And with that, I was finally in country 199 – the British Virgin Islands, where the drama certainly didn't end. Of course, I didn't get a taxi or go to that $400 US hotel, instead I went straight to Trellis Bay on foot and went into three bars here to celebrate New Year's Eve, talk to the locals and find a bed – I slept on the settee here. It was a great night but then more drama the next morning as my friends Diane from Omagh in Northern Ireland just so happened to be here and notice that I had posted on Facebook about it and she met me and we toured Tortola! It was madness, but that wasn't even the end of the story – it will be saved for the books! After all that drama, I loved Beef Island and Tortola and recommend it!
Join 15,017 Monthly Readers! If you enjoyed this article and LOVE travel and SAVING money, get e-mail updates from Don't Stop Living – a lifestyle of travel! (It's Free) 😉 Jonny