After crossing the border by night train from Krakow in Poland, it was time to tour some parts of the Ukraine (Lviv, Kiev and the Chernobyl Exclusion Zone). I started off in the city of Lviv, which is the hardcore heartland of the Ukraine. This city lives and breathes the country's nationalistic values and deserves a few days. It's a tad special this city – with it's crazy bars, varied architecture and Ukrainian history, I predict you might just love it.
These days, I love to mix up the places I stay overnight, this is a diverse gentleman right here. Don't Stop Living is a real life website about my travels and as such I stay in all sorts of places – 5 star hotels, backpacker's dorms, guesthouses, Couchsurfing hosts as well as sleeping on buses, trains and airport floors. No day will ever be the same in this lifestyle. In Krakow, Poland I chose a textbook backpacker's hostel. But I was actually a bit tired when I arrived in Ukraine and therefore it was just amazing to be staying in a 5 star hotel again, but this one is different from most 5 stars. I stayed in the Citadel Inn and resort. It doesn't fit the generic "men in suits discussing business" model. No, this place is cool. So cool, even if it went to school.
The Citadel Inn is housed in a huge circular castle style building on a hill pretty close to the Old Town of Lviv. I was very happy to spend time here on my journeys and wanted to highlight this hotel as a real gem for any travellers to Lviv, hoping to escaping the downtown buzz and hostel lifestyle for a few days. Treat yourself to the charms of the Citadel Inn and you won't be disappointed, here are 5 stone castle-wall reasons why.
1.Helpful Happy Staff
After my night train, on arrival into the Citadel Inn I was tired and weary. When I entered the lit up reception area (with its fresh Christmas tree), I was welcomed with a smile by Oksana and Iwanna on reception.
Then Volodomir showed me to my room and I knew I would be happy here. A shout out also to the bar and restaurant staff on the top floor – superb customer service.
2.Spacious, Comfortable Rooms
Best of all, when I closed the door on Room 111, I felt I could totally relax here. I had a double room with a desk, a toilet room, a shower room, a mini fridge etc. The room was clean and tidy as well as being spacious and comfortable.
During my two nights, I was able to relax in the evenings, get some typing done, have hot showers and be fresh and ready to tour the sights of the city ahead of my next train onwards to Kiev.
3.Textbook Breakfast
If a 5 star hotel can do things by the textbook, then the Citadel Inn has it. Here, a massive buffet has everything you could need or want in the morning, so much so that you'll be too full when you leave.
You can also order eggs and omelettes direct from the chefs. As with a lot of my food related travel stories, perhaps the photos tell the story more than the words. Check the breakfast out. There was even champagne for breakfast by the way, although I didn't try it! Quite unusual for me, but I had some mega tours to write up and lots of the city to see, coffee and juice was fine for me.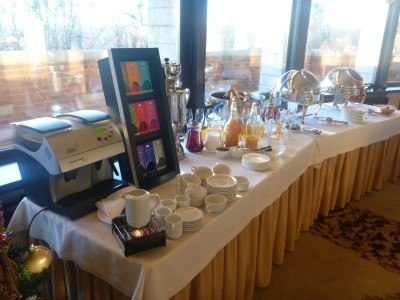 4.The Citadel Building
When you stay in places this cool, it's too easy to get stuck in the trap of spending lots of time in your cosy hotel room. And as good as the rooms are, you really need to admire the awesome building you are in!
This is a circular Citadel. It is a unique royal building and has 26 exclusive rooms & suites: 13 "Standard" guest rooms, 11 "Superior" guest rooms and 2 elegant "Suites".  The interior design in every luxury room is a reproduction of the royal epoch of Great Austro-Hungarian Empire in pretty accurate detail. The hotel also represents the Suit Room, dedicated to the great F. J. Habsburg, who was the founder of this Lviv Citadel building. You agree, stunning?
5.Gym, sauna, bars, views
To clinch things for you in deciding to stay here, then you'll be pleased to know that there is a full gym, sauna and relaxation room. Massages and treatments are also available on request. There is a gym and there are two bars in the complex. On busy nights, live music can be played and the place has a totally chilled out ambience.
And then there are the views. From the back of the Citadel Inn, on a nice clear day you can admire the views of the Old Town of Lviv and basque in the magnificent place you are staying in. From the top floor of hotel – panoramic restaurant "Garmata", you can also enjoy an unforgettable epic view of the central part of the city.
You know what, I loved this place. It ain't a bad old world. But this is a real life journey and we must move on. I could have stayed for 7 nights or more such was the comfort here, but after 2 nights, on my third day in the country, it was time to head to Kiev, the capital city.
Here are the details for booking the Citadel Inn in Lviv, Ukraine:
Hotel "Citadel Inn"
79000, Ukraine,
Lviv, Hrabovskogo str., 11
Tel: +38 (032) 295 7777
Tel./Fax :+38 (032) 295 90 00
Website: Citadel Inn Lviv Ukraine
Here are some videos from my time staying in the excellent 5 star Citadel Inn in Lviv, Ukraine: