After my longest stint in Europe for about 6 years, it was time to head back towards Asia. A new country beckoned on the way though and I plumped for Kuwait. Bordering Iraq and Saudi Arabia, Kuwait is a small country in the Middle East which doesn't attract as many tourists as it should. I made it a priority to spend a few days here and enjoy the sights of the city. First up though – Kuwait is a rich country. Rich in culture, rich in oil. Thanks to the oil reserves here in Kuwait, the standard of living is excellent. I flew in from Istanbul and got a Kuwait Visa on arrival at the airport.
Kuwait is a thriving country and has pristine streets, state of the art buildings and flashy hotels. Temperature wise, the Middle East sun shoots down and bakes this place like a furnace, it was over 50 degrees one day that I was there – with only heat and no humidity. I decided to stay in two different parts of the capital city, Kuwait City – Salmiya and Sharq. I found the Hotel Ibis Salmiya online and decided to stay here to begin with. It is in the Salmiya part of Kuwait City, not too far from the airport. This was a perfect place for my first night in Kuwait and here are five cool things I loved about this hotel.
1. Gulf Location
Salmiya is in the east part of Kuwait City and enjoys a coastline on the Gulf. The Ibis Salmiya Hotel is on Salem Al Mubarak Street, which is only one street away from the seafront Arabian Gulf Street.
You can walk along the promenade in the vast heat, visit the restaurants, cafes and shops nearby as well as the Scientific Centre and some attractive Mosques.
The location of the Ibis Salmiya is perfect for those that want to visit Kuwait but escape the big city buzz that the downtown part of Kuwait City provides. It's a perfect place to relax. Even better was that my room had a view overlooking the Gulf.
2. Super Fast Wi-Fi
The Wi-Fi in the rooms, and reception in the Ibis Salmiya is super fast, one of the fastest I have experienced on my travels. I was able to sit in my room admiring the views, writing articles with a cup of tea. I'm trying to rest these days rather than backpack hardcore through cities, so this was a great place to do that.
3. Cosy Rooms
I was in room 419 which is a cosy double room with a desk for working on, a clean bathroom, a TV, 2 bottles of water, tea and coffee, a safe, a view and a very comfortable bed. Here are some photos of my room.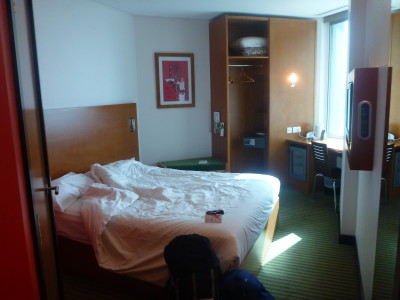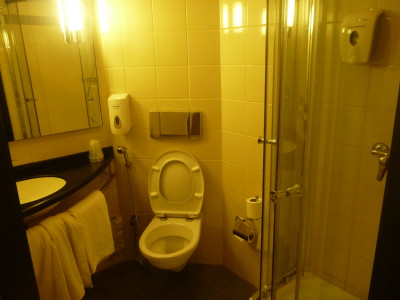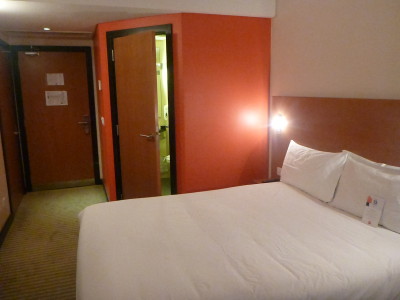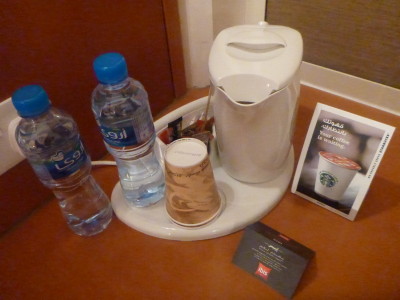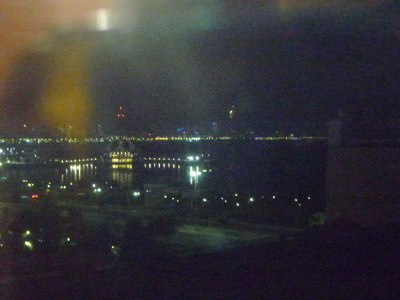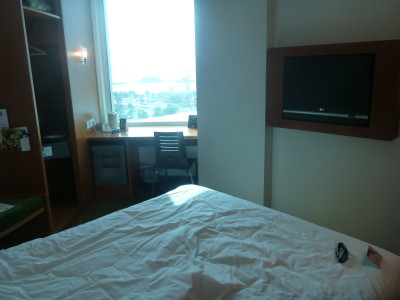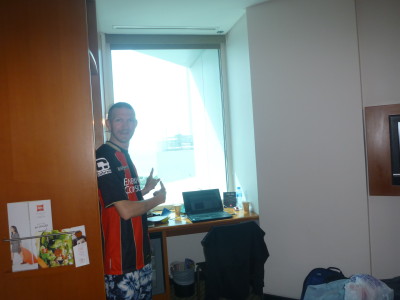 4. Excellent Extended Breakfast
One of the biggest surprises was the breakfast here at the Hotel Ibis Salmiya. Not only is it a buffet from 4am to 12 noon (8 hours of breakfast to suit all customer's time frames), but the selection is vast.
Officially the hot food stops at 10 am though, so try and get down before 10. I had cereal, tropical fruit, orange juice, yoghurt, coffee, tea, croissants, fruit, cheese, meat slices, olives, beans, toast, egg and beef. Such an incredible selection to set you up for the day ahead. Check out some of my photos of the breakfast (a few videos appear at the bottom of the article).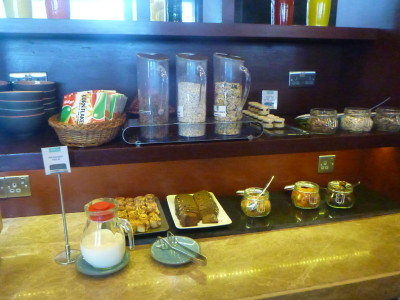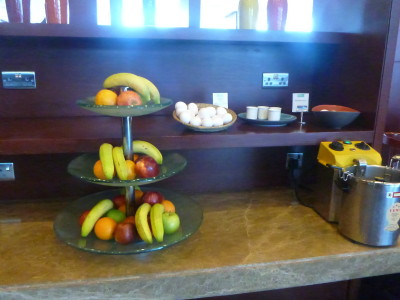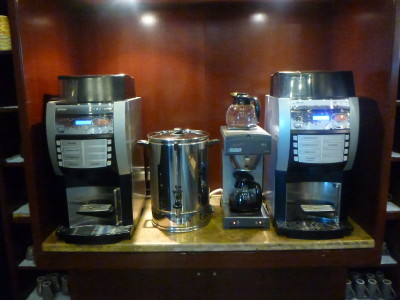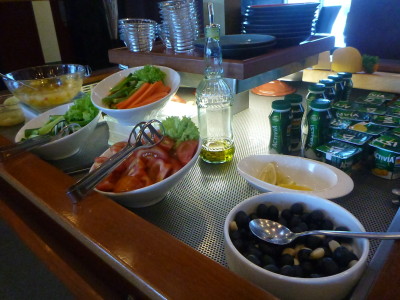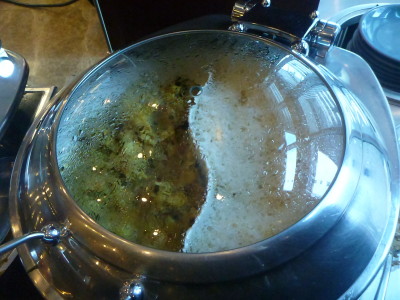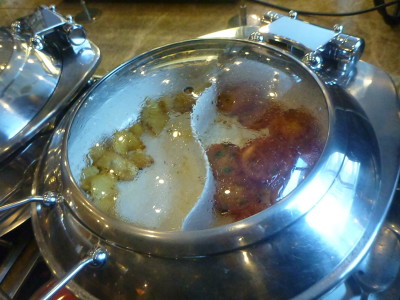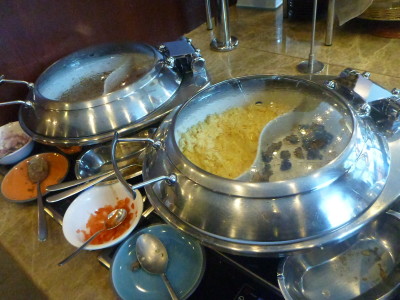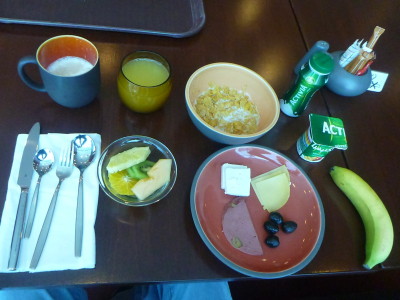 5. A Friendly Welcome
The Hotel Ibis Salmiya has pleasant staff and is extremely welcoming. The reception is on the third floor, so just head into the building and up on the lift. Customer service and politeness is a clear virtue here in the Hotel Ibis Salmiya, and indeed all over Kuwait. The people are most hospitable.
So if you are heading to Kuwait and want to avoid staying in the bustling heart of Kuwait City, then the Hotel Ibis Salmiya is definitely for you. Here are the details for booking:
SALEM AL MUBARAK STREET
PO BOX 36442
24755 – SALMIYA,
KUWAIT
TEL : (+965)25734247
BOOKING BY PHONE :(+965)25761233
Email: [email protected]
Some final photos from the balcony, lounge, internet area and around the Ibis Salmiya Hotel: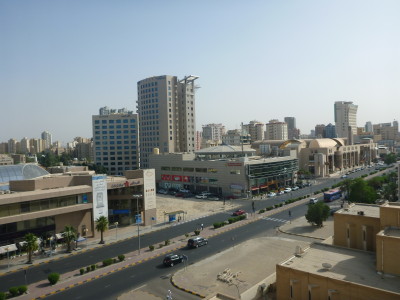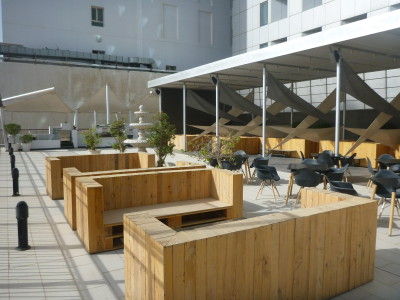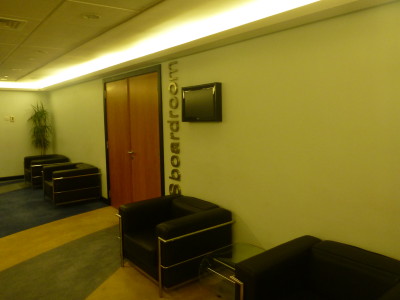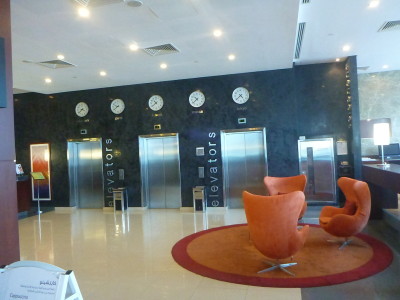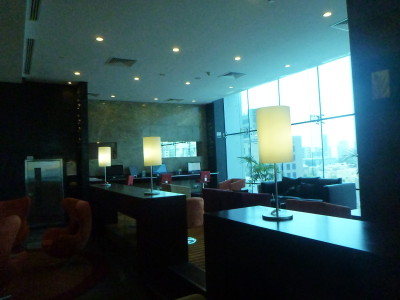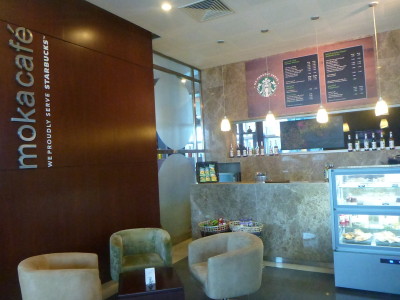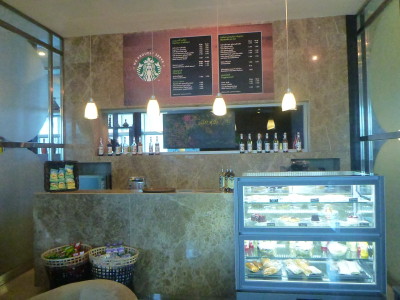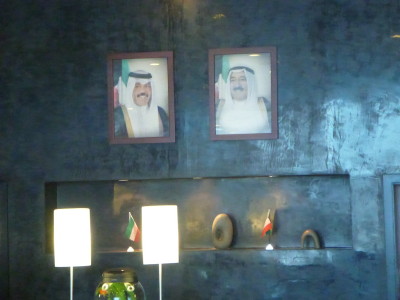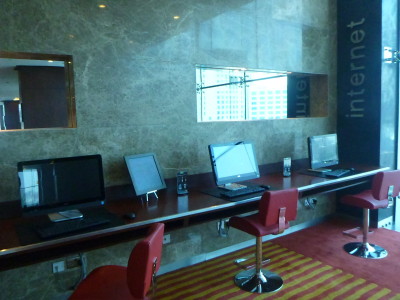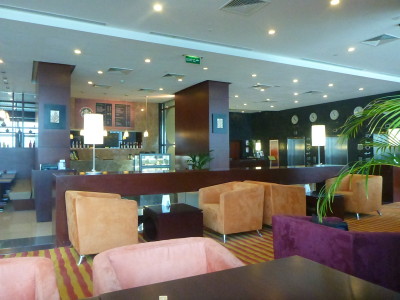 Here are my videos from my stay at the Ibis Salmiya Hotel, Kuwait City: