My fascination for crime dramas and thrillers isn't something I've really mentioned on here. In fact I've never bought a Television in my life (my parents bought me one back in the day though) nor do I ever even look for one in a hotel room, hostel lounge or any flat that I happen to rent. However I do watch TV when I am in company. In Australia I watched Smallville regularly with Daniel and Ruben my flatmates and visited the set of Neighbours. When I'm in the UK I watch football and the news on TV. I watch quiz shows, the Office and Alan Partridge with my mate Austin. When I'm with my Dad we like to watch a good old detective drama – Agatha Christie, Jonathan Creek, Columbo and of course – Poirot!
Poirot is a fictional character invented by crime writer Agatha Christie. Hercule Poirot is a Belgian Detective and an aspect of the series that I like is that the murders are always difficult to solve and work out. They have twists to them and even better – they are based all over the world. Poirot has been filmed in more than 10 countries down the years, with England being the most frequent of course. So during my recent revisit to London, I was checking out some off the wall stuff, as well as visiting Abbey Road, the Republic of Frestonia and the Empire of Austenasia, I decided to hunt down the flat where Poirot "lives."
Where is Hercule Poirot's Flat?
Hercule Poirot lives in a flat complex known as Whitehaven Mansions on the TV show. In a large number of episodes, the front of the building appears and it is very distinctive. I had a quick look online and found out that the real name of Whitehaven Mansions is Florin Court and is situated in Barbican on the east side of the City of London.
How to Get to Hercule Poirot's Flat
London's transport network is huge, reliable and diverse. I used to love living in London – no matter what happens on the roads and tracks, there are always alternative ways to get to places. Buses and the Tube are the main ones I use. There is also the option of driving, using a taxi (don't do it kids) and the overground train system. For Poirot's Flat, I suggest keeping it simply and using the good old tube.
Head to Barbican station, which is on the Hammersmith and City Line (pink), the Circle Line (yellow) and the Metropolitan Line (maroon). It pays to have an Oyster Card when you're in London, even if you;re only there for a few days. Buses in London refuse to take cash these days as well.
Get out at Barbican station and turn left immediately. There is only one exit from the station. Then take the next street on the left – Carthusian Street. You'll walk past a pub called the Sutton Arms (which has also been used in Poirot).
Soon on the right you will see a large square, this is known as Charterhouse Square. Turn right at the front of the square  and that street on the right, opposite the square is Florin Court. You have arrived at Hercule Poirot's "flat". If you have watched the show before, it will be instantly recogniseable!
Did I go inside and solve any murders? No! Apart from admiring the building and taking a self portrait, that's all I went there for – just to see it! Here are a few more photos of Poirot's flat!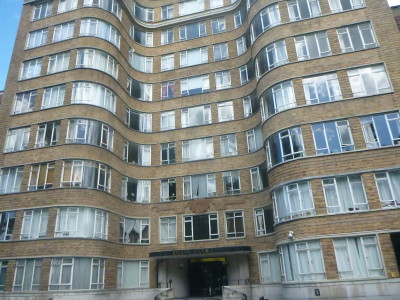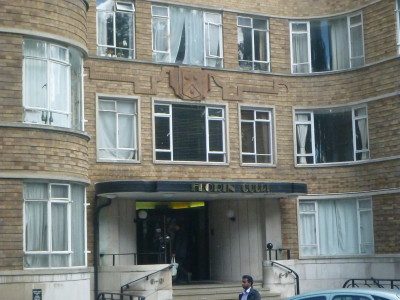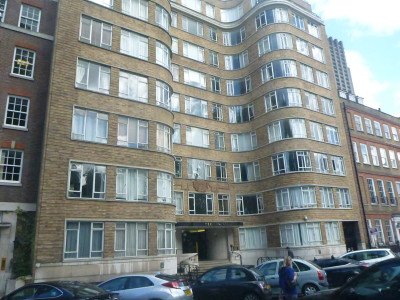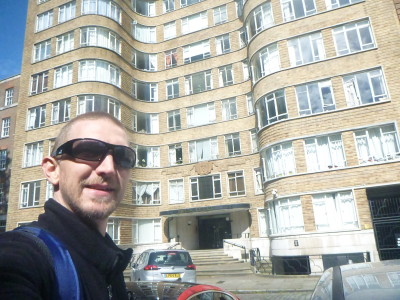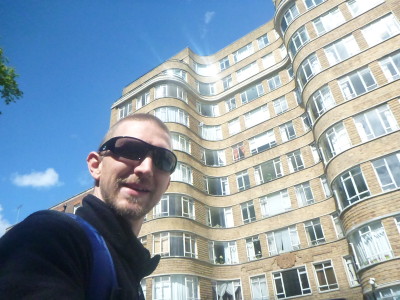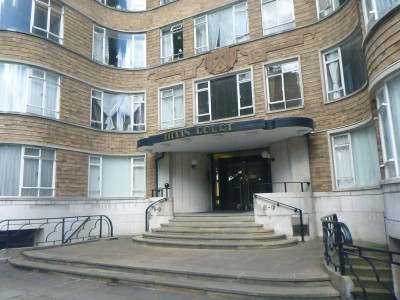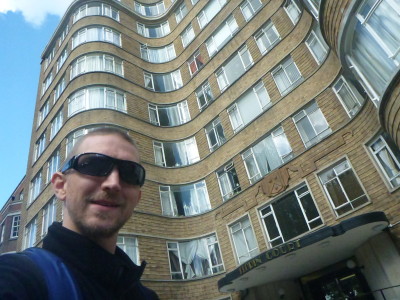 I love watching Poirot and there are many different places and filming locations that have been used in the series over the years. This place at Florin Court was the first one I ever visited for the reason that it was in Poirot. I have also been to some of the train stations used in Poirot and the pier at Brighton but not specifically to see them because they were used in the show. If you're a Poirot fan, here is a a full list of places you can visit that were used in the filming:
http://www.tvlocations.net/poirotlocationindex.htm
http://commons.wikimedia.org/wiki/Category:Film_locations_of_Agatha_Christie's_Poirot
I'm tempted to visit a few more of these places next time I'm in the UK. If you have never watched Agatha Christie's Poirot, I highly recommend it!
Here are a couple of videos I took at Whitehaven Mansions:
Join 15,017 Monthly Readers! If you enjoyed this article and LOVE travel and SAVING money, get e-mail updates from Don't Stop Living – a lifestyle of travel! (It's Free) 😉 Jonny