"In Camden Town we'll walk there as the sun goes down" – Suggs.
Mauritius is an exotic tropical paradise location. That is undisputed by most of us. I wasn't here to backpack hardcore, go sightseeing, go hiking or deep sea diving! I was here to chill out, write the chapters for my 11th book (and I got the title here!!!) and forget about the world that caved in on my dream, on your dream. Chill the fuck out and this is a cool place to do it…
It was also kind of an extra bonus for me, being a stopover 45 minute flight option between Reunion Island and France (mainland at Paris). Of course I had researched it all before but time was still limited. As I might have written elsewhere, I usually travel fast now. I'm not really doing long term backpacking any more. I'm doing short but fast and intense trips now and I'm loving that shift. COVID changed me in that regard for sure, as did my new projects in Poland and my four latest income streams outside the monster of Don't Stop Living:
1.Writing about Poland for clients.
2.Teaching Business and Travel English for clients in Poland.
3.Having a newish (2016) blog called Northern Irishman In Poland.
4.Releasing Books. And lots of them!
Here in tropical Mauritius, I slept at Explora Prestige Guest House by Blue Bay Beach. Yeah, I was 2 minutes walk from the beach and I had a double bed, a swimming pool, Wi-Fi and a hot shower. Glory days loyal.
Although there are probably over 15 licensed bars/restaurants in Blue Bay, I merely toured 5 and therefore here are my top 5 bars in Blue Bay. As you can see, it's a small area and great for a pub crawl or beach stroll.
Please also note that when I do these lists of top 5 sights, top 7 bars etc. that it's just my personal list from my journey. Also it's not in order and never has been. Just because I wrote 1.Cathedral and 2.Football Stadium completely does NOT mean that the Cathedral is the top right and the football stadium runner up.😂 It's just the order I write them in or I visit them in or just my own way of keeping count of how many are on the list. Get your drinking cap on – Mauritius does gorgeous sunsets.
1.Explora Prestige Pool Bar
I'm biased of course but what do you expect? This is my blog and I write what I want. My first ever beer in Mauritius was a bottle of Phoenix Beer and was ordered upon check in at my hotel. I stayed at the Explora Prestige Guest House by Blue Bay. The cosy bar is poolside and I ordered here then later finished the bottle of Phoenix beer in my room. 175 Rupees a bottle.
2.Blue Bay Snack Shack
The coastline here at Blue Bay has a lot of bars, cafes, shops, restaurants, ice cream vans etc. On my pub crawl of Blue Bay, late afternoon I was peckish and as music pumped out of Blue Bay Snack Shack, I popped in here for dinner and covered it in my Friday's Featured Food section.
The menu was simple and straight to the point. I immediately went for a Chinese style chicken egg fried rice with spice. I watered it down with a can of Phoenix beer. The price was 150 Rupees for a 500 millilitre tin.
Even though this food didn't seem local, it really hit the spot and I loved it. I love a bit of spice too and the waitress provided this – I always think it helps kill mosquito threat at night. Even if it's a myth, I stand by it from my days backpacking in Taiwan and overlanding El Salvador.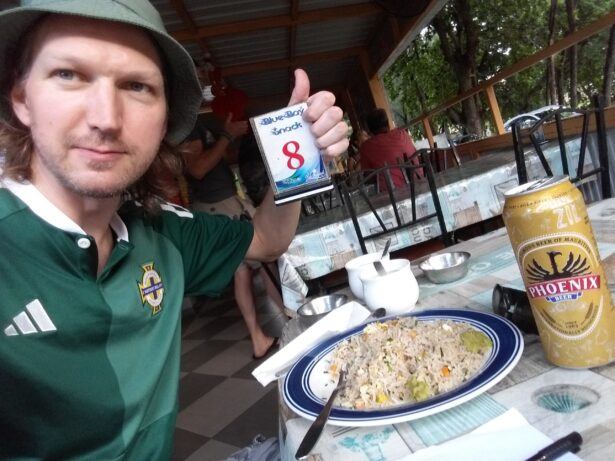 3.Le Peninsula Bay Poolside Bar
Get your wallet ready and live it up posh for a night. Further round the coast of Blue Bay in Mahebourg is a swanky resort – Le Peninsula Bay Hotel including its Poolside Bar. After speaking to some hotel residents on the beach, I was to learn this was an all-inclusive resort. Normally on a trip, I'd have enough time in advance to email a few resorts and try to arrange a review or sponsorship, but this time I was glad not to be working or to be forced to meet the bosses and five star it loyal with a backpack. Glory Days of The Gambia's Coco Ocean, Belize's Xanadu Resort(Madonna's La Isla Bonita) or my peak of madness on Andaman Islands all-inclusive blogging experience at Peerless Sarovar Portico Resort, Corbyn's Cove, Andaman Islands. Well for old times sake, here's what those three looked like…
"Last night I dreamt of San Pedro" – Madonna Ciccone.
Here in 2023, COVID had been and gone. Three failed romances and I dandered my lonely soul into the bar here at Le Peninsula.
What's good is that they allow non-residents to come in and eat and drink. And even use the facilities. Nobody would have checked anyway. It's so chilled out here. But with no room number or bar bill, I set up a tab to pay at the end. I previously had a cold sunset Phoenix on the beach, but now it was Rum Punch time.
I skipped beers in here in favour of cocktail loyal. I had a Rum Punch, a Tequila Sunrise and a Blue Lagoon. My barman was Iven Sunny. It was a superb bar and a perfect place to watch the hot ball sink. It was here I got my paper and pen out and started writing again. I got a working title for book number 11. Sometime I'll release all of this!
4.Restaurante Le Bougainville
In this cosy bar, Restaurante Le Bougainville, I got chatting to the staff. It's also on the main strip by the beach and famous for decent pizzas, cocktails and ice creams. I went for ice cream with another rum punch, then a gin and tonic. It also reminded me that Bougainville is another real country that I have skipped – it used to be part of Papua New Guinea (which I backpacked in 2019) but it is now independent.
They also charged my phone for me in here and when it was quiet I headed to the bar to chat – my barmaid was Isha.
5.Take Off Bar
My only sample of a craft beer IPA in Mauritius was at Take Off Bar. I'm including this as Blue Bay because the bar is in the main international airport which is basically at Blue Bay. Don't believe me? Here's a photo I took of an aeroplane flying off above my head at Blue Bay Beach. It reminded me of the mental Mahe Beach In Sint Maarten in the Caribbean.
Take Off Bar serves up a local craft beer called The Thirsty Fox. Count me in! This was excellent.
There were a few other bars in and around Blue Bay of course but these were the ones I focused on. I did visit two other bars – but they were shut – Parc Marin and Villa Bella. It was a short and sweet trip to Mauritius and I enjoyed my time at Blue Bay. My flight out, same as my flight in – was almost empty, the mind boggles!
Here are some videos from my time in Blue Bay, Mauritius:

Join 15,017 Monthly Readers! If you enjoyed this article and LOVE travel and SAVING money, get e-mail updates from Don't Stop Living – a lifestyle of travel! (It's Free) 😉 Jonny