Yet another unusual journey on my travels saw me head to the unknown country The Grand Duchy of the Lagoan Isles. It's a mini self declared country which consists of three islands in a pond in the city of Portsmouth in England. Before you head there as a backpacker to tour the top sights of Baffin's Pond and nearby, you'll need to navigate your way there so here's a quick guide.
Getting to Portsmouth, England
To get to Baffin's Pond and visit the Grand Duchy of the Lagoan Isles, you will first need to visit the city of Portsmouth in England. You will need a valid UK visa of course. Entry into the city of Portsmouth can be by bus, train, boat or car. I chose to get the train.
Train to Fratton, Portsmouth, England
I was backpacking in Bournemouth, staying at the Lea Hurst Hotel and I booked a cheap train using trainline.com to get from Bournemouth to Fratton. The nearest train station to the Grand Duchy of the Lagoan Isles is Fratton. There are direct trains from Brighton, Southampton, Portsmouth and Havant. From Bournemouth I had to change at Southampton.
Get out at Fratton train station and head on the A2030 towards Fratton Park, home of Portsmouth FC. There are a few ways to go, but you need to get onto Milton Road. I used Fratton Way and then Rodney Road and took a left onto Milton Road. Just after this, I passed a hospital on my left and a cemetery on my right. It was a short and pleasant walk.
Milton Road is quite long, and is single lane traffic both ways. Continue walking north until you reach a junction and a roundabout.
At this point, take the right hand option at the fork, this will be Baffins Road. In total, I walked quite fast and I would say it was a 20 minute walk from Fratton train station until the turn off at Baffins Road. Carry northbound along Baffins Road until on the right you will see the sign for Hayling Avenue, turn right down Hayling Avenue.
Carry walking down Hayling Avenue, past the church (on your right) and within 5-6 minutes you will get to the junction of Neville Road. All in all, this journey took me no more than 30 minutes from Fratton Station to Neville Road.
Arrival at Neville Road, Portsmouth, England
Neville Road will be the fifth street on the left, off Hayling Avenue. Turn 45 degrees to your left and you are staring at Baffin's Pond. Baffin's Pond is part of a nature reserve area.
Arrival at Baffin's Pond, Grand Duchy of the Lagoan Isles
Simply walk through the paths in the park and you will be staring right into Baffin's Pond. Baffin's Pond is where there are three islands. These three islands and the entire pond area are the self declared country of the Grand Duchy of the Lagoan Isles. You can pretty much see the whole country from here.
Crossing the Border from England to the Lagoan Isles
In terms of crossing the physical land border, this is an unusual one. The Lagoan Isles have no liveable land and in fact, no actual "land border", it's more of a "pond border". There is a sign on the England side of the border, which is mostly about fishing and information on the pond.
There is no exit or entrance sign. There is no immigration, no passport control and there is not even a flag of the Lagoan Isles, even though they have their own flag, as below.
There are a few ways to cross the actual border and prove you have been to the territory claimed by the Lagoan Isles. Unless you have brought your own boat of course, you can just do these three options, which I did all three. If you cruise round the pond in your own boat, this would be pure lunacy and I'd love to see a video of it. I was backpacking and don't carry a boat in my backpack. There is no public transport connecting the two countries.
1.Touch the water in the Pond Border
By touching the water in the pond, your hand has left England and is now in Baffin's Pond, Grand Duchy of the Lagoan Isles. Take a selfie and admire the beauty of the pond.
2.Put your foot on the other side of the Border
I also wanted to put my foot into the Lagoan Isles, so I carefully just touched it on the water, keeping good balance yet somehow managing a border selfie. At one point I almost fell into the country.
3.Touch a tree that loops into the border
There are many trees here that veer across the border, simply touch it on the water side of the pond and you've entered the Grand Duchy of the Lagoan Isles.
Pondlocked Border between England and the Lagoan Isles
Recently I toured the People's Republic of Podjistan, which is landlocked within Northern Ireland. However, the Lagoan Isles and Baffin's Pond are "pondlocked" within England. Because of this, I decided to do a full circle, a complete loop of the border. Some of these photos shows different views of the Lagoan Isles from my walk around the pond.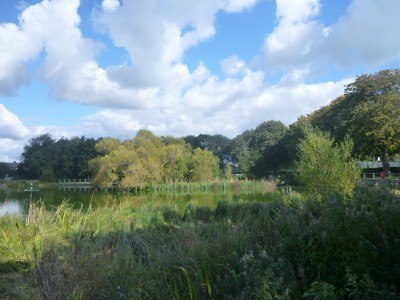 I just walked the perimeter of the pond on my own, took a few photos and admired the scenery. There were a few dog walkers around. I touched the water at a few different points on the way round.
After that, it was time to head back towards Fratton train station. I walked it there and back but there is a bus for anyone interested to do it that way. It's the number 14 bus from Hayling Avenue.
It's a beautiful place and well worth a trip out to, whether you class this as a separate country or not, it makes an interesting journey for sure! Here are some videos from my time backpacking to the Lagoan Isles.
Join 15,017 Monthly Readers! If you enjoyed this article and LOVE travel and SAVING money, get e-mail updates from Don't Stop Living – a lifestyle of travel! (It's Free) 😉 Jonny