When you travel in the Middle East you get used to Mosques. Islam is the main religion and there are Mosques everywhere. However, Christians, Jews and Buddhists also reside in these parts of course. But a Christian Quarter in Iraq? Yes – in the Kurdistan region of Iraq, often referred to as Iraqi Kurdistan. While backpacking in Erbil, I headed out to the suburb of Ainkawa. This beautiful district outside the city of Erbil is often known as the Christian Quarter or even the German Quarter. Christians live here in harmony and have done for years. There is no way I was skipping it, even less so when I heard there was a bar with German beer.
It's an easy place to reach from Erbil – just hop in a taxi to Ainkawa – less than 4kilometres from the city centre, you could also walk or if you have a bike even better! We took taxis out there and back which is safe and cheap enough (4 or 5 Iraqi Dinars is standard rate). Here are some of the things I noticed and enjoyed in Ainkawa, Kurdistan, Iraq.
1. Swanky Hotels
Erbil has been labelled "The New Dubai" a few times. While this might seem a bit crazy to some, it makes perfect sense. The city has a lot of new skyscrapers being built and Ainkawa has a range of swanky, upmarket hotels!
We didn't stay out in Ainkawa in these hotels though – we based ourselves in central Erbil in and around the Bazaar. But certainly a lot of tourists do base themselves here. I have to admit though that these swanky hotels and the foreigners that stay in them, are not really my "type of people" though I obviously won't judge all the people who stay here as that. But read: US and UK businessmen that want 4 or 5 star service, a change of clothes every day and they don't wear shorts or go backpacking to the main sights.
2. Churches
Ainkawa is the Christian neighbourhood and features a few churches. They are really nice buildings and worth checking out. By far my favourite was St. Joseph's Church which is actually just in the centre of town and on quite an obvious road.
There are a lot of non-Iraqis/non-Kurds here too and Christians so there are regular church services so if you're backpacking in the region and want to go in and pray, you can.
3. Off Licences/Bottle Shops/Liquor Stores
You might have followed my thirsty Thursdays feature and be aware that I like to have a beer when I travel. Ainkawa is littered with a string of off licences along the main street, meaning you can pick up all kinds of alcoholic products here.
I found cans of Irish Murphys, bottles of Scotch and all sorts of foreign beers. In fact, it's not much different from other countries. They have a full range.
4. Deutscher Hof German Beer Bar
OK so this was my highlight from my visit to Ainkawa! The Deutscher Hof German Bar. It takes a while to find the place and it's not on the main strip, so take a walk around at your leisure and ask some people. The location is listed on their website:
Karez Strasse 1, House 240/6/70 Phone +964 (0) 750 5883981
You will find the "Deutscher Hof Erbil" in Ainkawa. If you are coming from Erbil Entering Ainkawa turn the 1st road right and then turn the 4rd road left you will find us after around 200m on the left hand side.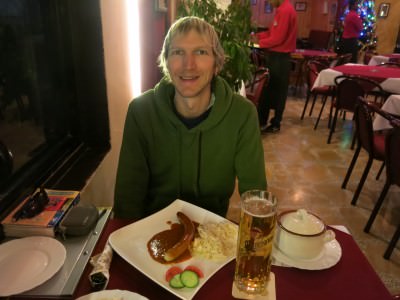 Totally loving the Bratwurst and German Beer in Ainkawa!It serves really good food and beer but does come at a price, I admit it's not cheap but worth it for a once in a while treat. They accept Iraqi Dinars and US Dollars.
You can relax here knowing you are safe yet officially in Iraq. Fickle bunch those who listen to the media. This place was opened by a German Soldier. Prost!
So if you end up in Iraq, in Kurdistan, in Erbil, be sure to check out the suburb of Ainkawa. Well worth a trip out to this unique Christian Quarter. Check out my information on getting iraq visas and touring the Amna Suraka.
More backpacking in Iraq and a Kurdistan video here from my trip to Ainkawa:

Join 15,017 Monthly Readers! If you enjoyed this article and LOVE travel and SAVING money, get e-mail updates from Don't Stop Living – a lifestyle of travel! (It's Free) 😉 Jonny