I must be honest and say that I am just so delighted to finally get this story written up and posted. I won't even apologise for the lateness of it – I've been busy backpacking my heart out for a few years and going back through my notebooks and memories, brings the best of these stories to the forefront. It gives them a new lease of life and a platform they deserve to be placed upon. It's time for an overview of our time staying in Mizra Kibbutz in Israel, which was in September 2013. A journey which was quite simply inspired.
We headed across the border from Jordan into Israel in September 2013 and were not sure where we would be staying on arrival into Afula. It was our first time in Israel. We had been invited by our friend Haya to attend her wedding in Afula which was a hotly anticipated date on our diaries for that year. Both Panny and I met Haya in 2010 when we toured Antarctica together. We were so excited to be attending an actual Israeli wedding and with neither of us having never been to either Israel, Palestine or Jordan, it gave us the perfect chance to also tour this region and that hat-trick of countries on our Middle East adventure in 2013 – 2014. Game on.
But where to stay while backpacking through Israel?
Well, we are in Israel, so a Kibbutz of course! Thanks to Haya and her friend Mayrav for organising our accommodation when we arrived in Israel. After crossing the border we headed straight to the town of Afula with Haya for lunch and a walk around her town to check it out and to get some Israeli Shekels changed.
I had my first Israeli beer with Haya's Dad Yair and then Haya and Mayrav gave us a lift to our homestay for the next few nights. We were heading to the Mizra Kibbutz. To stay in an Israeli Kibbutz you will have to be invited by a family to stay, and usually just for a few nights as we did. Most tourists stay in the B and B or Hotel, rather than with a family like we did. We were guests of Caroline and Yoram.
What is Mizra Kibbutz?
Mizra Kibbutz is a community dwelling area in north east Israel. There are an estimated 689 people living here, so for one night only, we made it up to 691! Mizra Kibbutz was established on a tell named Ruba al-Natzra during Hanukkah in 1923 by the first immigrants of the Third Aliyah. The following year the founders were joined by a group which had formed in Haifa, and in the 1930s they were joined by Galician Hashomer Hatzair members from Aliyah Bet.
The Kibbutz has grown since those days and at one point was actually the only and the largest producer of pork in Israel, a meat which understandably is not so popular in the region, given the fact that a large majority of the population are either Jewish or Muslims (and most of these people only eat kosher meat). The people living in Mizra are mixed, we shouldn't assume all to be Jewish as this is simply not the case. Often the media portrayal of the situation and the hatred in the Middle East is blown out of proportion. The fact remains that Jews, Christians, Druze, Muslims and other religions live side by side in harmony most of the time. In Israel, in Palestine, in Lebanon and yes even in Iraq. You might remember in Iraq I visited the Christian district Ainkawa. So please leave your pre conceptions behind until you go backpacking in Israel. In 2014, Mizra made news by having its first ever gender segregated swimming pool which was actually on request by a religious group of guests at the time and only lasted a few days. By all accounts, Mizra Kibbutz typifies the Israeli Kibbutz phenomenon and this was our perfect place to discover what a Kibbutz is all about.
Although not all residents are Jewish, all members and their families are but at Mizra there is a hotel and a large B and B which hosts people from all over the world including large groups. They do courses on Security, water irrigation and other subjects of which Israel has great technical knowledge. These guests who stay often for up to a month are mainly from third world countries and add a lot of spice to the Kibbutz community.
Please also bear in mind that I grew up in Northern Ireland so politics, religion and cultural values of people is something on my mind a lot every day of my life, whether I want it to be or not. I've praised the Palestinians and Israelis I have met on my journeys and having visited both sides of the segregation line and with friends on both sides, I'm upset by the massive issues here and I feel sorry for the Palestinians of Hebron and Bethlehem, yet also with Israelis, most of whom the entire problem is not their fault. It's still the Holy Land. This post isn't political though, I'm sharing my experience of the Mizra Kibbutz so let's not let the Middle East politics interfere but it's just something to bear in mind 🙂
Where is Mizra Kibbutz?
Mizra is situated directly north of Afula in north east Israel. It is reachable by driving along the number 60 carriageway and taking a left turn into Mizra, once you have passed the settlement of Kfar Gid'on. We got a lift there of course, but also had to negotiate the Israeli bus system to and from Mizra a couple of times, as we also toured the town of Nazareth before heading to the coast at Haifa and Caeserea.
Arrival at Caroline's house in Mizra Kibbutz
We arrive as blatant backpackers. I haven't shaved for a few days, our backpacks have already been across the border from Jordan and we are a bit tired. But with a welcoming smile and a glass of juice/water, straight away we knew we would be welcomed here by a wonderful household. We meet Caroline and her husband Yoram.
Our host Caroline and husband Yoram were most welcoming and the perfect hosts for us. Caroline spoke of her tales of backpacking through Iran and Pakistan back when it was unfashionable to go travelling overland through those places, and before travel blogs even existed! So it was great to hear her stories. I also noted from Caroline's accent that she had spent a lot of time in England and this was because she was born and bred in Leeds before moving to Israel, and daughter Mayrav had also been in Leeds for a while. Mayrav and Caroline showed us to our room and then gave us a quick tour of the Kibbutz house to begin with.
Our Room at Mizra Kibbutz
On our travels, this is as cosy as it gets. We had our own room in Mizra Kibbutz, with a double bed and even better – WiFi! Mayrav knew I did some online work and relied on checking emails etc. once a day so we were all set up here. Outside our room on the right, was a clean shower room too!
Much better than any hostel, although we did love the Abraham Hostel in Jerusalem. Panny and I had two bottles of water each as well and we had a fan in the room to help us cool off from the heat outside. We wouldn't use the fan much though – as budget backpackers we are well aware of the costs of this and didn't want to upset our hosts!
The Lounge, Kitchen and Dining Area in Mizra Kibbutz
There is a very clean and tidy lounge and dining area here at Caroline and Yoram's. We had brought a few things to put in the fridge and were able to do this.
The Gardens at Mizra Kibbutz
There is a noticeable love of nature here in Mizra Kibbutz. We see grass cutters out and flowers and trees everywhere. There is a sweet smell of blossoms in the air, something I don't normally notice. The front and rear gardens of Caroline and Yoram's house are artistic and full of bloom. It's a hot piercing Israeli sun beating down on us as we check out the garden and art.
There is yet more art on the balcony and patio, all designed by Caroline herself.
Caroline has made an artistic hanging chandelier from nick nacks such as bicycle cogs, compact discs and loose ends. Amazing what you can make from what other people describe as useless.
Our bedroom also has a view out the back. Trees and grass make it naturally a pleasant place to live.
The Patio at Mizra Kibbutz
There is an outdoor patio at Caroline and Yoram's place with a table to eat on, which can be used on selected days or perhaps when there are more people around. This is also where some of Caroline's art is on display.
The Attic at Mizra Kibbutz
Art wise we are not finished yet, as Caroline takes us up to the arty attic, where we see paintings and yet more art. I don't think we could find a more artistic place in Israel to stay if we tried. This was superb and for me, art breeds positivity and passion.
Once the whirlwind tour of our dwelling has been done, we are off to explore the whole Kibbutz! And Mizra is a big Kibbutz! You can check out the Mizra Kibbutz website here.
I was intrigued by the whole idea of a Kibbutz. Like an entire community, looking after each other, being self sufficient, getting to know each other, providing all the things that each family needs within the Kibbutz. It's very much a brainwave of an idea. I admit, I did draw slight comparisons to loyalist council estates in Northern Ireland. This might seem an odd comparison, because those estates are not self sufficient and without cattle, communal dining etc. but the people look out for each other and there is a tension in the air. Due to the political situation there is also an edgy aspect to backpacking here, let's not dress this place up as Disneyland. Mickey Mouse doesn't want to join the army. Terrorist attacks in Belfast and Jerusalem were sadly a part of my teenage viewing habits at night on the BBC news, when you finally go travelling to Israel your heart pumps a beat of happiness in an attempt to dilute the despair. Here are some of the parts of the Kibbutz from our tour with Mayrav and Caroline, and also we wandered around on our own a few times.
Mizra Kibbutz Local Pub
Israelis like a good drink and their beer is pretty good, as is Taybeh the Palestinian beer. The Kibbutz has a local pub, which like any other shows sports, serves beer and is a good place to hang out. We had a busy few days though with dinner with our hosts, weddings and some travel planning, so we never went in for a beer, but we saw the pub!
I have reason to believe, from the sign that the pub was called Corona Street!
Mizra Kibbutz Communal Canteen and Restaurant
This was a highlight of our time in Mizra for me. It was like a massive dining hall for everyone. It was welcoming and friendly, and cheap. The food is all cooked by chefs who live on the Kibbutz. The menu caters for everyone and it won't break the bank. I've already written about my lunch in Mizra Kibbutz.
Mizra Kibbutz Dairy
Holy Cow! Was what I said as I saw just how many cows there were. Self sufficient and with plenty of milk here, it was a throwback to my time on Julio's farm milking cows in Colombia. What a life and what a journey we were having. Mooo!
Mizra Kibbutz Water Tower
One thing that is notable in parts of the Middle East is always the lack of water and rivers. It's true. In the deserts of Wadi Rum in Jordan, we went for days with our own water supply. So some smart person invented a water tower!
Mizra Kibbutz Museum
During the British Mandate of Palestine, Mizra Kibbutz hosted the Palmach headquarters, until it was discovered by the Mandate authorities in Operation Agatha of 1946. The kibbutz has a museum portraying the history of the Yishuv. Sadly the day we walked past, the museum was closed and then we toured Nazareth and headed to Haya's wedding so we didn't get to see inside.
"You can't have it all and nobody will" – Garbage
Sports in Mizra Kibbutz
While Mizra FC are not about to compete with big teams like Barcelona or AFC Bournemouth for the best team in Europe, the sports facilities in Mizra are excellent. Football, tennis and basketball are some of the sports that the locals meet up together and play.
The Tractor Shed
Farming communities are places I love. I love the hard working, natural raw element to it. I guess I'm inspired my my time on countless farms in Tasmania chopping cauliflower and broccoli. Here on the edge of the Kibbutz, you can see the fields used for farming and also a tractor shed, which seems to also be a museum for dis-used tractors. It was cool that you can actually get some decent sightseeing done in Israeli Kibbutz, they are fascinating places.
Meat Factory in Mizra Kibbutz
Again reminders of my previous jobs came back as I once worked in a butchery. Livestock is bred and killed nearby including the non-kosher pork which was unusual to see and probably an added bonus for a backpacker nonchalantly Kibbutz-ing it in Israel. Here at Mizra Kibbutz you can still see the original factory, an old cow shed and some store rooms.
Hay Hay My My
The Kibbutz is on land in the countryside, so at the edge of Mizra Kibbutz, then there was Hay! Actually, it wasn't – it was bales of cotton, so I was wrong!
Art in Mizra Kibbutz
While Caroline's place provided us with some brilliant art, there are also some hugely talented individuals living here. Art murals on the walls and of course local schools.
Nature in Mizra Kibbutz
The heat of the Middle East would "burn the bake off ye!" (Belfast slang) but it also brings out some nature. Plants and flowers in bloom and some really pretty birds.
Backpacking in Israel: Getting Lost in Mizra Kibbutz
I had an alternative title for this article you know – Backpacking in Israel: Getting Lost in Mizra Kibbutz as admittedly you can get lost easily!! On the day we toured Nazareth we had to hitch a ride back from the highway and then it took us a good twenty minutes inside Mizra Kibbutz to find Caroline's house! Mainly because I can't read Hebrew.
The Local Shop in Mizra Kibbutz
All Kibbutz have their own local shop which is like a mini-supermarket. Ahead of our upcoming adventure to Haifa, Isfiya, Caeserea and Akko, we stocked up on some food and drink here. I wouldn't say it was cheap, or cheaper than the big stores outside the Kibbutz, but it's a part of local life here and helps support the Kibbutz as well of course.
Dinner with the Family in Mizra Kibbutz
Dinner with the family here was another highlight. At dinner, Panny and I joined Caroline and Yoram as well as Mayrav, her sister Orna and brother Omri for a freshly made Israeli dinner. The food was excellent, as was the tasty lemongrass drink, freshly prepared by Caroline.
Here are some photos of our tasty Israeli dinner. I loved the lime and avocado salad and the bread.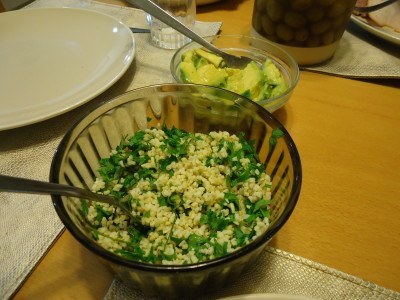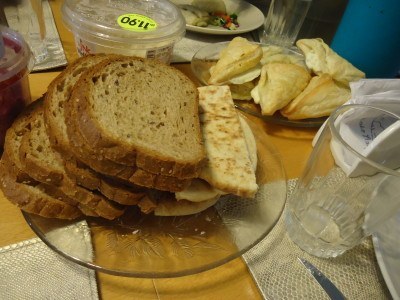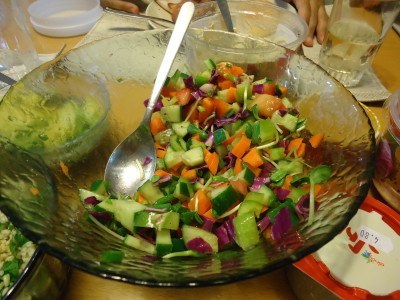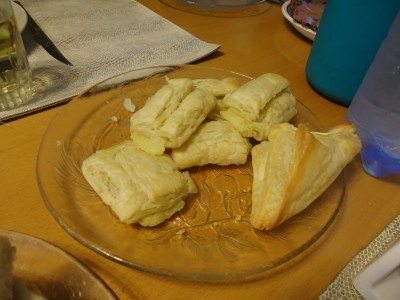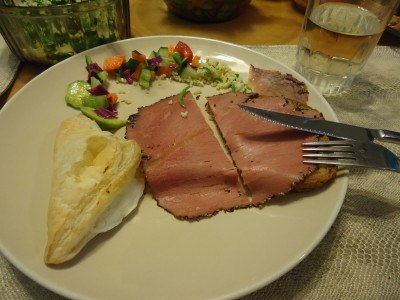 Leaving Mizra Kibbutz
With all backpacking journeys there is a sadness and we don't linger long. Just under three days of this wonderful experience and it was over. We said our goodbyes and thank yous to Mayrav and Caroline and we got a lift out onto the main road where we waited on a bus to Haifa, on another backpacking adventure.
Our thanks forever to Caroline, Mayrav and family for their hospitality and for letting us stay for a few nights and experience life in an Israeli Kibbutz. It is something special and something that has to be organised by an invite, you can't just turn up or go on Hostelbookers and book a bed! We were guests of Caroline Artzi and family. We feel truly blessed for these once in a lifetime experiences and I encourage everyone who visits Israel to spend a few nights in a Kibbutz, if the option to stay in Mizra Kibbutz ever comes up, take it.
"it's another Mizra moonrise and this old world still looks the same; another frame."
"we may never meet again so shed your skin and let's get started."
Here are some videos from my time in Mizra while backpacking in Israel: