Down the years I have amassed over 10 visits to Germany, visiting around 15 different cities, towns and villages in the country. Since 2016, I relocated to Poland and with Germany next door, I also visited it a few times including the impressive Marburg adventure and my overlanding into the Kingdom of Romkerhall. These are just a few ideas for you when booking your next trip to the diverse country of Germany. These are my top 5 memories from backpacking in Germany, including Bavaria.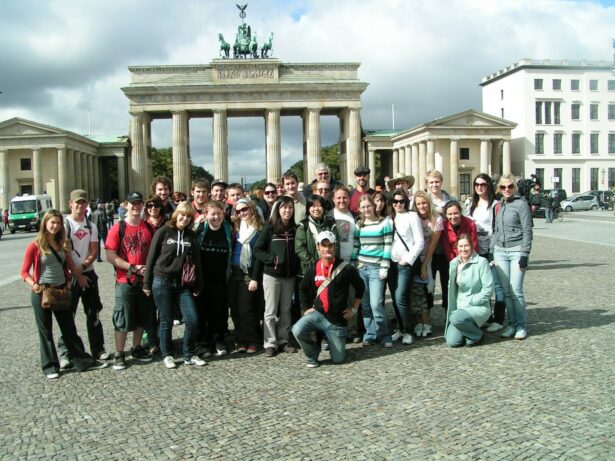 1.Checkpoint Charlie
The famous Checkpoint Charlie is a place I have visited on every trip to Berlin so far – 5 times! Back in 2005, on a Northern Ireland football trip, the lads and I visited the Jewish Museum, Brandy B G (Brandenburg Gate), the Berlin Wall (or what remains of it) and of course Checkpoint Charlie.
On a different trip, I even got my passport stamped at Checkpoint Charlie, which used to be the border between East Germany and West Germany, in Berlin. It's a fascinating city for history and revels in modern day.
2.Fairytale City of Marburg
2019 saw my trip to the fairytale city of Marburg. This has to be seen to be believed. It is a magical city where the Grimm Brothers grew up and wrote all their books. You can do the Cinderella, looking for her slipper and visiting the mirror on the wall. It's an epic city for bars and also has a castle. Once a year the Marburg Festival is the time to visit and that's exactly when I went. Put simply, Marburg is magical!
3.Beer Halls of Bavaria
While Bavaria may often be seen as separate to the rest of Germany, the beer culture here is what Germans are famous for. The beer halls are huge and a fantastic experience.
While backpacking in Bavaria, I did an excellent cycle tour all over the city. I also loved the idea of a nudist park in the city centre, so of course I got my willy out at the Nudist Park in Englisch Garten. I did a beer hall tour at night, organise by the Hostel 4You where I selpt. If all that isn't enough this is also a filming location for Charlie and the Chocolate Factory and the home of Bayern Munich – many times European Cup winners.
4.Visiting the Kingdom of Romkerhall Within Germany
I love the idea of a Wacaday Republic or a less recognised country and so I took the lonely, picturesque trip to the Kingdom of Romkerhall. This was a mission to get to but it was well worth the trip. Here in Romkerhall, I toured the sights, got my visa, the local currency and had a full lunch and beer.
5.Magdeburg and Osterweddingen
The final highlight in my top 5 is a more obscure one as I spent a few nights in Osterweddingen. This is a small village in the former East Germany. My friend Rene came from there and so I backpacked it in 2007. On that trip, I toured many other parts of Germany including Bremen, Hannover and Hamburg. However the highlight was seeind Die Grune Zitadelle in Magdeburg. This building is stunning!
Safe travels to Germany!
Join 15,017 Monthly Readers! If you enjoyed this article and LOVE travel and SAVING money, get e-mail updates from Don't Stop Living – a lifestyle of travel! (It's Free) 😉 Jonny