Let's start with my main observation here – Guatemala City is a breathtaking beast of a city. An absolute beast pumped to the max. The weird thing is a lot of backpackers, and especially luxury travellers like to give it a miss and use the "it's too dangerous says my mate" excuse. Quite frankly that annoys me and it doesn't wash. No proof and just a lame excuse to give GC a by ball (Northern Irish slang for "the balls gone out for a goal kick, stop running"). Those who fly into Guatemala City and make a beeline straight for Antigua – shame on you. You've missed the pumping heart of the country, the cultural capital of Central America (for 2015) and a city which is as diverse as it is dangerous (allegedly). Plus you avoid the hoardes of tourists who flock to Antigua, for no apparent reason. Antigua seemed to me to be a "nothing town" which just happens to be safe and with a load of cool bars and restaurants and old churches. Time to praise GC like I should.
Follow your wandering heart and stay in GC. This is the trendy, arty side of Guatemala with no frills attached. What you see is what you get here – nothing geared for tourism or commercialism, which sadly doesn't apply to places like Panajachel, Antigua and Flores. That hat trick seem to rely on tourism – you know the old saying "trade your passion for glory" and then lose sight of your passion. GC has the passion and won't let go.
First things first with this beast though – head to zone 1 to stay as it's just more central to the old historic quarter and choose the cosy Posada Belen Museo Inn, where I based myself for 3 nights. The city is massive and you want to be somewhere in the centre, so you can walk some of this on foot. Francesca at the Posada Belen Museo Inn is the most welcoming host and I loved my time there.
I'm giving you a quick top 15 here on this post, but you can also do the Guatemala City cycling tour with Marcos and see a lot more of the city, including some truly off the wall scoops that normal backpackers would never get to – Marcos does tours to the dump, the cemetery and the finest coffee in town, if not the world. For now, here's my personal GC top 15.
1. Parque Central
This is GC's centrepiece. It's like any capital city's main square except here there are no tourists. Walk round at your leisure and pose by the Guatemala City flag admiring the buildings all around. Colonial, religious and political Parque Central is a good place to start when walking your way around the capital.
2. Palacio Nacional de la Cultura
The National Palace is right here. You can get inside at selected times during the day between Monday and Saturday. It's an elaborate building which was built during General Jorge Ubico's dictatorship.
3. Centro Civico
The centro civic is the name given to the area featuring a roundabout and a load of really important buildings in GC's past and recent history. Take your time to look around – the Palace of Justice is here, so is the bank of Guatemala's headquarters and the City Hall.
4. Torre de Reformador
At first glance you could be forgiven for thinking you're in France. This resembles the Tour Eiffel, but it was built in 1935 and therefore is an obvious "copy" of its more famous French Tower. You can't climb it…just stop by and admire it!
5. Museo de Ferrocarril
I love trains, and travelling on them. You might have read about some of the train journeys I've taken through the years, particularly trains all over China and on my early European backpacking days as well as my train journeys in Iran and Azerbaijan.
Here in Guatemala City the trains no longer run- trains are a thing of the past sadly in most of Latin America, but some places such as Paraguay's Asuncion (my visit to the train museum there) have kept good reminders of what once existed here.
Quite simply the Guatemala City train station museum is excellent. Entry price is RIDICULOUSLY cheap at 2 Quetzals. That's around 0.25 cents in the US.
6. Casa MIMA
Casa MIMA was close to my hostel and is a fascinating small museum with a real arty mix to it. You'll get to discover art and Guatemala City go hand in hand. This city is the most artistic and cultural for miles and miles around it.
7. Catedral Metropolitano
The main Cathedral has already been kind of listed here as it's in Parque Central, but go inside and admire it. There's a Black Christ within and stunning designs. Sadly in August 2014 a car crashed into a brick at the front, destroying some memorials on the outer wall.
8. Centro Cultural Metropolitano
This building arches over the colourful colonial streets of the old town, near my hostel. A piece of extravagant architecture which screams at you "take a photo of me, tourist." So I did. I didn't go inside though.
9. Señora Pu
This lady, Senora Pu is a bit of a local legend. Her "kitchen" which is a tiny, cosy restaurant offers some of the best dishes in Central America. Most come away raving about it!! Some of the menu items she has invented the dishes herself.
10. Mercado Central
As with most main markets in Central America, this places oozes personality, diversity and flair. From food stalls to cafes to souvenir shops, you can find what you want here. For a really cheap meal, sit down in the cafeteria areas at the front.
11. Mucho Iglesias (More Churches Than Jesus Could Have Predicted)
I'm cheating here by just putting "churches" as a main sight. Actually not really cheating, but basically churches alone could have made their own top 15 churches post. I toured a load of streets near my hostel finding more Churches than I could believe. I bet even Jesus never knew it would go this global. Yes, Jesus was bigger than John Lennon and Paul McCartney. GC proves it.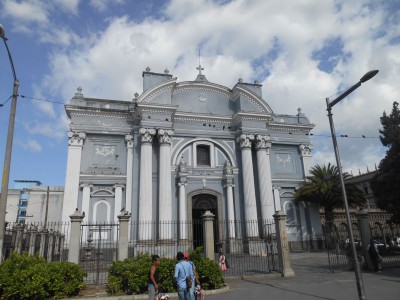 12. Estadio Mateo Flores
You have read Don't Stop Living before, right?? If not then you'll need to know – I live and breathe football. It's the people's game. I just had to visit the football stadium here in Guatemala City.
So I walked down on my own on a hot sunny morning and guess what? The nice officials on the door seeing that I was just a football loving Northern irish tourist, opened the doors and let me inside. I even stood on the pitch, kicked a ball and watched a friendly match take place on the turf.
13. Palacio de Justicia
The Justice Palace is in the Centro Civico zone.
14. Independence Monument
This monument is south of the city centre and we stopped at it on the bicycle tour. Worth a peek but actually in an odd location, away from the buzz of everything else.
15. Casa de Aguila
Eagle House is simply one of many many top drawer art galleries that grace Guatemala City. To find out more about Guatemala City, get in touch with local guide Marcos who will be happy to take you around.
Now what are you waiting for? Get yourself to GC and start exploring! Here's a few videos to further whet your appetite:
Join 15,017 Monthly Readers! If you enjoyed this article and LOVE travel and SAVING money, get e-mail updates from Don't Stop Living – a lifestyle of travel! (It's Free) 😉 Jonny