Poland continues to excite, entice and inspire me. Into my third week in the country on this trip (cumulatively I've now spent about 14 months of my life in Poland) and we toured an area by the Baltic Sea in Pomerania. It was all another spontaneous trip and I'll share the story of how myself, Marina and Jack ended up in the gorgeous Słowiński National Park near Łeba in Pomerania, Poland. This was also my first adventure to the Kashubian part of Poland, which has its own language.
Firstly, I have been based in the Hostel Cycle On for a few weeks in the city of Gdańsk. In this time, I have done a food tour of Gydnia, toured Gdańsk and Sopot by bicycle with Mika on the Road, visited the Post Office where World War II began and started to learn Polish. It has been a really fantastic time of my life. This week in my dorm room, I met Marina from Barcelona in Catalonia and Jack from Como in Italy.
We bonded well in Gdańsk, had some drinks and food together, great chat and then Marina came up with the idea to head to the town of Łeba in order to visit Słowiński National Park and tour the sand dunes and forest there. After a week of studying Polish and working on my book, Backpacking Centurion, I decided I would go with them to Łeba, as it sounded too good an adventure to miss. And it was brilliant!
Getting to Łeba – Gdańsk to Gdynia
To get to Łeba, we decided to get a train. It needed to be two trains as we were based in Gdańsk when the day began. Firstly we went to Gdańsk Glowny, main train station and booked a local train to Gdynia. These trains cost around 3 Złoty, under 1 Euro and they run every 15 – 20 minutes during the day. We had about an 8 minute wait and then boarded for Gdynia Glowna.
Getting to Łeba – Gdynia to Łeba
Once we arrived in Gdynia, we had to get another train to Łeba. You need to change platforms onto the longer Inter City trains rather than the local ones. Our train had originally come from Warsaw. We only had a few minutes here, so had to dash fast and couldn't buy a ticket. This was no problem as the Conductor on board the train sold us tickets. From Gdynia to Łeba was 37 Zlotys in July 2016 and the train took about two hours.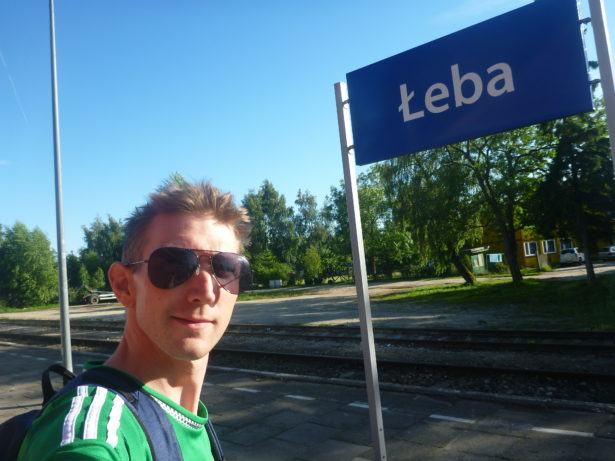 Arrival in Łeba
We walked around Łeba itself on arrival, but the main plan was to visit the famous sand dunes at Słowiński National Park. It turns out it is about 40 kilometres from Łeba so the best option was to hire bicycles for a few hours. There are plenty of places with bike hire. We paid 6 Zlotys per hour, but you can also pay 24 Zlotys for an entire day.
The Forest at Słowiński National Park
First up we cycled through the Forest. It is a really dense wood and a brilliant place to cycle through. At times there are cycle paths. There are views to both sides – on your right is the Baltic Sea and on the left, a large lake. You are on a peninsula here.
We toured the forest and went to the first part of where the sand dunes start. This part has sand dunes with trees and grass through it, but it's a good taster for the main event – the famous sand dunes.
The Sand Dunes at Słowiński National Park
After another cycle, we have now done the full 40 kilometres from Leba and arrive at an area where bicycles and all types of transport have to be parked and left. From here, you walk to the dunes. Those not keen to cycle the 40 kilometres, you can get a cart down here, though we didn't check the prices.
The sand dunes were amazing. They change every day, the wind blows on them and the Polish government have cordoned off part of the area to protect it. There were not many foreign tourists here and I think we were the only backpackers that day. It was a hot day, and the dunes looked amazing. I had seen sand dunes before many times on my travels, including even in Northern Ireland at Castlerock, but they never get any less inspiring.
The Beach and the Baltic Sea at Słowiński National Park
We got to the beach, a short walk to the right of the sand dunes and the beach was fantastic because it is non commercial. There are no bars or restaurants here. It is a beach in its purest form and the sea you see is the Baltic Sea. I'd seen it before many times on my journeys on visits to Finland, Sweden, Estonia, Latvia and Lithuania.
Thanks to Marina and Jack for being such cool travel buddies for a few days, slightly longer than the usual "24 hour friends" but still an emotional goodbye as they headed to Poznan, and I headed back to the city of Gdańsk to continue my studies and do a pub crawl with the hostel crowd.
Here are some videos of a fantastic day out: