While living in Poland has given me some kind of settled life away from the long term backpacking adventures, it is still in my mind that I could hop on the ferry to Sweden any day. It leaves from Gdynia daily from Poland's Baltic Coast. Back in the day, I loved my time in Sweden, in fact I visited 5 times in total, which includes four times crossing by land or boat into Denmark and back, and a jaunt to Norway. Here are 5 fun activities you can do there.
1.Tour the Vasa Museum
On my first trip to Sweden back in 2007, we headed to the famous Vasa Museum. A ship sank and this has been the main museum in the city dedicated to this incredible wooden boat which sadly capsized and sank on its maiden voyage. As another tip, you can do a cruise on the waters in Stockholm, which I also loved.
2.Visit the Quirky Republic of Ladonia
Within Sweden's borders is a self declared, mini-Republic called Ladonia. You cross through a forest, onto the rocks by the coast and are suddenly in a new country, which has its own borders, flag, stamps and Queen. There is no passport check at the Sweden to Ladonia border crossing and the capital of Ladonia is Nimis.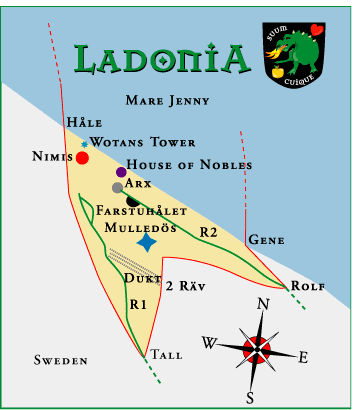 3.Go boating on the lake in Angelholm
When I visited my mate Daniel Evans in 2015 for a long overdue reunion, we headed to Denmark (Helsingor by boat) but also toured the sights of pretty Angelholm. This old school Swedish town has a pretty central area with a square, a church, cool bars and a pier and lake to chill out by.
4.Nights out in Stockholm
Boasting bands like Abba and Ace of Base, Sweden has a thriving music scene. While a night on the rip in the capital Stockholm might not be cheap – it's certainly going to be entertaining. The largest bars, clubs and casino's in Sweden are naturally based in the capital, Stockholm, like the Casino Cosmopol which hosts all your classic games such as roulette and poker. There are also plenty of online options available for risk-taking Swedes and tourists alike (see Casumocasino.se). For those wanting a night on the beers, there are some good options in central Stockholm, including Snotty Sound and Tak. Try the hot wine, known as Glogg in the winter months.
5.Tour Medieval Malmo
I spent two days and nights in Malmo which has a direct train across the bridge to Copenhagen in Denmark. Within this city is a medieval history with the walls and castle. Spend a least a day here to tour the magnificent castle. There's a great YHA hostel here, which is where I stayed before heading north to Angelholm, Gothenburg and onwards into Norway on what was a historic 99th country for me.
Join 15,017 Monthly Readers! If you enjoyed this article and LOVE travel and SAVING money, get e-mail updates from Don't Stop Living – a lifestyle of travel! (It's Free) 😉 Jonny