"The river of dreams" – Billy Joel.
A childhood dream was lived in April 2019, as I backpacked to the spot where the world's longest river, the Nile, begins. Starting its journey in the town of Jinja, Uganda, it winds its way right down to the Mediterranean Sea, Alexandria in Egypt being one departure city for this vast water mass.
This journey had me reminiscing so much of many previous journeys – firstly there was the death mini-buses which reminded me of backpacking days of yore in Ethiopia and the night I fed hyenas mouth to mouth in Harar. Then the river adventure itself, reminded me so so vividly of my two times at the famous Iguazu falls in South America. In particular, the views were similar to the day I backpacked alone from Puerto Iguazu to the Tres Fronteras, triple border point where Brazil, Argentina and Paraguay all meet. That day on the Paraguay border, I was alone. Today, Malina joined me yet we were both alone here. The only two tourists in sight. We arrived at the entrance gate at 8.31 am and thus, were the first to visit that day. Thirdly, I was reminded of my time in the wacaday city of Ahmedabad in India where I visited Gandhi's Home and sought an alcohol permit in a land where the juice is banned except for non-Muslim tourists. While those memories flooded back, for the present, we had to find our way to Jinja, in Uganda…
As a perpetual tourist and one eager for another szalony adventure, I buzz off the tickbox stuff, we all have dreams to live out. This was another one of those inspiring moments on my life ladder. Having already visited Entebbe and Kampala in Uganda, we returned to the country via the eastern border with Kenya, leaving behind no dreams in non-descript Eldoret. The next major stop was to be Jinja, specifically to see the Source of the Great River Nile.
"Ride across the river to the other side" – Mark Knopfler.
We left the Kenyan city of Eldoret in dancing sunshine, for the border city of Malaba – it was a frustrating and excruciating journey.
What promised to be a 2 hour bus ride, turned into a 7 hour stint on a tight mini-bus. Kenyic sunshine had long since been stolen by the moon, as we finally crossed from Malaba in Kenya to the border post on the Uganda side. Here, was an immigration office in the dark of night with not even a village in sight. We were in no-man's land. A few soft drinks stalls, some moto taxi drivers and a darkened rural sky served as our less than glamorous introduction to Uganda, second time round. This was no bed of roses, nor a fizzy Lucozade pre-match, nor a dream inspired from the hum and glow from my desklamp. But it is this lunacy in the world of travel that I buzz off. As Malina professed something of this irk: "you love the mistakes Jonny, the challenges, you love a life unsmooth".
A Night in Tororo, Uganda
We spent the first night back in Uganda in the town of Tororo. That in itself was wacaday enough (the town was insane), but the beauty lay the day after as we hopped into a textbook crowded African dusty minibus (often called Matatus) from Tororo to Jinja. Suddenly, travel would seem worth it, all over again. I prepared a smile just in case this journey to the River Nile's beginning would be something to marvel at. On route we managed to drink plenty of water, have a few beers in Tororo (in the Crystal Hotel Bar), try the local delicious "roll eggs" snack and ensure we were on the right bus, somehow.
The Road to Jinja, Uganda
Jinja, we had heard from a lonesome American, on our bus from Kampala to Kigali, was a special spot. I was anticipating this to be just another dot on the globe, perhaps a boring journey, most probably we were destined for another over hyped tourist spot. How wrong we were. The magic unveiled itself at 8.31 a.m. on a quiet Tuesday morning…
Jinja, in its unfamous glory is the place where the River Nile begins. A sweeping statement for sure and an award claimed by many other places in the region. Whoever knows where the Nile really starts? It's up for debate. But Jinja tries to silence that debate with its overarching promotion of its resort appeal: Jinja, where the River Nile begins.
How to get to Jinja
Travel in Africa is never clockwork. Buses are delayed. Cities cease to exist. Taxis rip you off. Villages move locations. Travel experts don't even know where a hostel is. But through all that, you basically just go to a given minibus station or stop in any nearby Ugandan city and yell "Jinja". The buses will find you before you find them.
We took a 6.15 am minibus from Tororo to Jinja. The price was 20,000 Ugandan Shillings. That is about $6 USD. We don't know if we were ripped off or not. But it was the only option prior to the sun's sky entrance on this particular day. The journey took around 2 hours and was pretty smooth in comparison to Kenya's buses of a similar price and distance.
Later we paid 6,000 Ugandan Shillings from Jinja to Kampala. Very good value. When you arrive in Jinja, pull over a moto taxi (zemi john) and ask them to take you to Source of the Nile River. Our moto taxi guy didn't really know where the Source of the Nile River was – he had to ask people. And there was me thinking this place would be damn famous! No – welcome to Africa where every modern theory turns on its head, Super Furry Animals style…
Getting to the Source of the Nile River
A moto taxi from Jinja should cost no more than 5,000 Ugandan Shillings which is about $1.40. I was backpacking with Malina so this meant 70 cents each. A relative bargain. We later saw a local guy paying 5,000 Ugandan Shillings for the same trip which means we were probably not ripped off.
"I have got to find the river" – Michael Stipe.
The River Nile is the longest river in Africa with the huge Lake Victoria as its source and most people also cite it as the longest river in the world (often the Amazon tries to claim this). The river starts its 6,500 kilometre journey to the Mediterranean Sea (where it leaves Egypt) beside Jinja (Uganda) and holds the Owen Falls Dam, the source of hydro electricity for Uganda with another dam under construction currently. The map shows the journey this river takes.
Entering the Source of the Nile River
The entrance gate is manned by armed guards and a representative from the Ugandan tourist authority. The prices of entrance vary depending on age, nationality and status (see photo below). For us, a Northern Irish man and a Polish lady, we had to pay $10 USD or 30,000 Ugandan Shillings each. We were the only tourists in sight, and apart from one American dude called Raymond in Tororo, in 4 days we didn't see a single other white person in Malaba, Eldoret, Jinja or Tororo. So don't expect this place to be packed with tourists – it will not be – it will be just you!!
You pay and get a receipt from the main gate and in you go, on the walk down to where the Nile begins.
There are three main sights here at the Source of the Nile River in Jinja, in my opinion. Here is a bit about each of them as my weary morning brain warped itself back to Argentina-Paraguay-Brazil in December 2010. On that fire of one of my life's cannonballs I visited Tres Fronteras, the place where three countries meet. I gasped in awe that day as the solitudinal tourist who stepped off the bus in a mucky garden with the sole purpose of admiring a river meeting which divides a hat trick of South American countries. Today it was seeing Lake Victoria and the birth of the Nile River.
Top 3 Sights at The Source of The Nile River in Jinja
1.The Marker at the Source of The Nile River
First up is the monument and marker that proves the point of the exercise. It's a small plaque in black next to a concrete circle with other countries written on it. Get snap happy and do the tourist thing. I was buzzing. I love gimmicks like this.
2.The Viewpoint of the Source of The Nile River
The highlight however must be the actual viewpoint itself. There are many places to view the River Nile here of course, it's so wide and vast. But we headed down to the river at the most obvious point past an array of mini shops and unopen cafes. Here is where the awe became real. I drew a deep breath and now it was real. This wandering Northern Irishman was stood at the place where the Nile allegedly begins. It was a moment to savour. These photos capture some of that childhood magic I dreamed up…
There is a sign displaying the danger – it's a deep river point here with a sweeping fast current. There is a large information board about the Source of the Nile River.
You can do a boat cruise here – obviously something romantic, but we decided against that. Nearby parts of the river also offer white water rafting, but again I've done that before in Brazil (Juquitiba) and Slovenia (Bled). As well as the landscape there are lots of birds, and many flies and mosquitos (wear insect repellent and sun cream).
3.The Mohandas Karamchand Gandhi Statue
A perhaps surprising fact is the Memorial to India's Mahatma Gandhi here where the Nile begins. Before his death, Gandhi asked for his ashes to be spread into some of the world's great rivers. Jinja, Uganda at the start of the River Nile was once such chosen place and therefore, part of Gandhi's remains were scattered here. A statue and a small park commemorate this fact. As with the entire trip to the Nile at Jinja, we were the only tourists here and the only two white people around. We admired Gandhi alone.
As well as all of that, there is a nice leafy walk through the park and plenty of souvenir stalls, plus some cafes, bars and restaurants where you can sip a hot crappuccino or an ice cold Eagle Dark beer whilst watching the waters of the famous River Nile begin. This is nothing short of a childhood dream. I truly loved it and I totally recommend it. This trip will live long in my memory and will be cherished forever.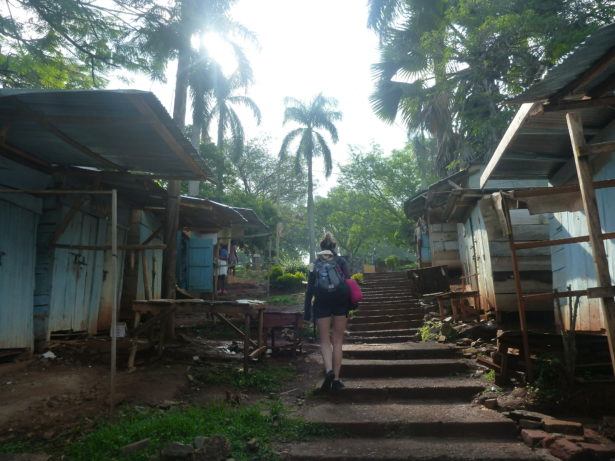 Here are some useful sites with details about the Source of The Nile River:
Source of the Nile on Atlas Obscura
Here are some videos from my time backpacking in Uganda and witnessing the start of the Nile River:

Join 15,017 Monthly Readers! If you enjoyed this article and LOVE travel and SAVING money, get e-mail updates from Don't Stop Living – a lifestyle of travel! (It's Free) 😉 Jonny