You'll probably remember that I was in Brazil for the World Cup in 2014. I stayed in some great hostels and hotels but also some bad ones! I loved the Hotel Mais in Macapa and the Hostel Green House in Iguazu, but not the Hotel San Francisco on Rio de Janeiro.
Towards the end of the World Cup, after our jaunts through French Guyana, Guyana and Suriname, we ended up in the city of Belem. Ironically I had a stop over in Belem back in 2011 but never left the airport. Now we were backpacking in Belem and needed a place to stay. We only looked at 5 things and this is why we chose the Hotel Unidos.
1. Location
After watching the Argentina v. Belgium match in our room, we wanted to head out and explore the city on foot. The Hotel Unidos isn't perfect but it's close enough for a leisurely dander through the markets and down to the harbour.
2. Safety
Brazil has its dodgy moments and Belem is no different. We needed to be in a safe area, and we felt that the Hotel Unidos was on a quiet street near the city centre and not by a dodgy favela.
3. Big Breakfast
We were off a flight from Suriname and had been up all night – we were hungry. The breakfast here had a huge variety and yes we also took a load extra and used it for lunch!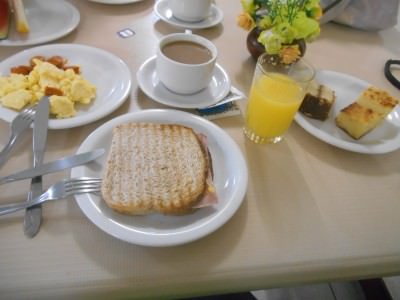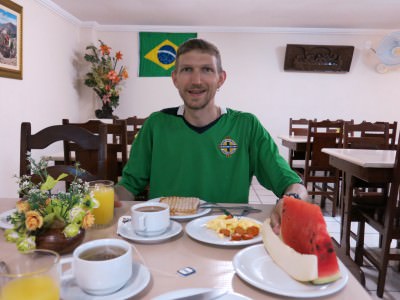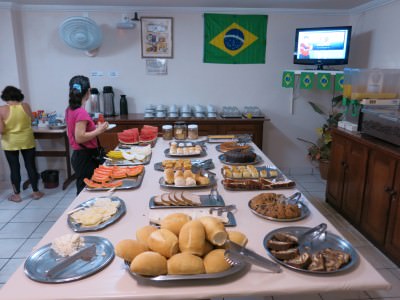 4. Wifi in the Room
It was essential for me to book my upcoming adventures and get some writing done so we needed in room wifi. Result!
5. TV in the Room
We were tired and Argentina v. Belgium was about to start. I wanted to watch it from the comfort of our room for a change. We asked for a room with a TV. Sorted!
Here are the details for booking the Hotel Unidos when in Belem – there is also a backpacker's hostel around but it was the World Cup and they were full plus it was nice to have a double room for the night!
Book the Hotel Unidos in Belem
Endereço: Rua Ó de Almeida, 545
CEP: 66017-050
Bairro: Campina
Belém, Pará, Brasil
Tel: +55(91)3252-1411 
+55(91)3224-0660
+55(91)98011-3356 (Tim)
+55(91)99305-1388 (Vivo)
Fax:+55(91)3252-1880
e-Mail: [email protected]
Join 15,017 Monthly Readers! If you enjoyed this article and LOVE travel and SAVING money, get e-mail updates from Don't Stop Living – a lifestyle of travel! (It's Free) 😉 Jonny