Transnistria is a truly odd place. A self declared Republic in a narrow strip of land between Moldova and Ukraine, this is an absurd place to go travelling in. After crossing the border near the Transnistrian town of Bendery I ended up spending a night in the homestay at Balka in the capital city Tiraspol. At night I had a meal cooked for me by Ilya my host. The next morning it was time to sample some local Transnistrian breakfast on route to backpacking in Tiraspol and seeing the top sights.
Ilya took us to his local cafe in the neighbourhood. It opens at 9am and we were first in the door.
As a weary eyed traveller I often need a cappuccino in the morning to kick start my day so we ordered a brace then it was time to pick our food.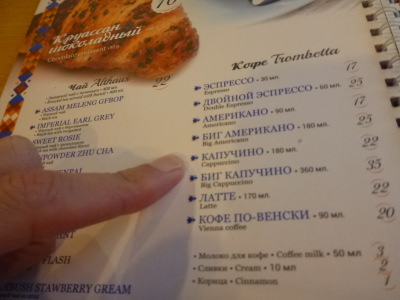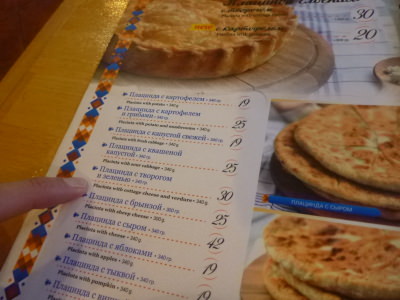 I went for a Cappuccino which was 22 Transnistrian Roubles (yes they use their own currency here) and the Placinta I chose was with cheese and chives and cost 30 TR. So for 52 TR that's a price of around $4 US – the rate fluctuates a fair bit though.
Then the cappuccino and food arrives and the Placinta totally reminds me of food I had in Georgia (thinking similar to the many types of Khachapuri we tried). Breakfast in Tiraspol was a pretty cool experience.
The cappuccino came with a cookie. The coffee was good and the Placinta also. There are a few unusual things though – one was seeing Italian football on TV, another was the fact that the bar lady and waitress both refused to take a photo OF us (not with us) as it's not in their culture to do that as Ilya explained. For them of course, I was the unusual one here but that's cool. I grabbed a two person selfie and scoffed the meal.
I was in Transnistria for just 23.5 hours (anything over 24 you have to register with OVIR) and so this was my only breakfast in the country but I loved it.
Here are some videos from the Placinta and Coffee morning at Placinta Cafe, breakfast in Tiraspol: