On my 100th country journey through Tunisia, we aimed to check out a few of the popular places as well as a few of the unknown spots. This led us to obvious backpacking resorts like Tunis, Carthage and Kairouan. However we also made it to Mahdia, Sousse, Teboulba and Monastir. But it was the colour theme of the charming Sidi Bou Said that will probably live longest in my memory from our 9 day stint in Tunisia.
Getting to Sidi Bou Said
To get to Sidi Bou Said, while it's a village on its own and away from the smoky chaotic buzz of Tunis, some will argue its merely a suburb of Tunisia's capital. It might be, but it's wildly different. To get from central Tunis to the remarkable village of Sidi Bou Said, the best option is to take the train.
The train line is the TGM which is a 5-10 minute walk from the Clock Tower on Habib Bourguiba Avenue. The train station is known as TGM Marine Station and sometimes we saw it classes as Tunis North (which can be confusing as its more East than it ever will be North). TGM stands for Tunis – Goulette – Marsa and fares are always less than £1 one way. Tickets are rarely checked. Get off at the station called Sidi Bou Said and head up the hill to the village.
Top 10 sights when backpacking in Sidi Bou Said
1. Sidi Bou Said Marina
The harbour glistens over the Mediterranean on the east coast of Tunisia and the sun sinks its head reflecting off boats. Some of these boats are owned by rich people, some are wooden boats which are often used by escaping Africans heading to Italy and the promised land of Europe. Stare down from above or walk along the piers of the Marina.
2. Sidi Bou Said Beach
Tunisian beaches may not have the cleanliness, golden sands or blue waters of the Caribbean and the South China Seas, but they certainly attract tourists and locals alike in the Summer months.
3. Sidi Bou Said Art Gallery
I'm not the hugest fan of art if truth be told. But the art gallery in Sidi Bou Said gives us a mix of African and European art, which can be hard to find in other art galleries.
4. Blue and White Buildings
Well your lasting opinion colour wise from Sidi Bou Said will be one of blue and white. The sublime mix of these two colours is what sets this place off. Wander the poky streets, get lost and admire. Everything is blue and white. Almost. No captions needed here…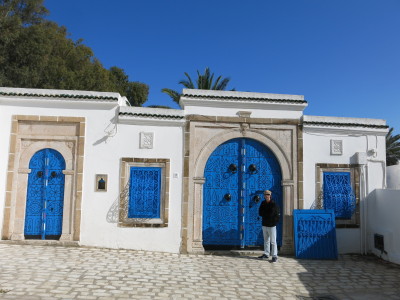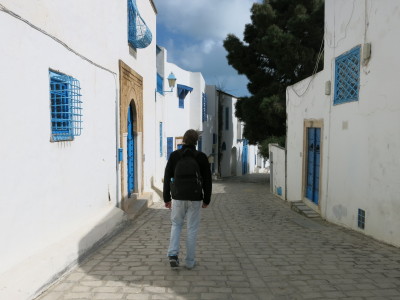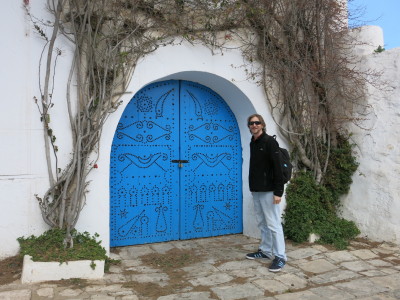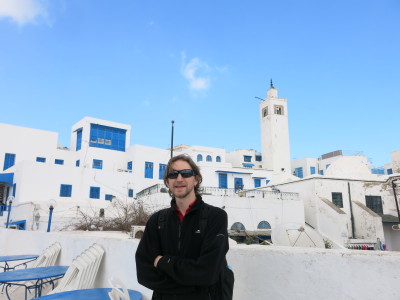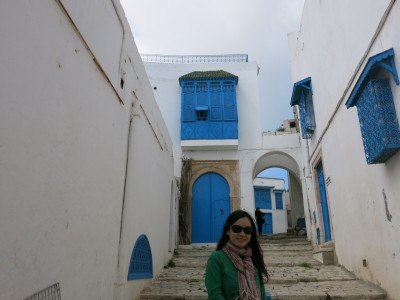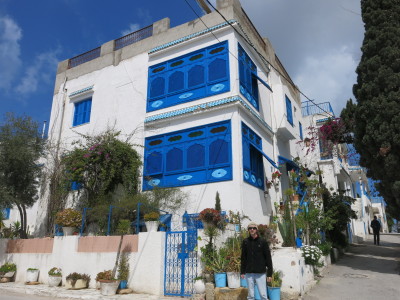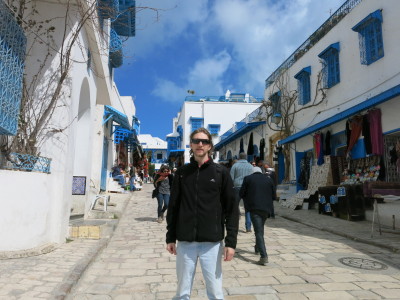 5. Village Mosque
There are quite a few Mosques in and around Sidi Bou Said and on your walk through the poky streets, you'll see the village Mosque, nonchalantly nestled in beside a few houses.
6. Kahoua el Alia Cafe
There are a few cafes in Sidi Bou Said. We found the best one to people watch and relax sits exactly at the top of the hill and called Kahoua el Alia Cafe, a coffee is 3 TDs, crepes with chocolat are 3.5 DT. There is also one called Cafe Sidi Chabanne which offers scintillating views, but it's dear.
7. Sidi Bou Said Market
On the walk through the village and up the hill, veer off to the left to find a market. You can pick up the usual souvenirs here including hand made products, ceramics and miniatures of the houses in Sidi Bou Said. Bargain the prices down!!
8. Local House
If you want to part with some cash, you can pay entrance and get a guided tour of one of the houses. I'd already done something similar in Harar in Ethiopia and we had three Couchsurfing homestays in Tunisia so we didn't want to pay in. Panny had also been inside similar housing in Morocco before.
9. Viewpoint
There are a few fantastic viewpoints in Sidi Bou Said. If you walk all the way through the village, up and down again on the other side facing the beach, you'll get a good viewpoint. Some of the cafes get packed around sunset and offer fabulous views as well, you'll normally have to buy a drink but we just sat around and watched like a budget brace!
10. Town Mosque
All the sights above can be found in and around the touristy, up and down streets of Sidi Bou Said, but this Mosque is the town Mosque and the bigger one and is away from the tourist trail. It's easy to spot though, it sits on the roundabout near the train station. Take your shoes off and go inside – non Muslims too. Please also note that the names "Village Mosque" and "Town Mosque" have been made up by me based on where they are. I was unable to find any official names of these Mosques on leaflets, outside them or by asking people.
So I hope this top 10 does justice to pretty wee Sidi Bou Said. The charm of Tunisia's Mediterranean belongs here and if you do decide to go backpacking in Tunisia, this is a spot I recommend checking out. Just make sure you DON'T FLY with TUNIS AIR.
My thanks to Ayoub and Dhia for letting us stay in their places in the capital Tunis. Tunis is a tad chaotic, disorganised and dirty though – a thought that does linger as you roam the streets. And please please if you ever decide to go to Tunis or Tunisia, AVOID their national air carrier Tunis Air at all costs – they are the most disorganised airline in the world. They were rude to us, lost my bag and have showed the worst customer service I have ever seen. Here are some videos from our time touring Sidi Bou Said while backpacking in Tunisia: